Former state Sen. Dino Rossi, a Republican, and pediatrician Kim Schrier, a Democrat, faced off in a debate Wednesday night in Ellensburg as they battle for an open seat in the 8th Congressional District.
The race has quickly become one of the most competitive in the state as Democrats try to flip a seat in the U.S. House that has stayed Republican because it was created nearly four decades ago.
The candidates seek to replace Rep. Dave Reichert, who is retiring after serving seven terms in Congress.
Here's where the candidates stood on several key issues.
Governing
Millions of dollars have been poured into political advertising in the 8th district race. When asked about the flood of negative ads, Schrier blamed the amount of money in politics and said she supports campaign finance reform.
Referring to the attack ads targeting his past dealings in real estate, Rossi defended his career. He said the attack ads put out by his campaign seek to "compare and contrast" the candidates and called Schrier a member of the "resistance movement."
"My opponent has marched in more angry protests in Seattle than parades in the district," Rossi said. "We have enough people yelling at each other in politics without adding another one."
"I'm a pediatrician and a mom," countered Dr. Schrier who reiterated health care and the GOP repeal and replace effort as her reason for entering the race. "I don't think there's anything radical about wanting people in this country to have health care and be taken care of."
When asked about the Trump administration and Congress's oversight role, Rossi said he would like to see more legislative control over rule-making
"(Congress) puts forward legislation, they give it to the executive branch to go ahead and write rules, and it's a way for politicians to just kind of wash their hands of it without having responsibility. I would like to see the big pieces that the agencies write come back to the legislative branch, so you can go thumbs up and thumbs down."
Schrier said she would like to see the Mueller investigation protected and says she would like to see where the facts lead and what the evidence shows.
"We have evidence that a foreign country, Russia, interfered in our elections and in our public discourse. This should not be a partisan issues. This should not be something that only Democrats are concerned about," Schrier said. "I think we should all be concerned."
Health care
Schrier, who said she got into the race because of health care, advocated for a replacement plan for the Affordable Care Act, rather than just repealing it.
"I will always be a voice for people in this district making sure they get the health care they need," Schrier said. "He will be a voice for big pharma."
Rossi said that increasing competition in the health care market through buying across state lines and relieving mandates was the answer instead of "government takeover health care."
"What we need to do is make sure we bring competition into the system," says Rossi. "You can do it in various ways—being able to buy across state lines and freeing up the mandates that we currently have," said Rossi referencing popular GOP talking points on health care.
He also accused Schrier of wanting a "government takeover of health care."
Schrier accused Rossi of wanting to repeal the Affordable Care Act without a better replacement.
"He supports dismantling the affordable care act and taking away protections with people with pre-existing conditions," said Schrier.
"I've been very clear all along that we have to do something about pre-existing conditions even if it's a subsidized high risk pool," countered Rossi.
Schrier says she believes medicare should be offered as public option that individuals of any age could buy into like private insurance.
Economy
Rossi cited his experience in the state Senate as chair of the Ways and Means Committee, writing a budget when the state faced a deficit, saying it will be an asset when working to cut down the federal deficit.
"I've actually done this before," he said.
On the Trump tax bill, Rossi said he wanted to keep the individual tax cuts permanent.
Schrier, who said she opposed the tax plan, said if she were reworking it, she would keep middle class tax cuts but drop cuts to the wealthy and corporations.
"We'll grow our economy from the middle out," Schrier said.
When asked about automation and artificial intelligence as a possible threat to future employment, Schrier said she doesn't believe we're there yet but would consider potential options such as a universal basic income.
"But we're not there yet, and we still need people to run those machines and to do the programming for that machinery."
Rossi said he does not support the idea of a universal basic income to deal with dislocations in the economy.
"We need to keep the economy strong, because what ends up happening is there's opportunities and jobs for everybody," said Rossi.
Environment
Both Schrier and Rossi said environmental issues were a concern for them, however they differed on how to do it.
Rossi slammed Schrier on dam removal, saying we need to keep Eastern Washington dams in place as a clean energy option.
"We need to keep these for future generations," Rossi said.
Schrier pushed investment in other types of clean energy, such as solar and wind power, arguing these industries could offer the 8th District an opportunity to diversify and grow its economy.
Gun policy
Schrier advocated for gun safety legislation that includes safe storage standards, universal background checks, and keeping guns out of the hands of at-risk people, such as domestic abusers or those with severe mental illness. She also said she supported raising the purchase age for semi-automatic rifles to 21 years old, which is one of the provisions in Initiative 1639, which Washington voters will decide on in November.
Schrier criticized Congress for allegedly bending to the gun lobby, claiming it was "buying politicians."
"We need common sense solutions, and we will not be able to get there unless we get gun money out of our politics," Schrier said.
Rossi flagged school safety as a major concern. Rossi said he was "not saying we should arm teachers," but pitched increasing school resource officers as a possible solution.
"We have to protect our children," Rossi said. "I think that's where we can find some agreement."
The candidates disagreed over whether to raise the age of purchasing semi-automatic rifles to 21. Washington voters will weigh in on that very issue through I-1639 on the November ballot.
Schrier supports raising the age and accused Rossi of being beholden to the gun lobby. Rossi said he has not taken any money from the NRA this election.
Rossi said he does not supporting raising the age, but when pressed on the difference in rules between handguns and rifles, he suggested that perhaps the Supreme Court would weigh in if a case made it to the nation's highest court.
Rossi also suggested adding more school resource officers to schools nationwide, while Schrier suggested adding more school counselors.
Immigration
Both candidates said they do not support family separation at the southern border.
Schrier said she would like to see comprehensive immigration reform. She does not support a border wall.
Rossi said he prioritizes border security, either a physical barrier, electronic monitoring, or additional officers.
"Without a functioning border, you really don't have a country," Rossi said.
Another big topic in the agricultural heavy 8th district remains the temporary guest worker visa program. Farmers cite labor shortages and instability in the workforce and say they would like to see the H-2A program modernized.
"The H-2A visa program does not work well for either the farmers or the workers, and can lead to sort of a pattern of indentured servitude where a worker is essentially held hostage by a potentially, potentially abuse farmer or farm owner, " Schrier said. "That's why we have to have reform."
"I don't believe our farmers are abusive, number one," countered Rossi. "The guest worker program — this is something that is broken. We need to make sure we know who is coming here and make sure they can get here, do the work and go back to their home country."
Congress must still find a legislative fix for the expired DACA program for the hundreds of thousands of young undocumented immigrants known as Dreamers. Both candidates support finding a solution for DACA recipients. However, Rossi would like the issue linked to border security. Schrier would like a "clean," or stand-alone DACA bill.
Trade
Both candidates said they don't favor the current tariff wars, but Rossi said he believes the United States is now in a position to have greater strength in negotiating with China.
"We're in a position of strength," Rossi said.
Schrier argued that continued uncertainty is putting Washington farmers at risk. The Northwest Horticultural Council has estimated tens of millions of dollars in losses to Washington growers due to the ongoing trade tensions.
"I believe in fair trade agreements, and this means agreements where we protect workers, we protect jobs and we protect the economy here in the 8th district. We also have environmental protections and this agreements really need to have the teeth to enforce these standards," said Schrier.
When asked about the new deal between the U.S., Canada and Mexico, Rossi said he believes it's heading in the right direction.
"The agricultural community likes it," Rossi said. "Having an agreement between Canada and Mexico is incredibly important. Like I said, 28 percent of our exports from agricultural products go to those two countries, and it also sets up the framework where you can actually have negotiations and agreements with Japan and the European Union."
Congress must still approve the agreement. Schrier said she doesn't believe the administration had to throw away NAFTA or get into a trade war to negotiate a better deal.
Foreign policy
The candidates were asked about the headline of journalist Jamal Khashoggi, a Saudi critic who disappeared after entering the Saudi consulate in Istanbul, Turkey earlier this month.
U.S. Intelligence officials have said they have growing evidence that Crown Prince Mohammed bin Salman was involved. Turkish authorities have alleged he was brutally killed within the consulate.
"We have to find out exactly what happened," Rossi said. "Whether it's an ally or not, we really can't allow that sort of thing to happen if it were true. We have to be diligent with this. We also have to be cognizant about the fact the one thing Iran would love to have is for us to have a wedge between us and Saudi Arabia."
Schrier says she will wait to see what to see what the evidence shows, but added the evidence is looking "pretty damning" right now.
"This is not just a U.S. response. This needs to be a response from everybody around the world," said Schrier. "Different countries and organizations all need to speak out when we see countries attempt to silence, kill, jail, otherwise suppress the free press. This is journalist, and we ought to all be alarmed when the press is being called enemy number one."
Troops deployed to the border
"These announcements are political stunts meant to distract midterm voters from Republicans' repeated attempts to cut pre-existing condition protections, Social Security, and Medicare. Kim is staying focused on issues that matter to 8th District voters, and in Congress she'll work with both sides to pass comprehensive immigration reform that solves our many immigration issues. These political games don't help anyone.
"We shouldn't have to question whether our agents at the border have the resources they need to do their jobs. We should ensure that they do. The problem is that typical politicians like Dino Rossi refuse to come to the table to work on comprehensive immigration reform in DC. We need leaders like Kim who will work with both sides to find comprehensive solutions."
"As I have said before, our immigration system is broken. It has become too easy to come here illegally and too difficult to come here legally. The movement of active duty troops to our southern border illustrates just how urgently Congress needs to address both border security and immigration reform.
"This country must have a secure, functioning border. We also need to streamline our process for legal immigration so that people who have skills and want to contribute can get here without breaking the law. We need both, but making progress on either will require strong political leadership.
"While my opponent has made a habit of participating in angry protests on this topic, I have a well-documented record of working across the aisle for compromise and results. I will bring that same collaborative approach to Washington, DC and look forward to advancing border security and immigration reform solutions in Congress."
Ending birthright citizenship by executive order
"As Kim sees it, the 14th Amendment is the law of the land, and it is a just law. Even Paul Ryan says you can't end birthright citizenship through executive order. That's why Kim isn't getting distracted by this political stunt. She's instead staying focused on being ready to work with both sides to pursue comprehensive immigration reform."
"I don't believe the 14th Amendment to the Constitution allows birthright citizenship to be changed by Executive Order, but I share the frustration over policies that seem to encourage illegal immigration. We must secure our borders to stop unchecked illegal immigration while making sure people who want to come here legally and contribute are able to do so."
Meet the candidates
Schrier entered the race following the Republican Congress' effort to repeal and replace the Affordable Care Act. She has built her pediatrics practice at Virginia Mason in Issaquah over the last 16 years.
Rossi has spent the last two decades in Washington state politics, first getting elected to the state Senate in 1996. Rossi ran for governor twice, including a 2004 bid against Christine Gregoire that drew national headlines as one of the closest elections in U.S. history.
He also challenged Sen. Patty Murray in 2010, winning the region that makes up the 8th Congressional District.
Rossi most recently filled the seat of late state Sen. Andy Hill, who died of cancer in 2016.
Schrier's campaign has also done nearly 223,000 door knocks; Rossi's has done over 199,000.
The 8th Congressional district is vast and diverse in terms of geography, politics, and demographics. It covers parts of four counties – Chelan, Kittitas, King, and Pierce. Nearly 60 percent of the district's voters live in Democratic-leaning King County while the rest of the district is mixed.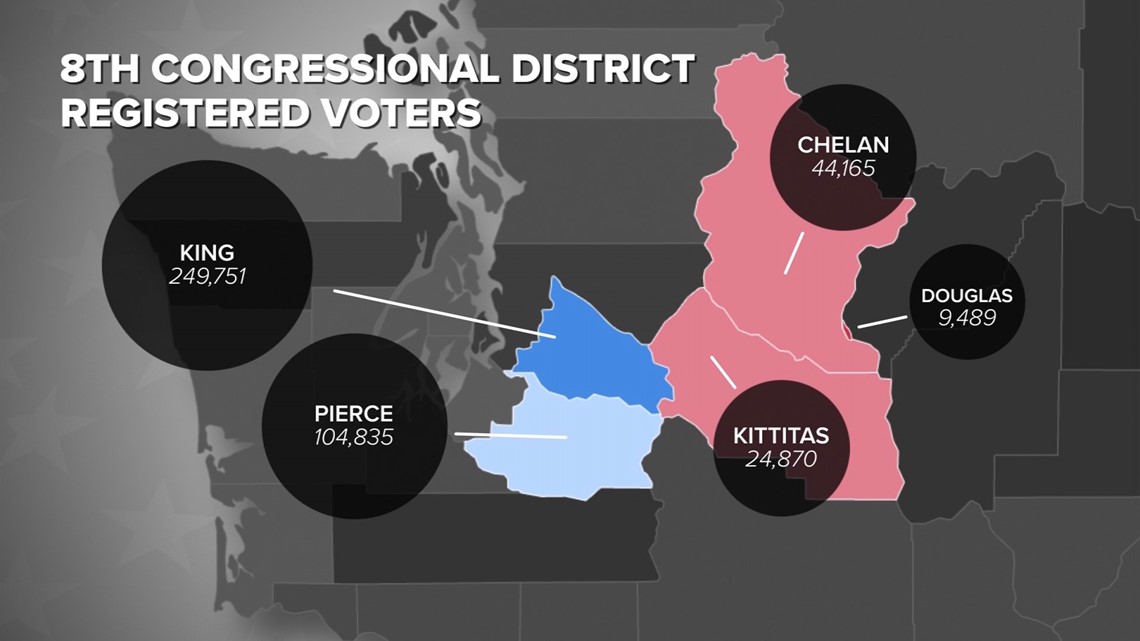 It's is also one of nearly two dozen districts that voted for Hillary Clinton in 2016 but also re-elected a Republican to the House.
Midterms often serve as referendums on the President and the party in power. History dating back decades shows a President's first midterm brings an average loss of around 25 seats in the U.S. House.