OLYMPIA, Wash. -- A day after President Obama announced executive action on gun safety, Washington Governor Jay Inslee signed an executive order of his own.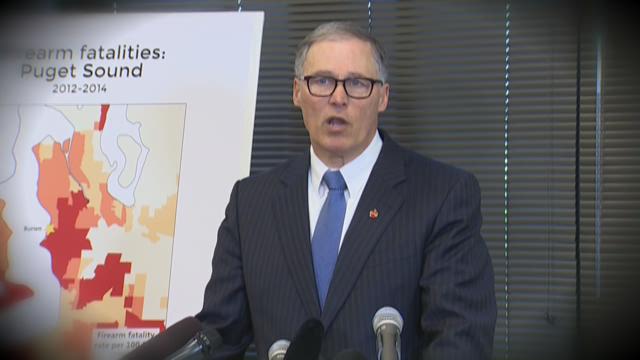 "This is a public health crisis and we're going to address with a new public health approach," Inslee said on Wednesday.
As part of the plan, the governor has directed the Department of Health and the Department of Social and Health Services to work with other agencies, from law enforcement to healthcare providers, to collect and review data on deaths and injuries related to firearms.
"Since Congress refuses to do it, we're going to get true data ourselves upon which to make good public health decisions," Inslee said, referencing congressional gridlock over funding gun research.
By October of this year, the governor has asked for the first round of recommendations based on the findings.
"We're using the data to drive our interventions," said Secretary of Health John Wiesman. "We're going to be collecting data and at the same time implementing what we know are effective interventions already."
Weisman used "safe storage" campaigns as an example.
Additionally, the governor has asked for analysis of the background check system, expanded by voters in 2014 under I-594.
"We've found some potential holes in the net in our background situation. We're not having good enough data sharing between agencies," said Inslee.
One Tuesday, a KING 5 investigation showed data suggests number of private sales may be going unreported.
Inslee also requested that the Washington Attorney General's Office analyze enforcement to make sure individuals trying to purchase a gun illegally are prosecuted.
Lastly, the executive order launches the Statewide Suicide Prevention Plan, which will work with the Department of Veterans Affairs, Indian Affairs and the Superintendent of Public Instruction, and other groups at higher risk for suicide.
According to statistics from the Washington Department of Health, suicides account for nearly 80% of firearm deaths.
Dr. Jennifer Stuber, an associate professor at the University of Washingon's School of Social Work, lost her own husband to a suicide by gun in 2011.
"With one bullet fired, I became a widow and single parent to two kids," she said during Wednesday news conference.
Dr. Stuber, who co-founded the organization Forefront, now works to raise awareness about suicide prevention policy and outreach. She called Wednesday a historic day for the state.
"We're not just going to have a plan on a shelf, but we actually now have a group that's going to be working collaboratively on implementation of the recommendations for the plan," Stuber said.
As for gun safety policy, Stuber says her focus remains on safe storage of guns but also wishes firearm retailers had more tools to ask individuals about why they're purchasing a brand new firearm.
While the debate over gun control rages on nationwide amid congressional gridlock, the governor said Washington won't wait but also described his actions as measured and modest.
King County Sheriff John Urquhart said he believes the data will provide law enforcement with new tools, including information about the source of firearms involved in crimes.
Then he told the audience he was going off script to comment on the politics surrounding such a divisive issue.
"What both sides do, especially the extremes on both sides, is they reduce to the issue to a bumper issue," said Sheriff Urquhart. "When you reduce something like gun violence to a bumper sticker, you will never make any progress."
"We need to shame both sides into sitting down and talking and helping to solve this problem, or else we will continue like we have for year and years and years," said the sheriff. "It's not acceptable for me as police officer or a citizen of King County of the United States."
Related links: