MILWAUKEE — It's a funny line so it always gets chuckles when Mike Voorhees says it.
Voorhees spent months in the jungles of Vietnam as an Army dog handler and when he returned home from war he became a chaplain.
"I have one distinction no other pastor can say. I can say Satan saved my life at least three times," said Voorhees.
The Satan in Voorhees' life was a highly trained German Shepherd who worked as a scout dog in Vietnam for several years. Not only did Satan save Voorhees' life, he saved many other American GIs before dying of a tick disease.
"I'm so grateful that the Highground is doing this. I'm just overwhelmed with gladness and joy that finally the dogs are getting the recognition that they much deserved," said Voorhees.
Dogs have been used by the U.S. military for more than a century. Around 5,000 dogs served in Vietnam as guard dogs or scouts like Satan. When soldiers finished their tours, another handler was assigned to dogs already in Vietnam. After the war ended and troops returned home, the dogs were deemed excess equipment and left behind - many were euthanized, some were given to the Vietnamese army and some were left to fend for themselves.
Vietnam military dog handlers were understandably upset about that and urged Congress to change the rules and bring dogs back to America once their service in a war zone is over. In 1992, President Bill Clinton signed legislation that now ensures all military dogs are treated like true veterans.
The Wisconsin memorial features a soldier holding an M-1 rifle and his dog's harness. The life-size bronze sculpture is of a German Shepherd, the most common breed that served in Vietnam.
Sculptor Michael Martino was selected by a committee of veterans after submitting sketches and a model. Martino incorporated veterans' suggestions including a boonie hat on the soldier, a dog harness and two canteens because not only did handlers carry food and water for themselves but also for their pups.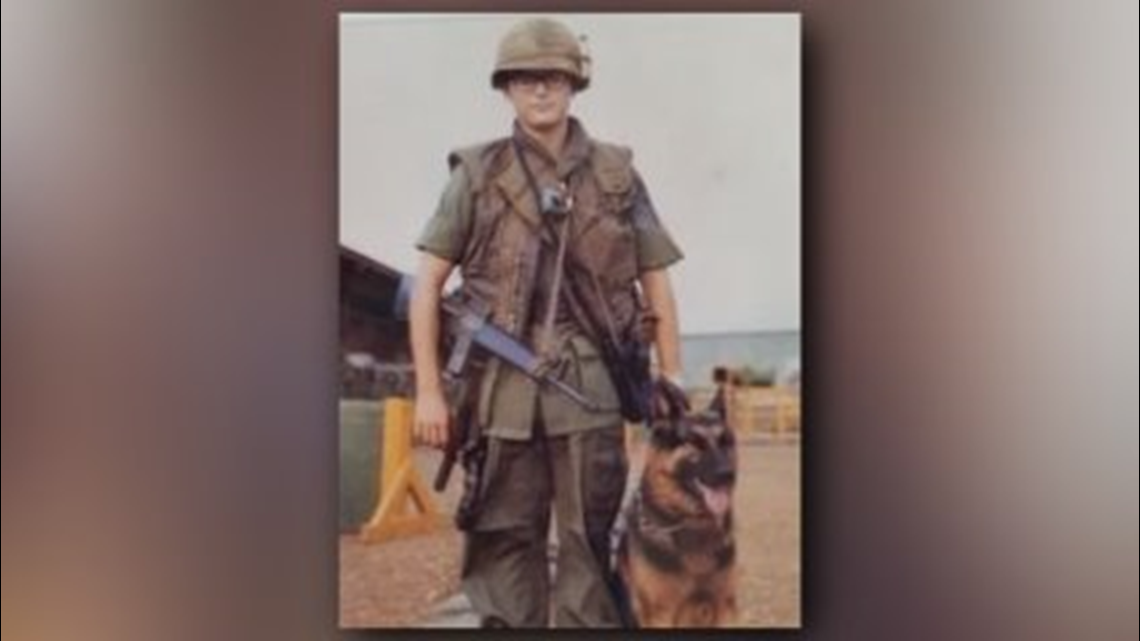 "I had the soldier kind of crouching down and one leg in front of the other so there's forward motion while controlling the dog. They're bonded at the hip," said Martino. "The idea was the teamwork and closeness of the soldier and dog. It's kind of an inseparable bond."
The Highground Veterans Memorial Park is located about 50 miles southeast of Eau Claire, Wisc. in the Clark County community of Neillsville.
The impetus for a military working dog memorial came from David Backstrom, a Navy corpsman who served in Vietnam and volunteers at the Highground. Several years ago in Eau Claire Backstrom met the widow of Pfc. Erling Anderson, the soldier who replaced Voorhees as Satan's handler in Vietnam in May 1967.
On June 22, 1967, Anderson was killed and Satan wounded in a firefight. Satan was nursed back to health and returned to duty with another handler. Anderson's widow, Jan, shared mementos of her husband including photos and medals, and told Backstrom she sometimes visited the Highground.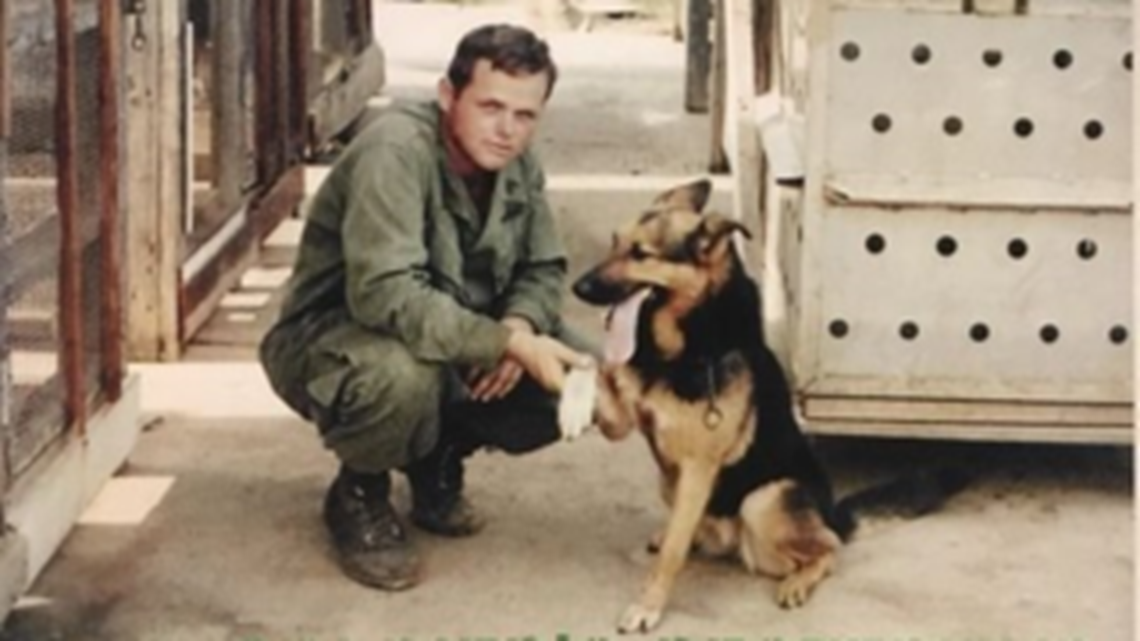 "She found rest there. With that I felt it was necessary that this story be told and I went to the (Highground) board of directors," said Backstrom, a retired Eau Claire police officer and University of Wisconsin-Eau Claire public safety official.
"I explained to them that a hero soldier and dog in bronze should be one of the sculptures placed at the Highground. After my 20-minute presentation, they all looked at each other and said 'It needs to be here,'" Backstrom said.
Backstrom's presentation was seven years ago. A committee of Vietnam veterans and one Korean War dog handler was formed, about $200,000 raised and a sculptor chosen. Volunteers provided labor and in-kind gifts of dirt, lighting and use of construction equipment.
At Saturday's dedication ceremony, officials are expecting a crowd of several hundred including veteran military dog handlers and law enforcement K-9 units since the memorial honors all working dogs, not just those who serve in the military.

"There's certainly an awareness of how important canines are but people don't understand it as well as they should," said Backstrom.
Satan is never far from Voohees' mind and memories. Like all military dog handlers, the two were inseparable. Their lives literally depended on each other.
He was a dog with an incredible sense of smell who found a sniper in a tree, a deserted Viet Cong base, a complex of tunnels and a buried body, said Voorhees. Satan and Voorhees always walked point - usually the most dangerous position in front of the rest of his unit.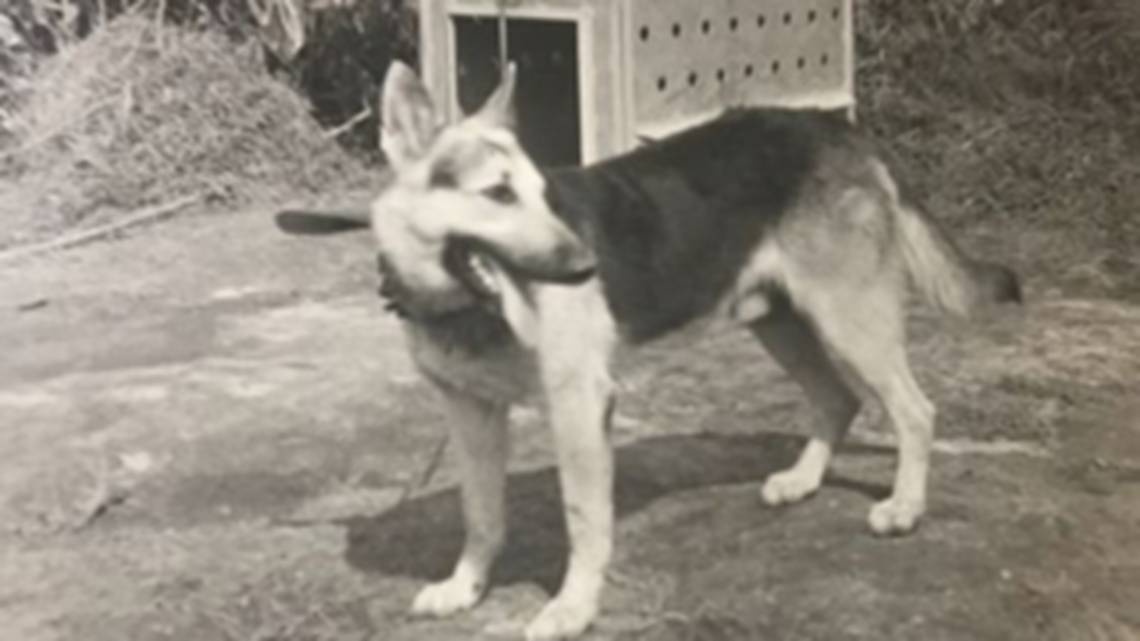 "Satan had kind of a hook on the end of his nose and when he smelled something his nose would go up and he would turn his head from side to side, sniffing the air. He would stop at one point and that was usually where the strongest smell was coming from," recalled Voorhees, 74, who lives in Fergus Falls, Minn.
Voorhees served in the 173rd Airborne Brigade's 39th Infantry Platoon in 1966-'67. When he was assigned to Satan he quickly saw that the dog was special - calm under fire, eager to go to work, always accurately picking up human scent in the jungle, a very smart companion who loved to ride in helicopters.
"The doors were never closed on the helicopters and Satan would stand right on the edge and hang his nose out. I would have to hang on to him," Voorhees said.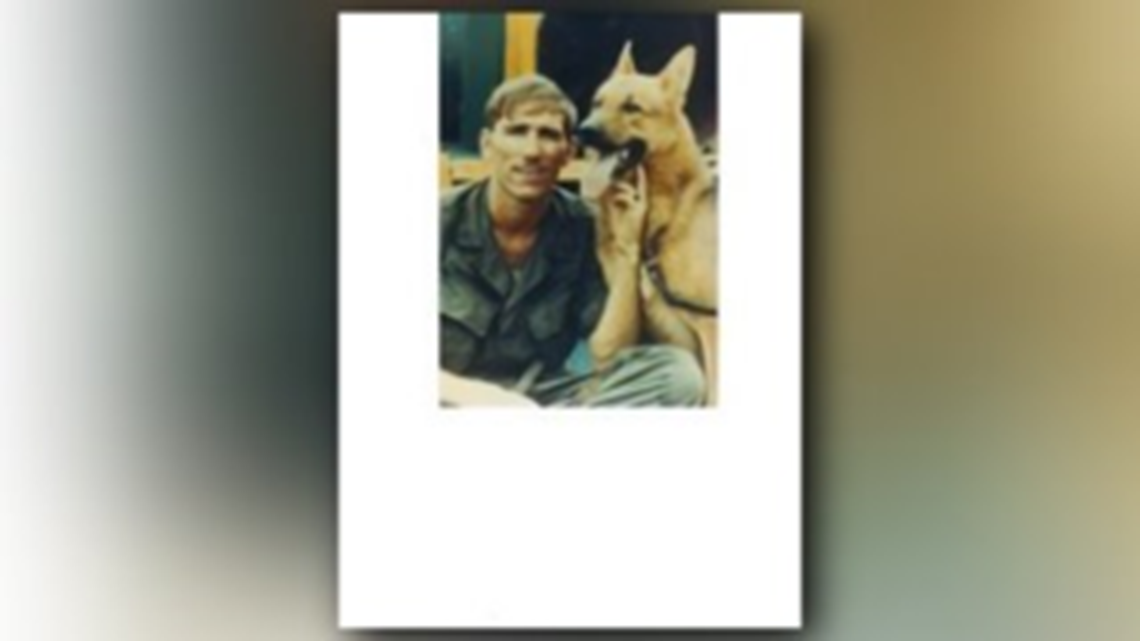 After Satan's nose found the deserted base camp, Voorhees and Satan were ordered to guard one of the entrances. As they sat with their backs to a tree in the oppressive heat, Satan suddenly jumped up. Voorhees saw two enemy soldiers next to a 5-foot-tall anthill, which was actually an entrance to a tunnel system. They exchanged fire and the men fled back into the anthill.
The next morning Satan found an opening that led to an intricate tunnel and cave complex. Later that day Voorhees saw two helicopters come in for a landing and a French female journalist hop out - most likely famed photographer Catherine Leroy - who told Voorhees she worked for Life magazine. She asked if the German Shepherd by his side was the dog who found the tunnel complex.
When Voorhees had two weeks left in Vietnam, his commander pulled him from the field. Anderson arrived and Voorhees spent the rest of his time training him to work with Satan. Voorhees returned home and six weeks later he got a letter from a friend still in Vietnam who told him Anderson had been killed and Satan wounded. Many years later, another dog handler who worked with Satan found Voorhees on a 173rd Airborne Brigade web site and told him the German Shepherd died in 1969 from a tick disease.
Though it's been more than five decades, it's still painful for Voorhees to remember the last time he saw his four-legged companion.
"The only regret I have in my life is I never went to say goodbye to Satan. If I had one minute back in my life, I would say goodbye. I just wonder if, in his mind, he was thinking 'Where is my master?'" said Voorhees. "I struggle with that."