SUMNER, Wash. — Evacuation orders for the Sumner Grade Fire in Pierce County will be scaled back starting Friday at 6 p.m. as favorable weather conditions help firefighters hold the size of the fire.
East Pierce Fire and Rescue said it would post new evacuation maps later Friday. Some of the areas that will be downgraded include Elhi Rim Road and 181st Ave. E off State Route 410, Sky Island Drive, Angeline Road and the northernmost area near Sumner, Lake Tapps and Ridge West. Find complete evacuation information here.
At one point one-third of Bonney Lake's 21,000 residents were evacuated as firefighters battled the blaze, which broke out early Tuesday.
The Sumner Grade Fire is burning alongside SR 410 between Sumner and Bonney Lake. As of Friday afternoon, the fire had burned approximately 800 acres and is 20% contained, according to East Pierce Fire and Rescue Chief Bud Backer. Four homes were destroyed.
Resident Sue Linton was one of the lucky ones. Her home was saved.
"If I could kiss every Pierce County fireman I would do it, I would hug them, I would kiss their toes," she said.
"How do people stand between fire and someone else's home? I don't know what kind of people they are, they're angels, they're my angels, they're my heroes." she said, getting emotional.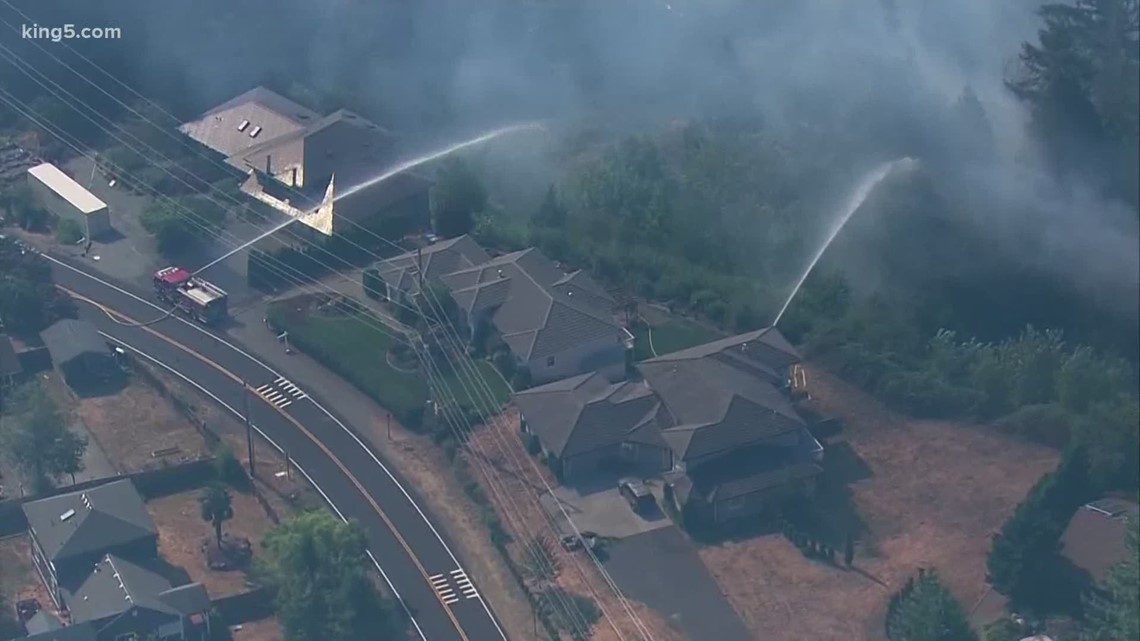 Backer said increased humidity and calmer winds were a big factor in helping crews get a handle on the fire. When the fire broke out early Tuesday morning, Backer estimated there was between 8-14% humidity, and humidity has now grown to the upper 20 percentile. Backer also hoped rain in next week's forecast would help.
"The weather's in our favor," Backer said.
"The rebirth potential of flare-ups within the fire perimeter is high," East Pierce Fire tweeted Friday.
Over the next few days, Backer said crews would focus on mopping in the fire from the perimeter. However, the center will remain untouched until they are able to get more handline crews.
SR 410 remains closed in both directions between milepost 13.37 near 181st Ave. E and milepost 11.46 near 166th Ave. E.
Troy Cowan, assistant region administrator for maintenance and operations at the Washington State Department of Transportation, said there was no estimated time for re-opening SR 410. However, it will be closed through at least the weekend.
Before the roadway can reopen, crews must make repairs and remove trees that are at risk of falling on the roadway. At least 120 guardrail posts on SR 410 were damaged in the fire, and contractors will begin to replace them this weekend, according to Cowan.
During a Friday briefing, Gov. Jay Inslee said 626,982 acres have burned since Monday, making the last five days the second-worst full fire season in state history.
Help those in Washington state and across the country who are affected by wildfires. Donate to KING 5's Northwest Response through Red Cross here.