OKANOGAN COUNTY, Wash. — Jacob and Jamie Hyland, the couple burned while trying to escape a wildfire in Okanogan County last month, were greeted by visitors who waved up to their hospital window on Saturday.
Jacob Hyland, 31, and 26-year-old Jamie Hyland continue to recover at Harborview Medical Center in Seattle after suffering severe burns.
In September, the Hylands and their one-year-old son, Uriel, were trying to escape the Cold Springs Fire when they were overcome by flames. Their son did not survive. Jamie was also pregnant at the time and her unborn child didn't survive.
Jacob and Jamie have both undergone nearly a half dozen surgeries each as they continue their recovery at Harborview. But the coronavirus has limited their contact to just one visitor a day, meaning they have had about six to eight visitors between them since the tragedy happened.
That's what prompted Jacob's cousin, Jim Mabry, to help gather a group of friends and family Harborview Medical Center to show love and support for the couple. About 60 people waved at Jacob and Jamie, blew kisses, sang and held a banner that said, "The World Is Behind You, God's Got This."
Dawnmarie Baxter, Jamie's sister, shared a video of the couple's reaction to the gathering in a Facebook post. Jacob and Jamie are seen in the video waving at their supporters.
"There are so many people. There's got to be at least 50 people down there," Jacob says in the video.
Mobile users, tap here to watch the full video
Baxter said the couple's response was "priceless" and "the love and support they were shown left them in awe."
Jacob's sister, Kellsey, also got on the phone with the couple and passed it around to family and friends who wanted to share messages of love, Baxter wrote.
"I've told Jamie before, if we put the word out they wanted balloons, I believe there would be enough to lift the hospital off the ground like the house in Disney's 'Up.' Everyone support, love and prayers are that vast," Baxter wrote on Facebook. "We are all blown away by the support shown to our family in the midst of thus unimaginable loss and so thankful for the support of so many. Thank you all!!!"
A GoFundMe campaign for the couple has raised more than $370,000 of a $400,000 goal as of Tuesday, Oct. 20. Loved ones are trying to meet the goal in order to pay for the couple's hospital stays, surgeries and follow-up doctor's appointments.
Those who want to mail cards to Jacob and Jamie can send them to:
P.O. Box 361
Maple Valley, WA 98038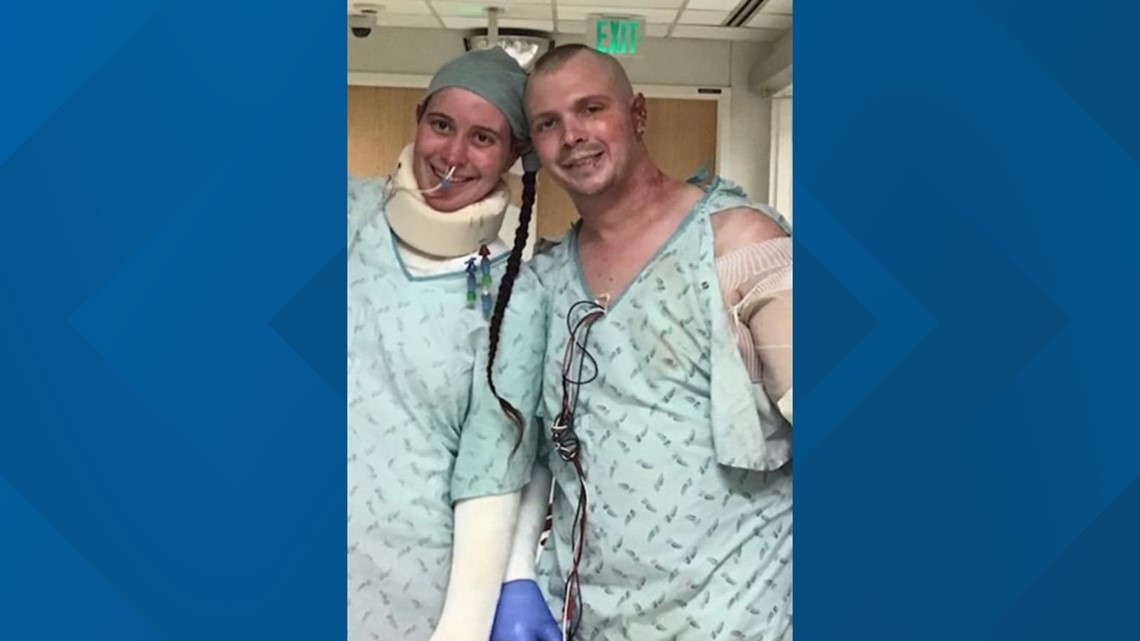 Jamie's sister describes the couple's escape
Baxter spoke with KREM 2's Whitney Ward about her sister and brother-in-law's conditions, what led up to their rescue and the heartbreaking death of their son, Uriel.
Baxter said it started with an overnight Labor Day camping trip to some newly-inherited property in Okanogan County.
"He woke up to go to the bathroom at 1:30 in the morning, and smelled smoke, and that's when they had to go," she said. "So they woke up, threw everything in the car. He grabbed a five-gallon bucket of water and they drove the truck. They drove miles 5 to 7 miles before they had to crash it. I think it might have been on purpose to get through a fence, to get to the water. They crashed the truck and then fled on foot. This is desolate wilderness and they had to go a mile to get to that water, winding up and down through the land, in the dark. The pitch dark."
Jaime suffered burned to 37% of her body, Baxter said.
"She suffered the worst," Baxter said. "I'm wondering if she might have been leading them. either way, Jacob was being the strong, amazing husband that he was. He was carrying Uriel and the way they can tell from the burns, he's less burned because his whole body was a shield around this baby. "
Uriel died sometime between when the family evacuated and when they were all found on the banks of the Columbia River two days later. Jamie was also 14 weeks pregnant.
"My sister, all she's every wanted to be is a mom. She wants seven kids. and," she said with tears in her eyes. "In my worst nightmare, I can't imagine fighting for my child's life and losing that battle, even though they fought with everything they had."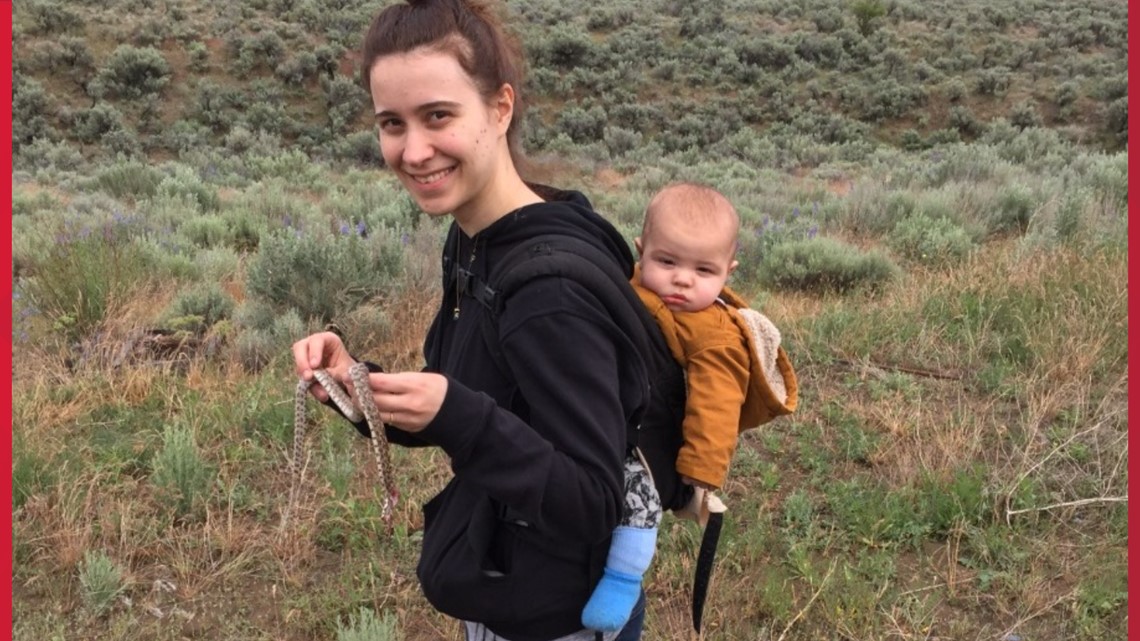 Baxter said the couple was active in their church community and in giving back to others. Now, the community is stepping up in a huge way to give back to them on their long road to recovery.
"She looks better than I thought she would," she said. "They're both very recognizable. I didn't think with the degree of burns they have, they're just warriors. They're fighters. They're going to fight for each other."
How the couple was rescued
The Okanogan County Sheriff's Office received a call about the missing family at about 3:30 p.m. on Tuesday, Sept. 8. They were last known to be in the area of Cameron Lake Road and Paxton Canyon Road near Okanogan.
According to Sheriff Tony Hawley, a deputy learned that the family's vehicle was found burned and wrecked but unoccupied.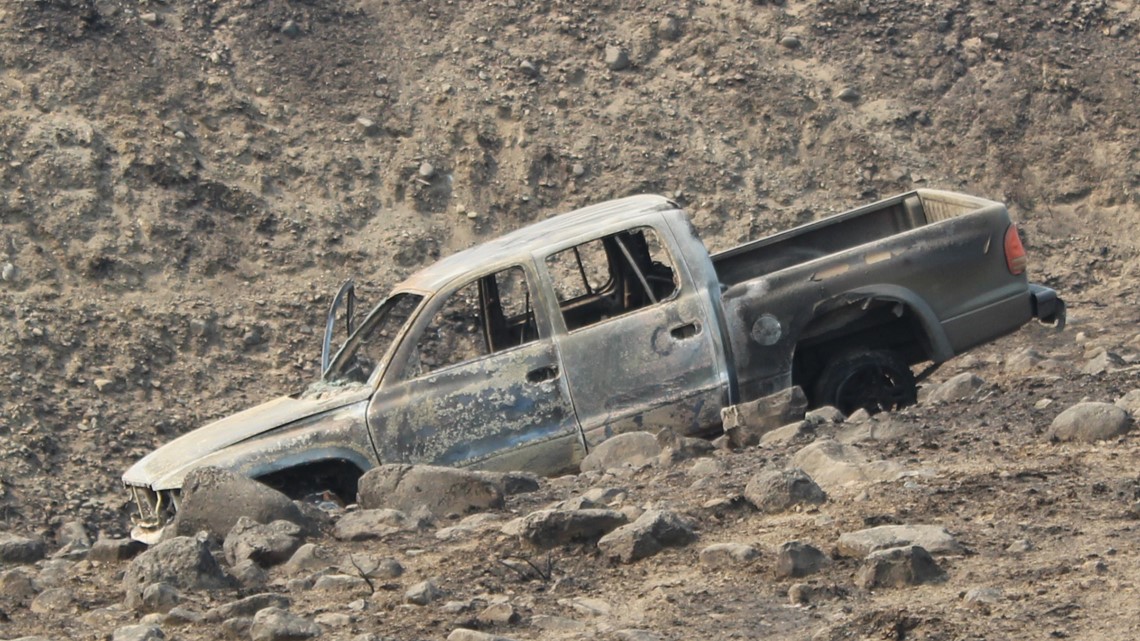 Search-and-rescue crews found the couple and child along the bank of the Columbia River on Wednesday morning, according to Hawley. All three were burn victims and taken by boat to Bridgeport State Park.
An ambulance took the victims to Three Rivers Hospital in Brewster. The couple was later flown to Harborview Medical Center in Seattle for treatment.
Uriel was deceased when search-and-rescue crews found the family. His death marked Washington's first and only known casualty from wildfires.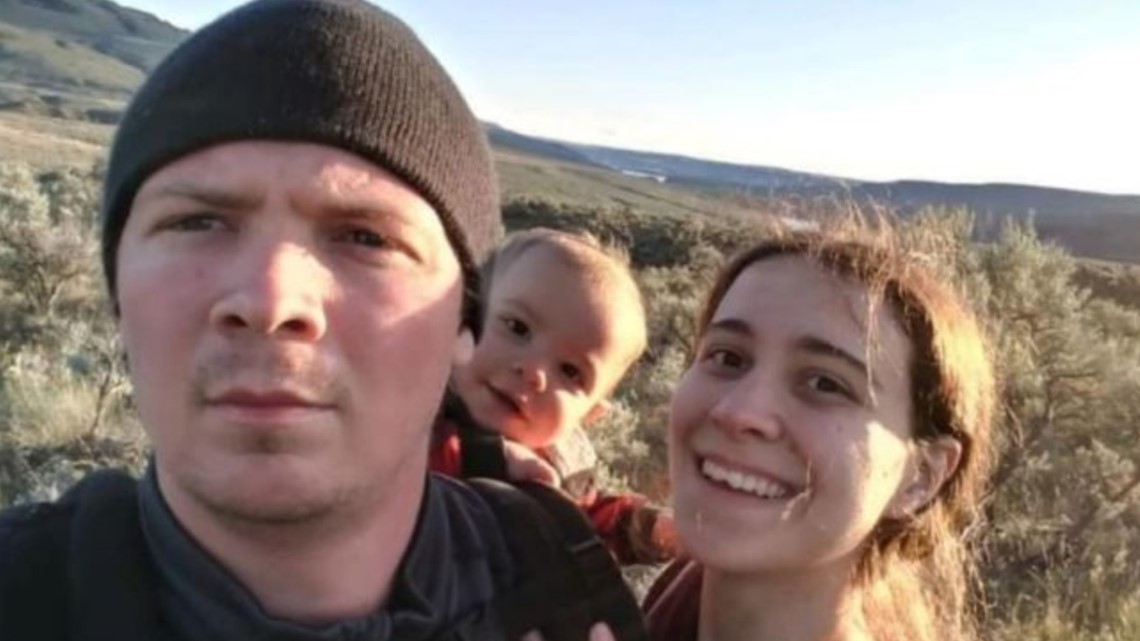 Detectives with the sheriff's office and Colville Tribal Police Department are investigating the child's death. Hawley told KREM's Taylor Viydo that the child's death is technically being investigated as a homicide for now since the fire could have been human-caused.
"If it's a human-caused fire, that goes into criminal charges for the death investigation as well. This child would not be dead without this fire beginning," Hawley said.