Monday's sunshine was a nice break from our wintry weather pattern, but another weather system is headed our way Tuesday. Fortunately, it is weak and a little warmer.
Afternoon showers will be mainly in the convergence zone between Seattle and Everett.
It will be more snow for the mountains today. Expect between three and six inches of new snow in the Cascades and Olympics between now and Wednesday morning.
By Wednesday, a much warmer Pacific storm moves in bringing rainfall to everyone below 2,000 feet. It will be a blustery day as well. The mountains will continue to pile up the snow, however, so plan accordingly if driving over the Cascades.
Snow Accumulations - UW High-Resolution Forecast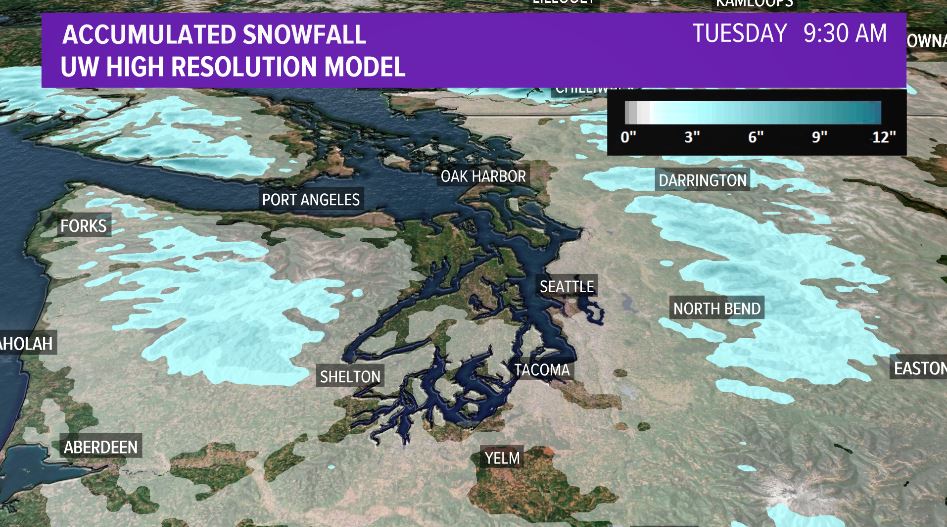 Storm Positions as of 6 p.m. Monday - UW High Resolution Forecast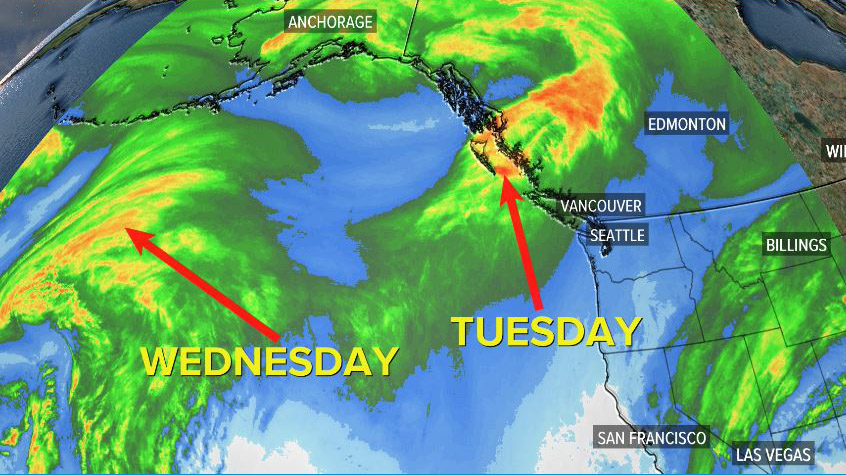 The mountains received anywhere from one to three feet of new snow over the weekend, but the snow showers will end this morning and even the mountains should see a little afternoon sunshine with snow levels rising to 1,500 feet this afternoon.
WSDOT says the snow slide is estimated to be 25 – 30 feet high and about 300 feet wide. Crews began reassessing the slide area on Monday, but believe it will be Wednesday before both lanes of SR 20 are open to traffic again.
Western Washington broke four temperature records last Friday:
Olympia: 16 degrees (Old record 20 degrees in 2005)
Bellingham: 19 degrees (Old record 22 degrees in 1952)
Hoquiam: 24 degrees (Old record 27 degrees in 2017)
Quillayute: 22 degrees (Old record 25 degrees in 2017)
The National Weather Service said if you must travel during snow conditions, a keep an extra flashlight, food, and water in your vehicle in case of an emergency.
You can get the latest road conditions by calling 511.