Pictures of a bike graveyard in Texas have some wondering what's in store for Seattle, as floating bikeshare company Ofo leaves the city.
The photos, which went viral this week, show hundreds of Ofo's recognizable bikes at a recycling facility in Dallas.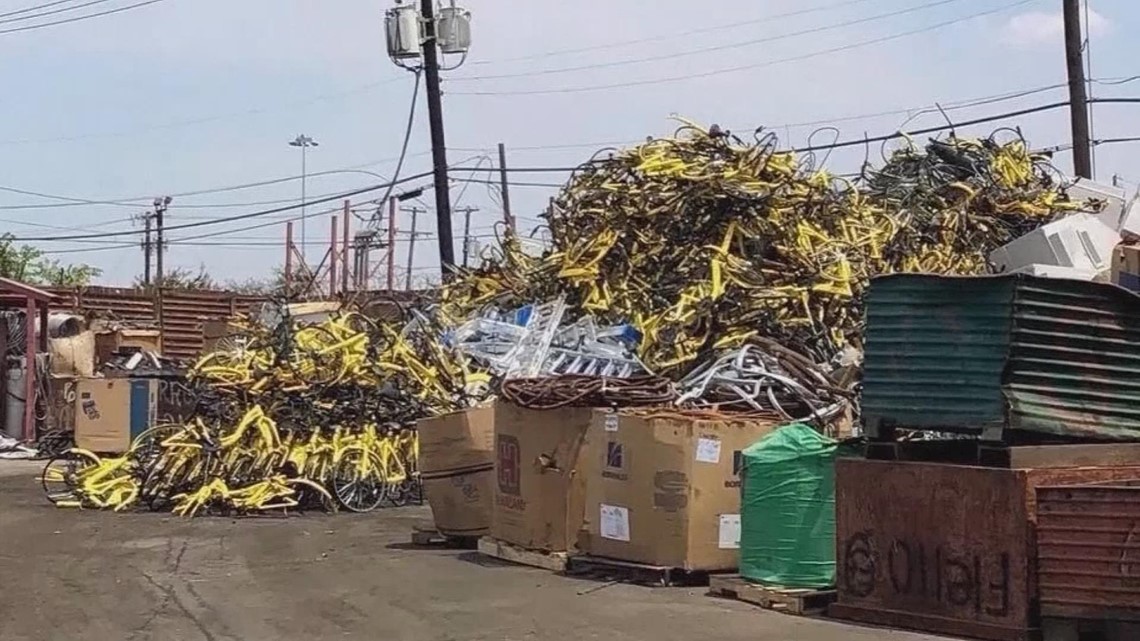 Ofo is also leaving Seattle. The yellow bikes can be seen parked across the city. The company announced it was leaving after the city adopted a new $250,000 annual fee for bikeshare operators.
So what will happen to Ofo's Seattle fleet? Wednesday, KING5 spotted a series of yellow bikes being processed at a metal recycling plant in South Seattle.
The company said it processes Ofo bikes occasionally, but would not let a reporter inside to see how many were there. Another metal recycling yard across town said it processes Limebikes with some regularity.
Isaac Gross, Lime's general manager in Seattle, did not share how many Limebikes were recycled each month but touched on the company's mission.
"At Lime, our vision is to provide an eco-friendly, efficient and enjoyable form of last-mile transportation to everyone. This means a focus on maintenance and repair. Occasionally, bikes are very damaged and must be retired and in those circumstances we will re-use as many parts as possible before recycling," Gross said.
Ofo said in a statement that it's currently collecting bikes, and working to figure out where they will be donated.
"As we wind down select markets, we remain committed to environmental sustainability and will continue to donate ofo bikes in good working condition to local communities and recycle all bikes when they're beyond repair or no longer able to use," said spokesperson Taylor Bennett. "And since we're still serving other markets across the US, we are also repurposing assets for those cities."
She did not respond to follow up questions about how many bikes are expected to be scrapped.
"There's so many charities working in other countries to get bikes out to citizens that need them, and I think that would be a much better use than scrapping them," said D.L. Byron, who runs the popular blog Bikehugger.
He said it frustrates him that bikeshare companies aren't required to support bike infrastructure in the city more. He also wondered if Ofo's situation might push Seattle to implement more guidelines for remaining Spin and Limebike.
"You know they're just going to end up in piles like they are," he said. "That's just capitalism at work."
Still – with his criticisms of Seattle's bike share system, Byron still said he'd rather see bikes be ridden than not.
"It's fun," he said. "And an especially great way to get around the city."
"I haven't seen so many people out on bikes since I started writing about it, and I think that's wonderful," he said.