Washington's child sex trafficking victims sometimes punished as criminals
'We need to figure out a way to help them'
EDITOR'S NOTE: If you are using the KING 5 app, click this link to view this story with photos and video.
SEATTLE — Sgt. Jaycin Diaz and his detective comb Aurora Avenue for sexually exploited youth, as dusk turns to night on a recent October day.
"Megan, are you aware of any juveniles working on the street?" Diaz asks an adult prostitute who's hunkering down from the rain.
The undercover Seattle police sergeant doesn't plan to arrest the youth for prostitution if he finds them. He wants to offer them services and get them off the street. But some in this state take issue with the fact that -- legally -- he and other Washington police officers have the option to put these kids in jail.
"These are kids who have been through a lot of trauma, who have been through some horrible situations," said Valiant Richey, senior deputy prosecuting attorney at the King County Prosecutor's Office. "We need to figure out a way to help them."
Under state and federal law, minors working in the sex industry aren't prostitutes. They're too young to consent to have sex. Any child under the age of 18 who engages in a commercial sex act is a victim of sex trafficking, according to the federal Trafficking Victims Protection Act. Yet, Washington is one of 27 states where juvenile sex trafficking victims can also be arrested and charged with the crime of prostitution.
"If at a fundamental level, Washington state laws say that adults cannot have sex with a minor for any purpose, then we should not be able to turn around and criminalize that child," said Leslie Briner, a Seattle-based sexual exploitation and trafficking consultant. "You don't become a criminal just because your sexual abuse came with a $10 bill and a sandwich and a place to stay."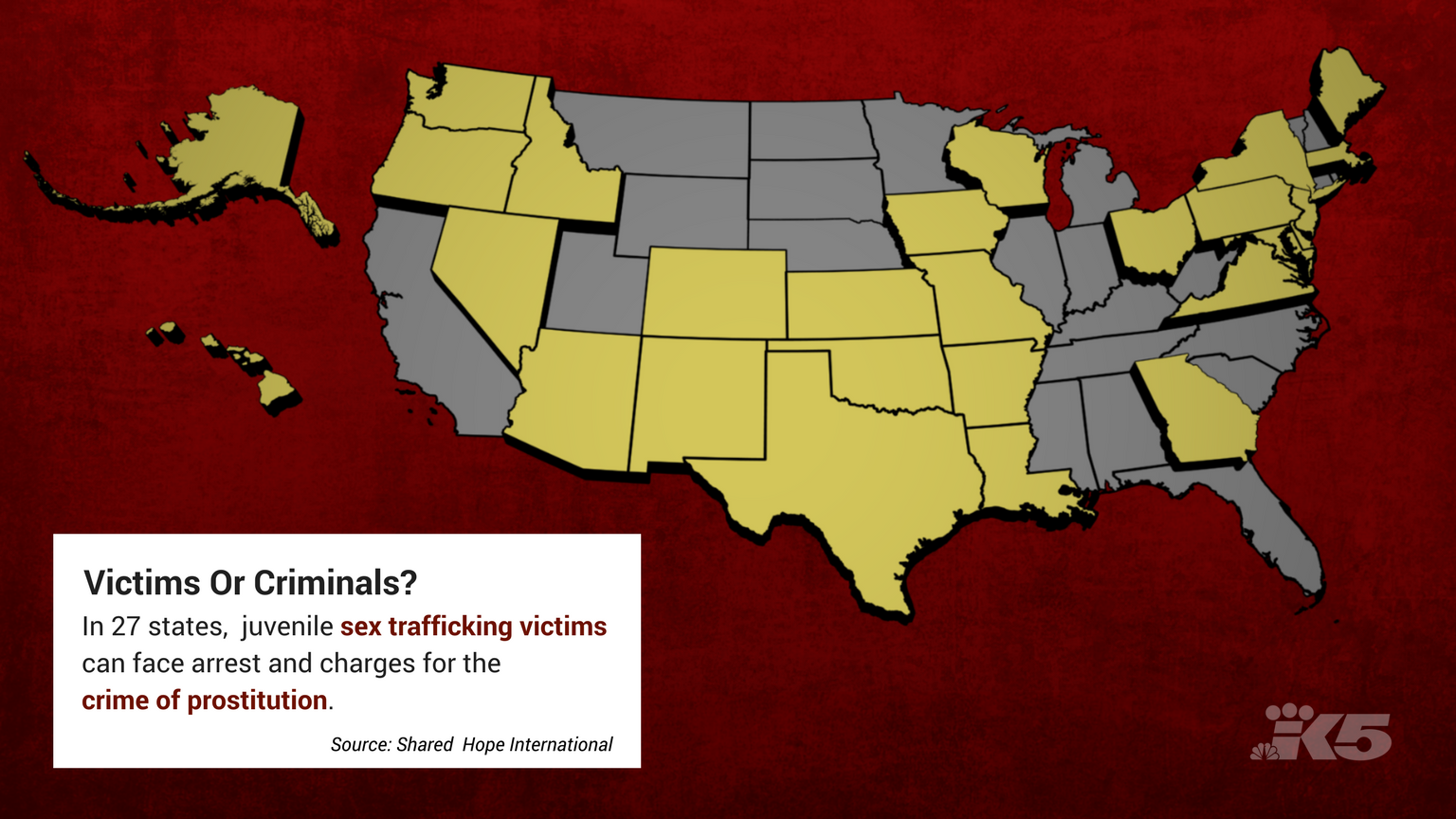 Few who fight sex trafficking in Washington still believe these youth are criminals, amid a statewide culture change that recognizes a need to target sex buyers and traffickers instead of the people who are selling sex or being sold. A KING 5 analysis of Washington court records revealed the state's prosecutors rarely charge minors with prostitution.
But victim advocates, like Briner, argue that even one prostitution arrest or criminal charge is one too many and that it's time for state lawmakers to take the option off the table. Meanwhile, Diaz and some others in law enforcement say taking away the tool of arrest could jeopardize young sex trafficking victims' lives.
"I'd rather go see her on a Monday morning (at the detention center) than wonder where she's at and who's using her," Diaz said.
At the heart of this complex issue is a lack of clarity about what police should do when they identify sexually exploited kids and a need for more secure recovery beds and specialized services for this population to heal, experts say.
"I think everybody who works with kids who have been exploited wants one thing, which is for the kids to be safe and for those who exploit them to be accountable," Richey, the prosecutor, said. "The question is: What's the best way to do that?"
How Often Do Victims Face Criminal Charges?
While state law does not require prosecutors to stop charging minors with prostitution, some offices have adopted their own policies that recognize youth in prostitution as victims instead of criminals.
Statewide, prosecutors charged youth with prostitution 19 times from 2012 through 2016, according to records from the Washington State Administrative Office of the Courts. For perspective, court records show prosecutors charged at least 1,220 adults with prostitution during the same time frame.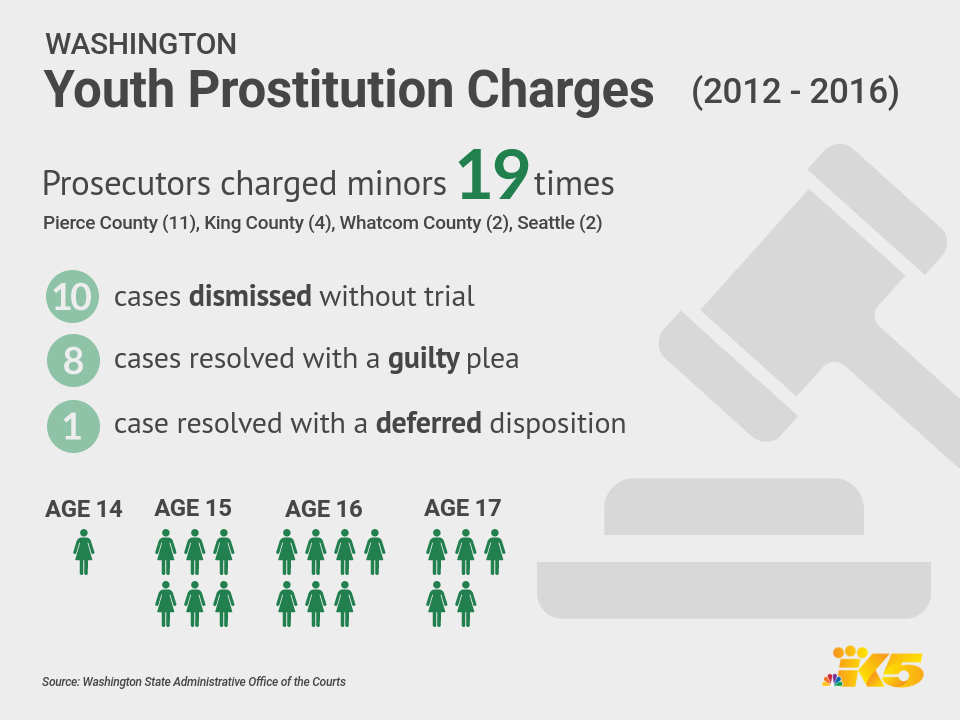 Richey, who runs the sexual assault unit in his office, said he led the push in King County to charge fewer kids with prostitution after he realized the youth who were coming through the criminal justice system were too young to consent to have sex. They suffered severe trauma from their exploitation while the people who bought sex from them rarely paid the legal price, he said.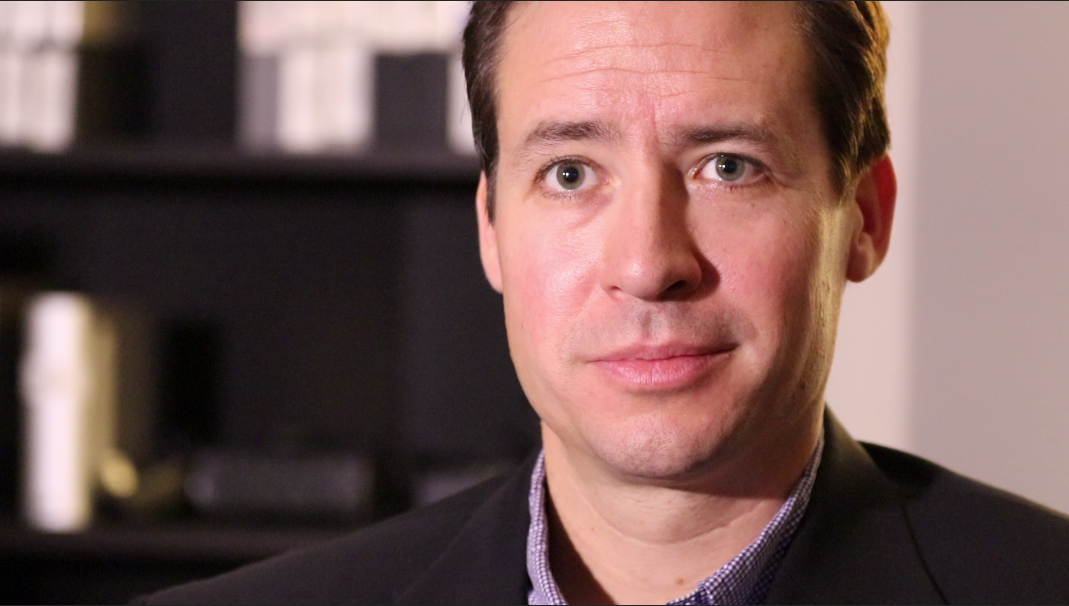 "Even in circumstances where a juvenile does get charged with prostitution -- we try to figure out a way to make sure they're not getting a conviction," he said. "Because arrest and charges and convictions all can follow these kids along and can really pose a lot of problems later -- in terms of education, in terms of housing, in terms of jobs."
Eleven of the 19 youth charged with prostitution across the state between 2012 and 2016 did not get a conviction, court records show.
No state agency has tracked the total number of youth arrested for prostitution in Washington. But the number is low at many agencies in Snohomish, Pierce and King counties, according to statistics from 18 police agencies that responded to KING 5's public disclosure requests by Nov. 14.
Some police departments, like Bellevue, Auburn, Kent and Renton, didn't arrest any youth for prostitution from 2012 through August of this year.
Bellevue Officer Ben Richey said it's because arresting these youth doesn't achieve his goal as an investigator, and it facilitates a revolving door that doesn't help the victims.
"We found that those people aren't (in prostitution) because they want to be there. They are there by means of force, fraud or coercion. False hope, really," said Richey, who used to work sex trafficking cases in the department's vice unit.
"(Arrest) is kind of a vicious cycle, right? They arrest the person committing the crime of prostitution. They go to jail. They are out within hours, and their pimp is right around the corner to pick them up," he added.
In Seattle, police officers have significantly reduced youth prostitution arrests over the last eight years. In 2009, officers arrested 19 youth for prostitution. As of Aug. 31, no youth were arrested for the crime this year.
"We look for every reason not to put her in jail," said Diaz, the Seattle police vice sergeant. "We don't want to do that. "
Diaz said his detectives are trained to connect the youth they recover with a victim advocate, who is employed by the department. It's her job to evaluate the victims' needs and make sure they receive specialized care.
"Some of these girls require a lot of attention, especially once they finally decide that 'I'm going to break away from this pimp,'" Diaz said. "They need to feel they're with somebody else they can trust."
Briner, the Seattle-based sexual exploitation consultant, said she's pleased to see fewer youth arrested for prostitution than in previous years. But she said she won't be satisfied until it doesn't happen at all.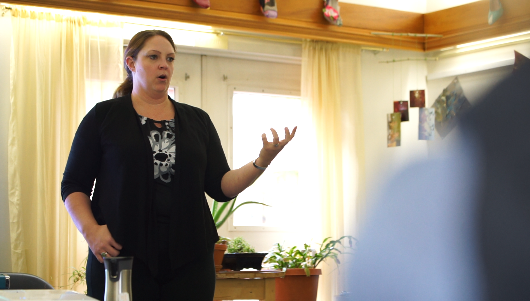 "Every time I hear a story about that happening, I think about what it must be like on the ground for that 14 or 15-year-old to be sitting in a hotel room with a bunch of adults who were supposed to protect them and then turn around and say, 'Turn around and put handcuffs on. You're being arrested,'" she said.
Not every police department has a victim advocate who's assigned to work sex trafficking cases. In those instances, the Center for Children & Youth Justice encourages police officers to call community-based advocates who respond to cases 24-hours a day and seven days a week.
Officer Richey said it's always the first call he makes when he identifies a kid who's been exploited.
"If we are doing an operation on any given night, it wouldn't be out of the ordinary for us to have three or maybe four advocates attached to that one operation," said Richey, the Bellevue police officer. "I have never encountered a time where we haven't been able to find a safe or effective place for a juvenile to go."
But experts say not all Washington counties are stocked with the same resources available to young sex trafficking victims in King County.
"The problem is not that (police) are not working to find services (for these youth)," said Nicholas Oakley, program manager at the Center for Children & Youth Justice. "The problem is that there are very limited services themselves in some communities."
'We Have No Other Place To Take Them'
While local officers rarely arrest youth for prostitution, some do not support taking the option away.
Diaz said Seattle police officers only use detention as a last resort. But he said it can be a tool for his detectives to keep victims safe from their traffickers when all recovery beds are full or when a young person is likely to run away.
"There are times when the options -- we don't have any," he said. "At the end of the night, there's no family members. There are no beds available to us in some of the homeless shelters...it's three in the morning, four in the morning, and we have no other place to take them."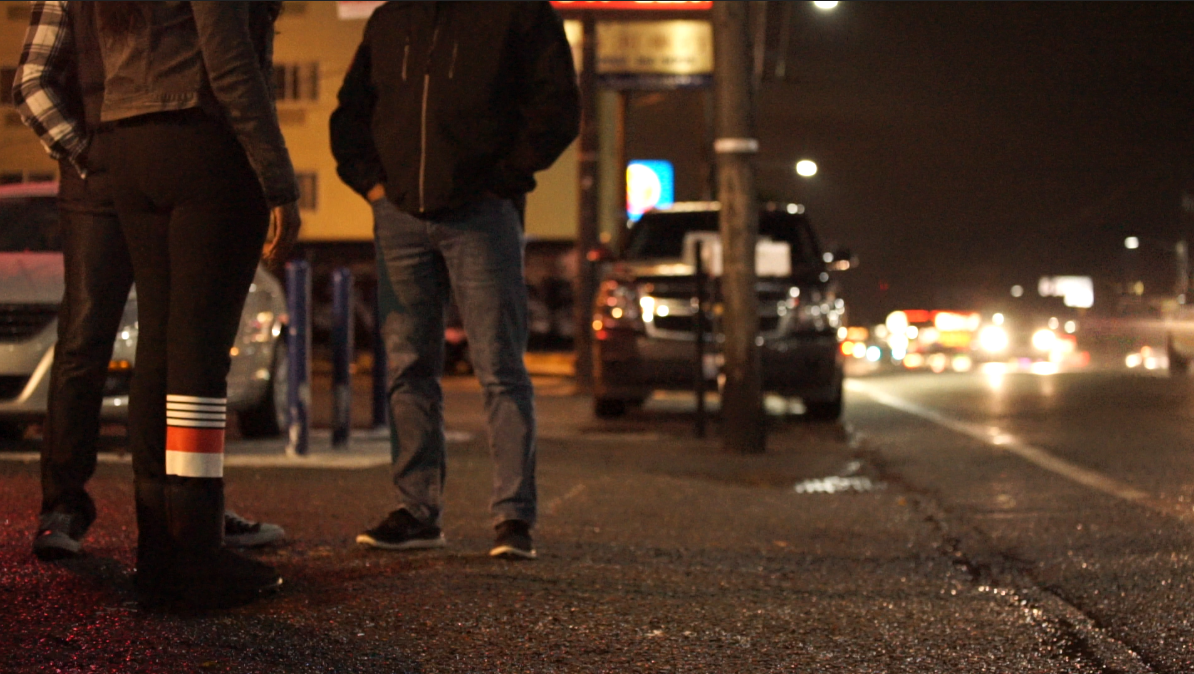 Officer Richey agrees with Diaz. He added that criminal charges sometimes hold the key to exposing these youth to services that can get them out of "the life" for good.
"If we charge them, effectively it forces them into maybe getting some help from an advocate," he said. "Maybe a judge can say, 'Look, you don't really have a choice. You're doing this, and you need to talk to this counselor and you need to talk to this advocate' and it forces them into a pathway."
Briner, the sexual exploitation consultant, said she understands why officers are inclined to take youth to detention, where they are guaranteed to know the kids are safe the next day.
"They're not willing to let go of the tool in the toolbox until we give them a clear pathway," she said. "I actually really understand that position."
Before arrest and criminal charges are off the table, she said, officers need alternative places to take sexually exploited youth besides detention.
"If we're really concerned about your safety and we know that you can walk out of an unlocked door, then we need to come up with better options -- both for the young people and for the law enforcement...who are responsible for keeping these young people safe," she added.
It's a reality that has puzzled victims advocates, lawmakers and officers fighting sex trafficking in this state for years.
They don't all agree on the best way to keep these kids safe, but they do agree that it's time to find better answers.
"This is a perfect storm of a complicated legislative scheme, inadequate services, lack of clarity about how to enforce the law and differing philosophical viewpoints," Richey, the prosecutor, said. "And they've all come together in one swirling tornado that does not always serve exploited kids in the best way it could."
The national hotline for human trafficking victims is 888-373-7888. Call this number to report a tip or to request services.
We've also compiled a list of Washington groups that provide support to prostitution survivors and sex trafficking victims as they recover from their experiences.
This story is affiliated with Selling Girls, a nine-month nationwide investigation into sex trafficking. TEGNA, our parent company, launched the project at each of our 46 stations across the country to help hundreds of thousands of American kids who are lured into a life they didn't choose. To watch the six-part series and to follow KING 5's ongoing local coverage of sex trafficking in Washington state, click this link.
Taylor Mirfendereski is a multimedia journalist, who focuses on in-depth reports for KING 5's digital platforms. Follow her on Twitter @TaylorMirf and like her on Facebook to keep up with her work. For story ideas, e-mail her at tmirfendereski@king5.com.