SEATTLE — The Washington State Department of Transportation (WSDOT) will resume collecting late fees and penalties on unpaid toll bills beginning March 1.
WSDOT suspended the collection of tolling late fees and penalties in June 2021.
Once the agency begins collecting those fees again, drivers with unpaid tolls could be charged a $5 late fee or a $40 civil penalty. If the due date for an unpaid toll is before March 1, drivers will be charged the late fee. If the unpaid toll has already been charged the late fee, drivers will then face a $40 civil penalty for each unpaid toll.
Civil penalties are typically issued 80 days after the toll was originally charged.
If the civil penalty isn't resolved within 20 days, the Department of Licensing (DOL) may place a hold on the vehicle registration.
Drivers with unpaid tolls who have a Good To Go! account may also face an additional charge. If a toll that was originally charged the Good To Go! rate remains unpaid for 30 days, WSDOT will charge drivers the pay-by-mail toll, which is $2 higher. Drivers will see the original toll credited back to their account as well as a new transaction for the pay-by-mail toll.
After March 1, Good To Go! drivers will have until their next statement date to make a payment and avoid the pay-by-mail toll rate.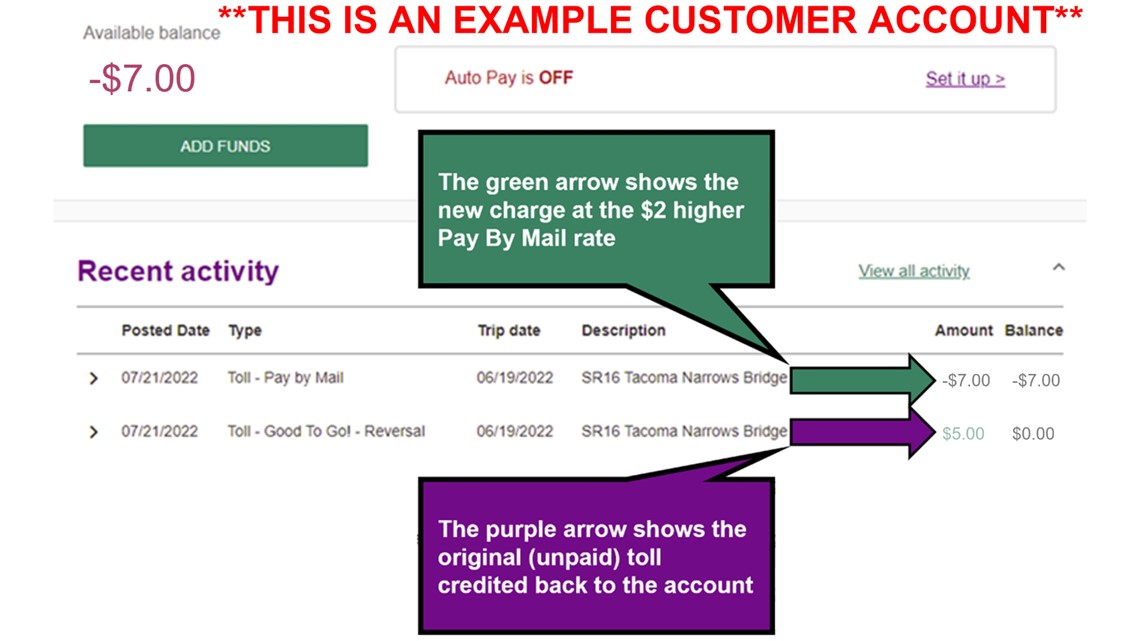 WSDOT urges drivers to make payments on unpaid tolls before March 1 to avoid late fees and penalties. Drivers can make payments online at mygoodtogo.com. If you don't have a Good To Go! account, drivers can create one and save $1.75 for each unpaid pay by mail toll.
Drivers can also utilize WSDOT's one-time penalty forgiveness program to waive fees and penalties if they pay the original toll.
If you drove a toll road but never received a bill, it could be an issue with the vehicle's registration address. WSDOT sends toll bills to the address listed for the vehicle's registered owner. Drivers can update that address on their vehicle registration with the Department of Licensing. They can also contact the Good To Go! customer service center at 1-866-936-8246.