Two student veterans at the school died by suicide last year, according to the UW Office of Student Veteran Life.
The photos on display at UW's School of Social Work show veterans working together to heal the spirit. In some photos, they're up to their elbows in the dirt on a farm in Olympia. On another wall, photos highlight a program that helps vets reconnect with themselves in the wilderness.
For photographer Jo Arlow, this "Healing Veterans" exhibit has a personal purpose. Her husband Greg Lewis served in the U.S. Navy Special Forces for six years. She lost him to suicide in 2011.
"We think that something is wrong, my head's broken. But really their heart is broken," said Arlow. "I think my husband carried around a lot of pain and guilt around his service that he never had the appropriate tools to process and forgive himself."
Arlow's husband is part of a stunning statistic. Vets are 22 percent more likely to consider suicide than civilian adults.
On the lawn outside UW's HUB, 7,400 small American flags represent each vet who died by suicide in just one year.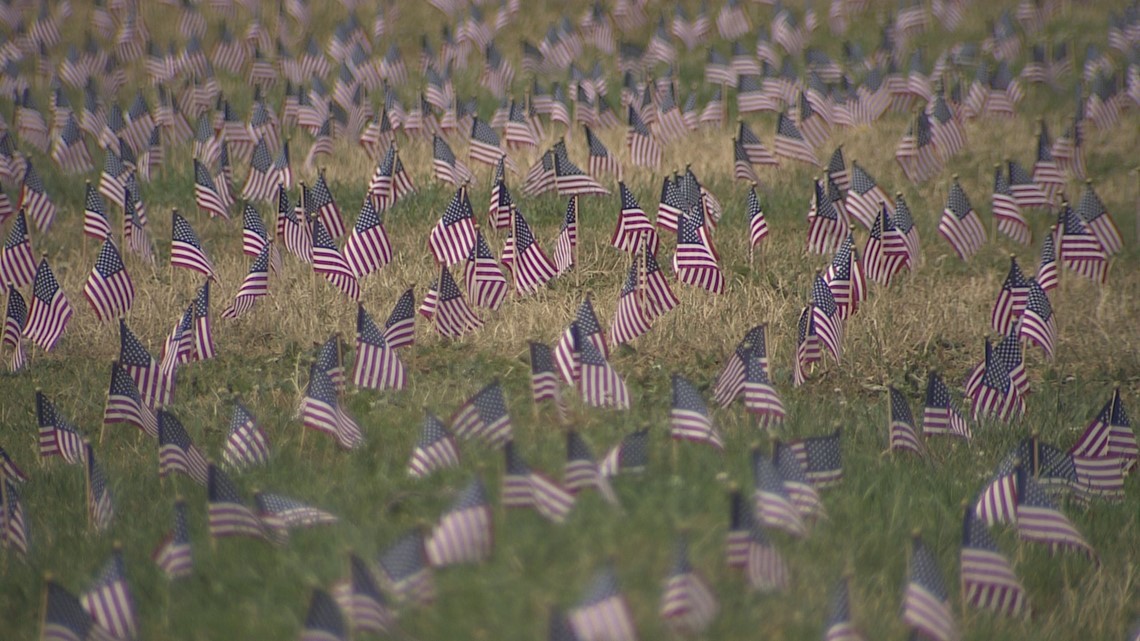 "I'm just shocked to see it. I just sat here and I cried," said graduate student Branden Audet.
Audet saw the flags walking by and realized the display was dedicated to a friend he thought he had just lost contact with. U.S. Army Special Forces Staff Sgt. Bobby Doolan was one of two UW vets lost to suicide last year. Audet had no idea his friend had died until he saw Doolan's photo with the display.
"It took me a minute or two to recognize it was Bobby. You know there is a responsibility in myself. Could I have opened up more and talked with him?" Audet asked himself.
It's the same question suicide loss survivors ask themselves. Arlow believes the veteran support programs she documented with these photos helped her deal with her own guilt.
"In many ways, they saved my life with what I was going through and was tremendously instrumental in my own healing," she said.