Demolition of the Alaskan Way Viaduct continues to open up views of the Seattle waterfront.
The Washington State Department of Transportation (WSDOT) shared a timelapse video this week showing an above view of crews demolishing two spans of the viaduct over several days in May.
Crews can be seen hammering out the roadway as large machines from the ground crush the structure into rubble. Nets hung from cranes protect nearby the buildings as crews use water to control the dust.
A photo released earlier this month shows a side-by-side comparison of the viaduct on January 10 and on May 13. By May 13, the portion of the viaduct between Marion Street and Seneca Street had been completely demolished.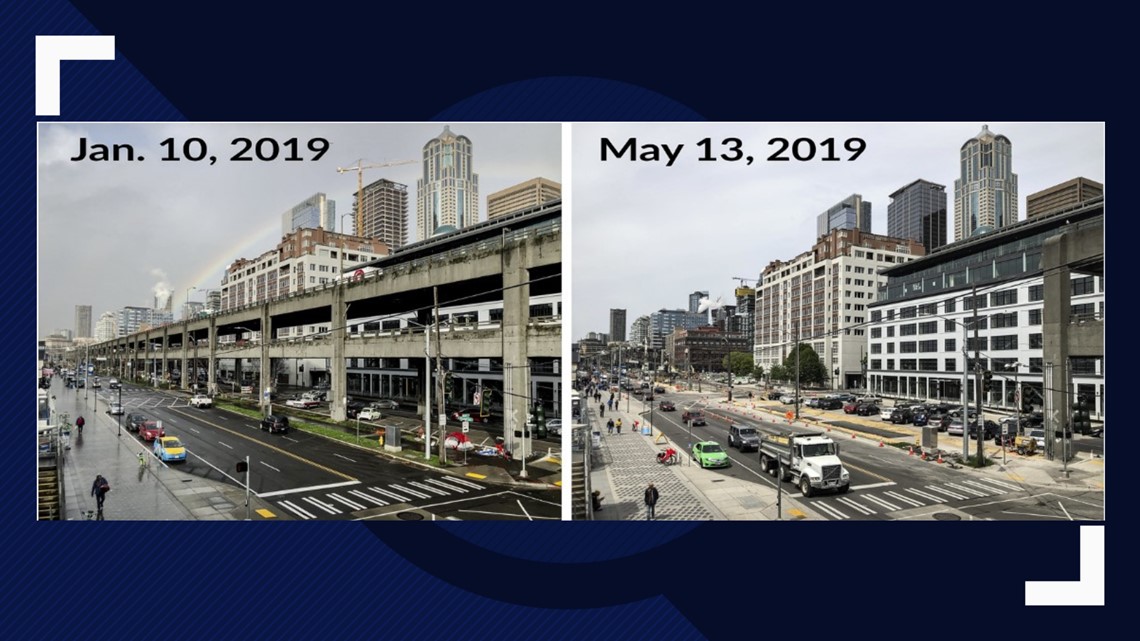 Progress also continues on the Battery Street Tunnel. Crews began filling the tunnel with debris from the viaduct demolition.
WSDOT published a video on May 15 that provided a look at how crews are filling the tunnel. Crews pour the debris into the tunnel through ventilation grates.
It's expected to take about three months for crews to fill in the tunnel up to about seven feet from the ceiling.
After that low-density cellular concrete will be pumped in from surface vents along Battery Street to finish the job. Mixing that concrete onsite will eliminate 4,000 loads of concrete on surface streets, according to WSDOT.