Tom Grzelak has lived on Fidalgo Island for 22 years, never knowing he might actually be living on an Indian reservation.
Now he isn't sure what to think.
"I know that I want to stay here," Grzelak said. "I like it here."
Members of the Swinomish Indian Tribal Community claim the Point Elliott Treaty of 1855 gives them the land, which is comprised primarily of March Point, just to the east of Anacortes.
The land was taken away from the tribe in 1873 by President Ulysses S. Grant. The Swinomish argue that move was illegal because only an act of Congress can shrink native boundaries.
The territory is currently home to about 350 non-native property owners. Tribal vice-chairman Brian Porter said there is nothing for people to worry about.
"We're not here to take over your home. We're not here to take your property. It's just a matter of jurisdiction, regulation. Their lives will not change," said Porter.
What could change, however, is the Skagit County economy. The Tesoro and Shell oil refineries are also sitting on the land in question, and they generate nearly $10 million per year in tax revenue. That's a third of the county's entire income. If the Swinomish own that land, they're likely entitled to that money, which could cripple Skagit County.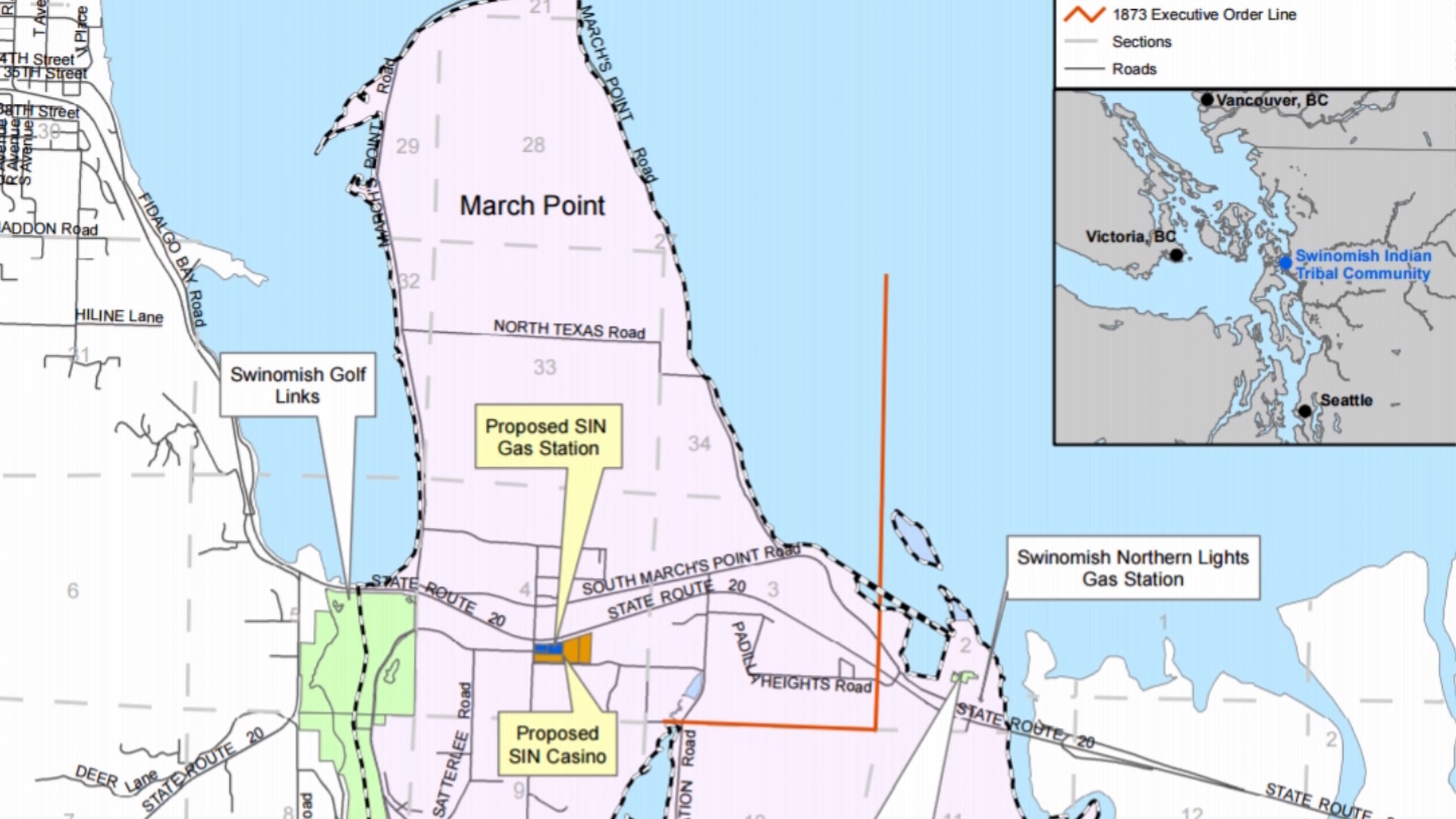 Skagit County Commissioner Ron Wesen and his colleagues sent a letter to the federal Bureau of Indian Affairs asking the agency to block the Swinomish plan, claiming it is illegal.
Right now, Wesen said everyone in county government is in the dark.
"It's always the unknown," said Wesen. "It's been this way for 160 years. Why do they want to change it now? We just don't know."
The tribe said it's far too early to discuss anything about the refineries.
Grzelak believes the issue will be tied up in the courts for many years.
"I probably won't even be around by the time they figure this out," he said, "But if this is their land, and they have a treaty, I guess we'll have to deal with it."