As the old saying goes, it was like deja vu all over again.
The Seattle Design Commission approved the urban design and public benefit of Chris Hansen's proposed SODO arena Thursday, after a nearly three hour meeting at Seattle City Hall.
It was a rather perfunctory part of the process for Hansen, who has reapplied for the vacation of a one block stretch of Occidental Avenue in order to build his planned $500 million project. His request for the vacation was denied last year by the Seattle City Council.
The approval, by a vote of 7-1 on design and 8-0 on public benefit, now allows the Seattle Department of Transportation to move forward on the street vacation application before sending it to Council.
Hansen's design team, led by attorney Jack McCullough, did a deep explanation of the project and plans to now privately finance it. McCullough made special mention of the fact that SDOT now plans to dead end Occidental at Lander Street to build the overpass project there. He also noted that Hansen's group is planning to build a public park of roughly 36,000 square feet and public bathrooms in exchange for the vacation.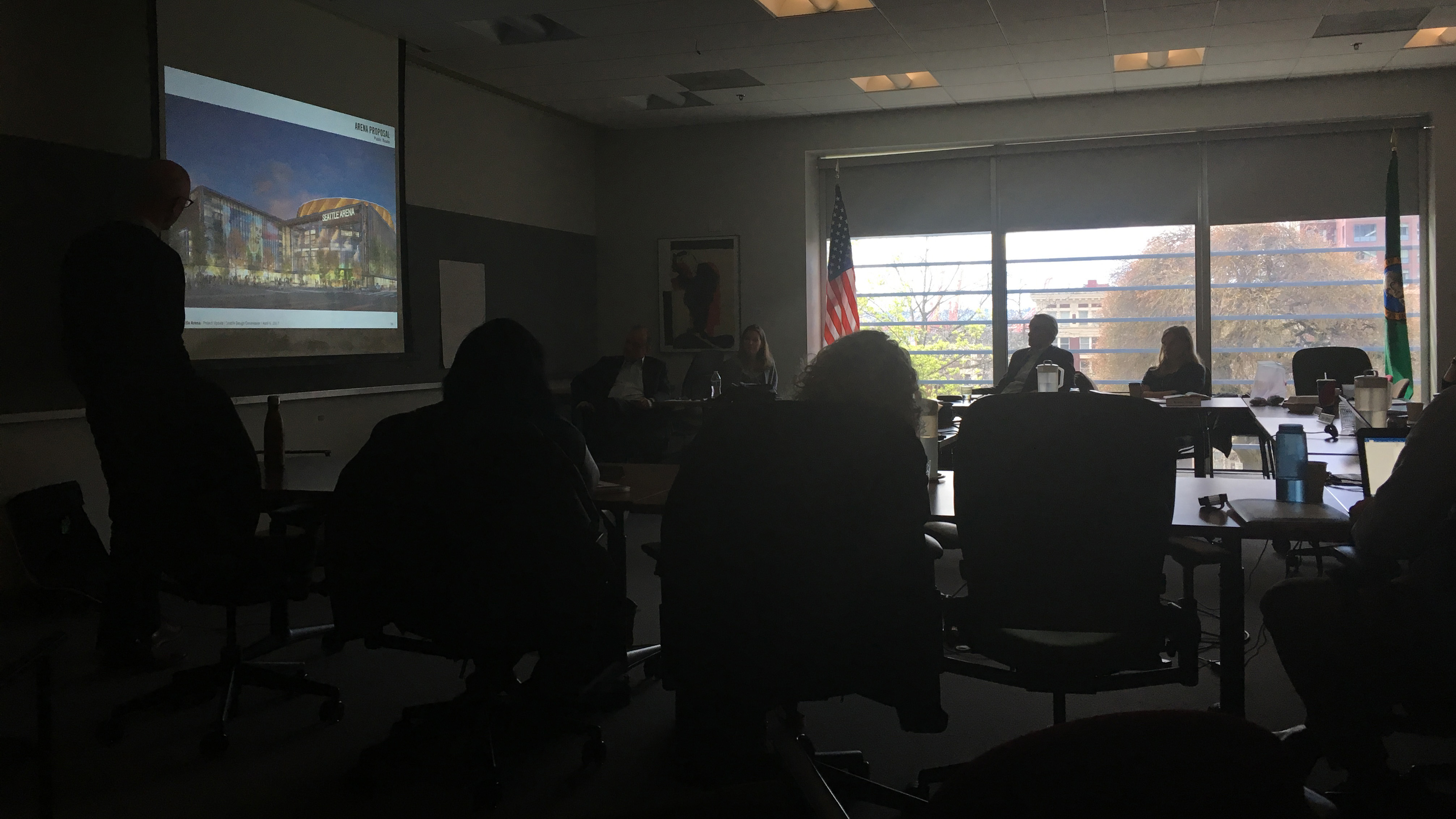 However, the Port of Seattle still explained its opposition to the project. Joseph Gellings, representing the Port, said it continues to view Occidental as a "pressure relief valve" needed for freight and emergency vehicle routes.
"We don't see anything in the research that supports that," McCullough said.
Rachel Gleeson, a landscape architect who is part of the Commission, agreed with McCullough.
"It's on the Port to demonstrate (traffic) and I'm satisfied," Gleeson said.
Ross Tilghman, chair and transportation planner, also noted that the Lander bridge "further severs Occidental."
The Mariners, a frequent critic of the project, did not have a representative at the hearing. McCullough says reps from the Hansen group are meeting with the M's next week.
The procedural development comes as the entire arena story will likely move into hyperdrive on Wednesday. That's when the city is expected to receive bids to rebuild or redevelop KeyArena on the Seattle Center campus.
Earlier this week, Seattle Center formally filed for historic preservation of seven buildings in the redevelopment site, including the arena. Lois Maag, spokesperson for the Seattle Department of Neighborhoods, which manages the preservation process, said on Friday the nominations will be reviewed by staff over the next couple of weeks, with a meeting about preservation occurring later this summer.