Thick wildfire smoke has socked in the Puget Sound area, and air quality is going to get worse before it gets better, according to KING 5 Meteorologist Rich Marriott. Hazy conditions will continue through Wednesday before air quality improves Thursday.
"We're going to continue to see that offshore flow bringing the smoke directly out of Eastern Washington into Western Washington through the day [Tuesday]," said Marriott. "So expect the smoke to be pretty nasty out there."
Air across the region is considered very unhealthy for everyone, according to the Puget Sound Clean Air Agency. The agency recommends everyone stay indoors as much as possible.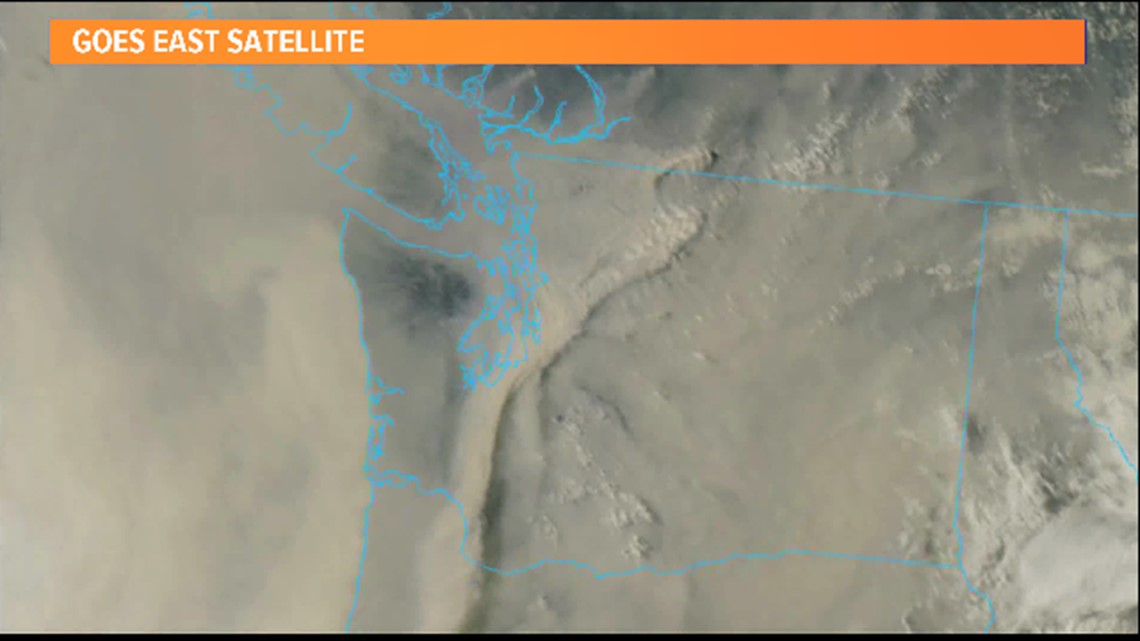 The National Weather Service issued an Air Quality Alert through 5 p.m. Wednesday. Unhealthy air is expected to gradually get better Thursday.
"We will see a return to onshore winds by later Wednesday pushing in clean Pacific air to improve our air quality," Marriott said. "We may even see a few raindrops on Sunday."
Gusty winds and low humidity prompted the National Weather Service to issue a red flag warning for parts of Western Washington until 6 p.m. Wednesday.
The strong winds are likely the source of ash that started falling on Monday evening. Residents in Gold Bar, Gig Harbor and Seattle reported seeing it floating in the air and on cars.
Satellite images show strong northeast winds carried smoke across the Cascades from fires burning in Eastern Washington on Monday afternoon.
"Most of the summer we've kept our onshore winds, even though it's been hot, which kept the smoke out of here until about two weeks ago," said Marriott.
Last week's air quality was the worst on record for Puget Sound. On Monday, Marriott said it's possible this week's could be worse with the combination of winds from British Columbia and Eastern Washington.
Authorities have issued a burn ban for counties including King, Kitsap, Pierce, and Snohomish because of wildfire smoke and related unhealthy air conditions.
The Puget Sound Air Agency said no outdoor burning is allowed as of 5 p.m. Monday in order to reduce any additional harm from excess air pollution. The ban covers Seattle, Tacoma, Everett and Port Orchard, among other locations.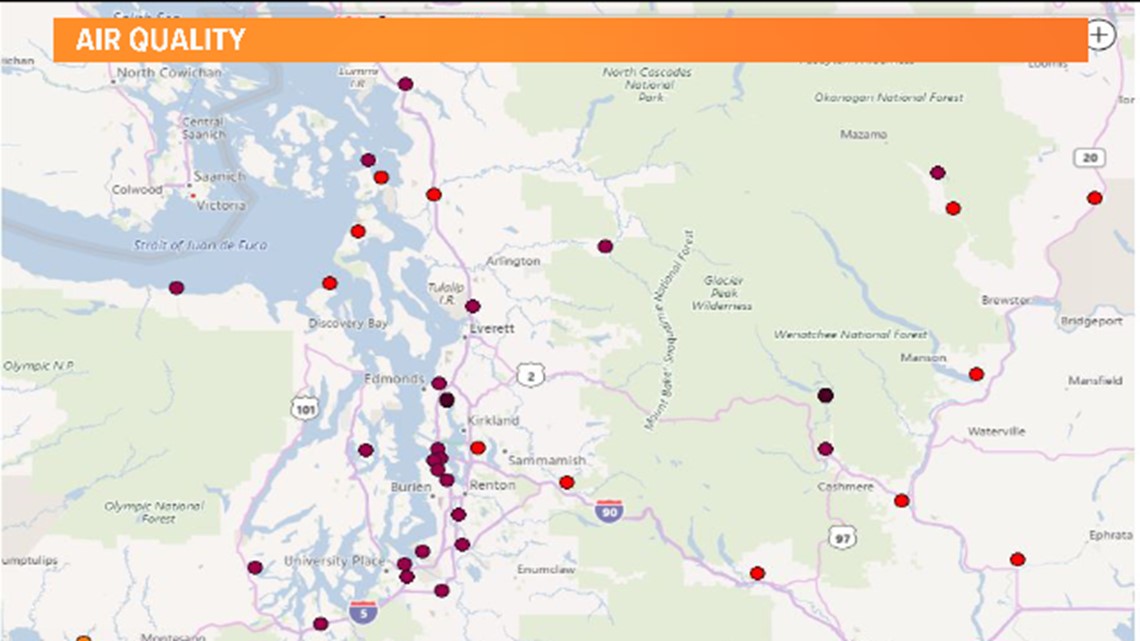 Forecasters expect the wildfires to continue through most of September. This will maintain the possibility of more smokey episodes for western Washington.