MOUNT VERNON, Wash. — A sure sign of spring returned to western Washington as colorful blooms of tulips and daffodils blanketed fields of Skagit Valley during the annual tulip festival.
The festival ends April 30, and tickets must be purchased online for a specific time in advance. Separate tickets will need to be purchased if guests plan to visit both Tulip Town and RoozenGaarde.
Due to COVID-19 precautions, guests are also asked to limit their stay to a maximum of 2-3 hours this year.
If you are unable to make it to the 350 acres of flowers this year, don't fret! You can enjoy the sights of the tulips in peak bloom at RoozenGaarde in the photo gallery below.
Photos: Peak bloom at the Skagit Valley Tulip Festival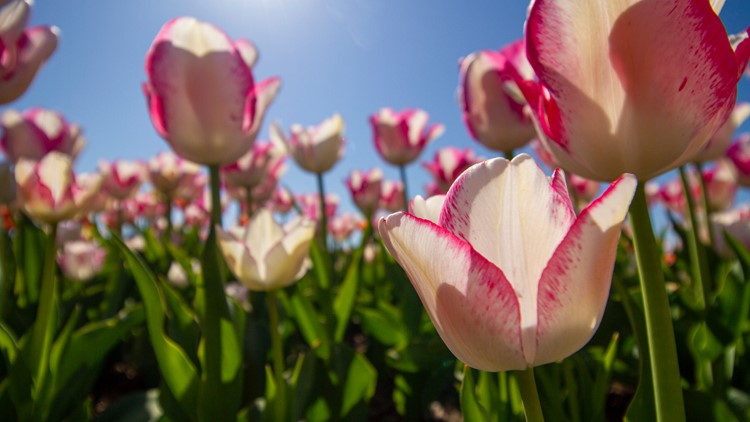 Want to bring the colorful experience of the tulip festival to your home garden? Gardening expert Ciscoe Morris shared the following tips and tricks to help your garden be the envy of your neighbors and pop with colorful tulips every year:
Pick the right type of tulip: Ciscoe recommends Queen of the Night and Emperor as they are both good returners.
Dig Deep: Ciscoe said to ignore what the packaging says and dig your tulip bulb bed about a foot deep.
Add organic fertilizer: This addition is key to make the bulbs come back year after year. Don't use bone meal unless you want to attract the neighborhood dogs.
Don't crowd bulbs: Crowded bulbs fight each other for nutrients and will get stressed then divide. Instead, keep the bulbs about 6 inches apart from one another so each bulb can grow a strong plant.
Protect from pests: Ciscoe has a trick to keep squirrels from befuddling him. He uses screening-covered mulch to befuddle the squirrels. Chicken wire works; so do the grids attached to plant stakes. Do it right after you put those bulbs in the dirt – those squirrels are watching!