When Robert Goodwin decided to rent out the guest bedroom in his three-bedroom Townhouse in Cherry Hill, he included a specific list of requirements for his future roommate: clean, not passive-aggressive, ideally a graduate student, and "definitely not someone who voted for Trump."
"I watch way too much Rachel Maddow to live with somebody like that," Goodwin said in an email.
His advertisement is one of a handful of roommate ads on Craigslist that include a so-called "no-Trump clause."
"We'd be roommate matches if you're into philosophical talk, you didn't vote for Trump, and you like to dance," wrote a roommate seeker in Capitol Hill.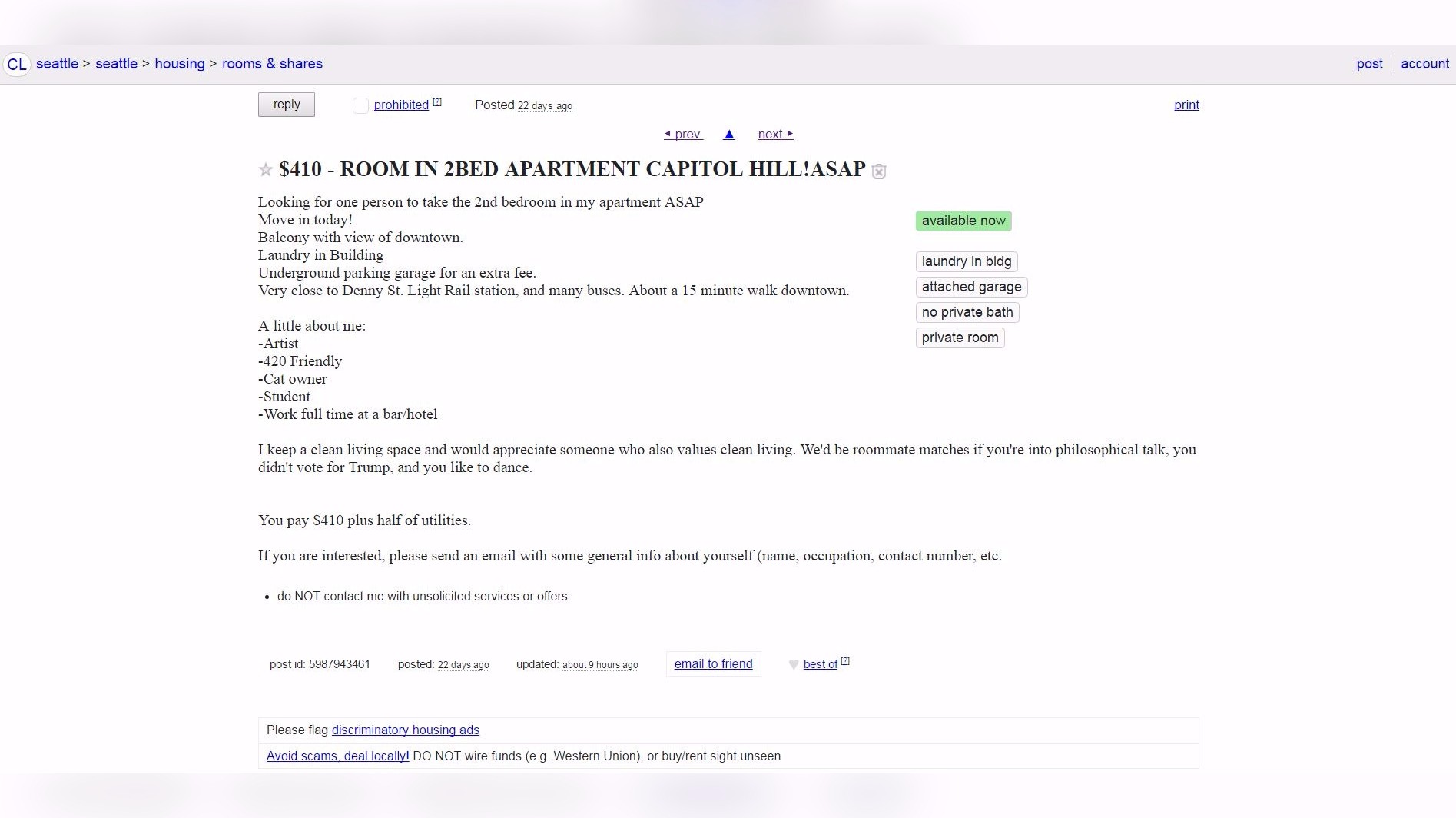 A 21-year-old female looking to rent a room in Seattle wrote: "Creepy guys, and Trump supporters need not reply to this ad."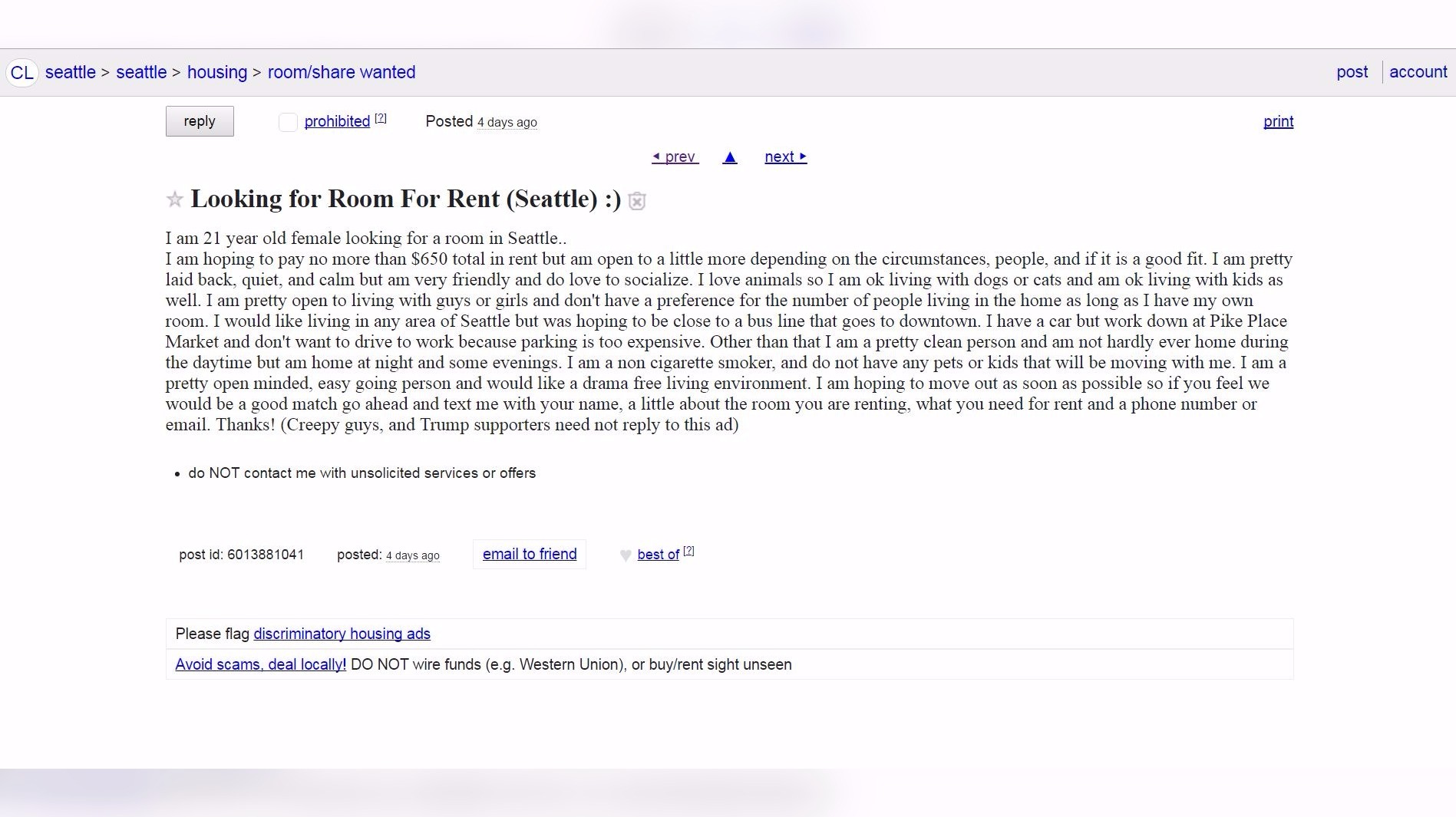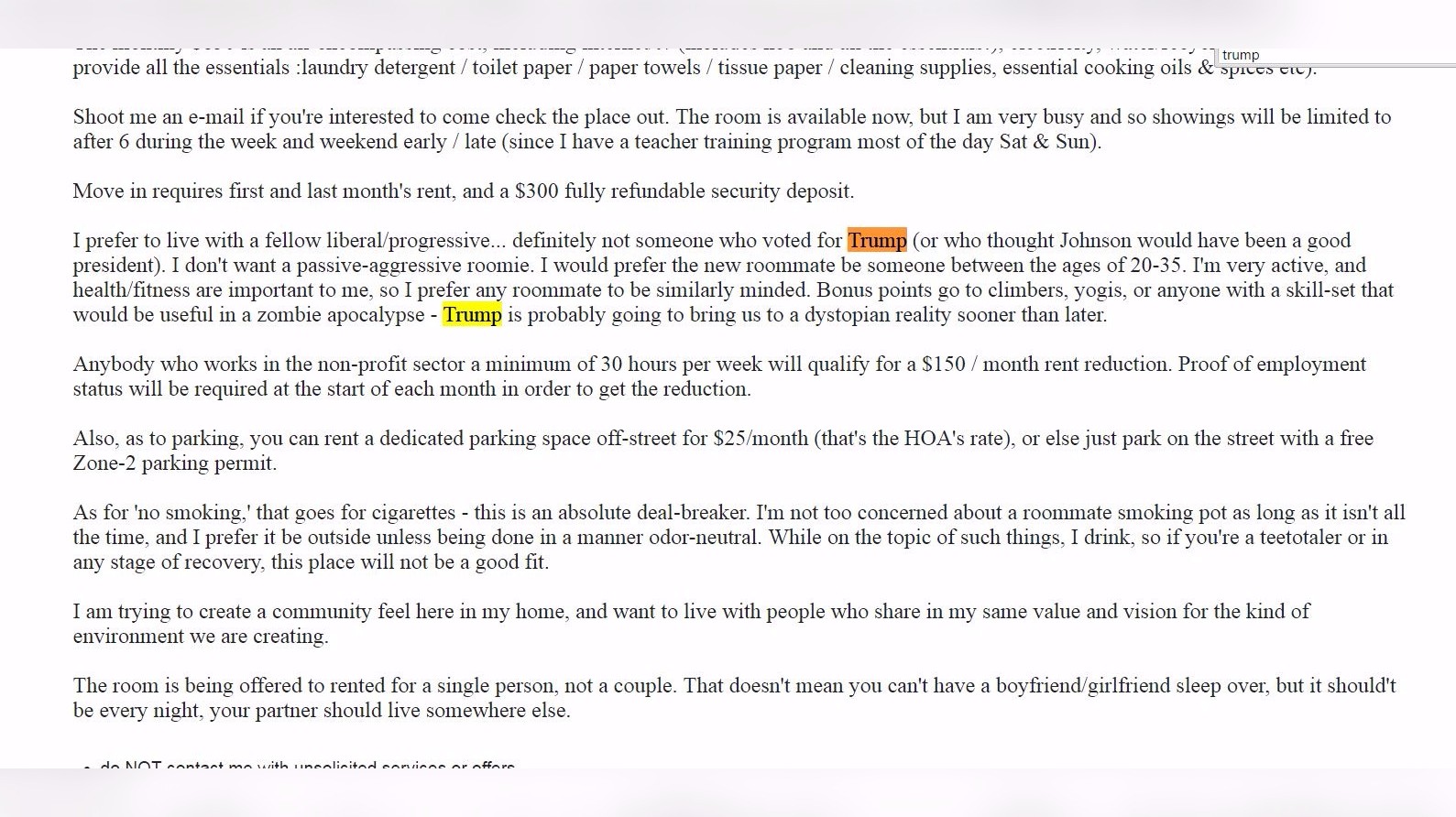 When asked what compelled him to be so upfront about his preference for roommates, Goodwin said, "With the ongoing escalation of tensions between Trump and the media, the unraveling of the Trump administration's collusion with Russia, ICE raids on the rise and threats to increase federal crackdowns on marijuana, I simply cannot imagine sharing my home with a person who isn't profoundly concerned about these events. We're living in strange and troubling times, and yet Trump supporters don't seem to think anything is wrong."KING 5 spoke with other people who did not wish to give their names, but expressed wanting to keep their homes happy places after tensions with family members who voted for Trump escalated during the election season.Seattle's Office for Civil Rights has not yet fielded any complaints from Trump supporters offended by the advertisements, according to Elliott Bronstein.Under Seattle law, it is illegal to discriminate in the rental or sale of housing because of political ideology if you are a landlord or property manager, according to the City's website."It's unusual. There are not very many places that do have that protection. I think it's safe to say that it's rare," Bronstein said of the protected class.However, the civil rights law does not apply to people looking for roommates."If you are a landlord or conducting a rent search, trying to find a renter for a room, then, under local fair housing law, you cannot discriminate on political status," Bronstein said. "There is an exception if you are sharing a house, common living, advertising for a true roommate. People do have more specific desires when they are looking for housemates."Bronstein says the punishment for a landlord or property manager investigated and found to be in violation of Seattle's civil rights laws will vary, ranging from fair housing training to possible financial remuneration.Bronstein says if anyone feels discriminated against or if a landlord has questions, call 206-684-4500 or fill out an online complaint form.