If viewing in the app, click here to see more content.
Seattle Police Chief Kathleen O'Toole has asked the FBI to open a criminal investigation into "a small number" of police officers.
Neither she nor the FBI would discuss the details. But O'Toole said it has to do with the "management of secondary employment," according to her statement the department released Wednesday.
If you drive by almost any one of the dozens of construction sites in Seattle, you will see off-duty officers working traffic and safety control, highly profitable and highly sought after secondary jobs.
Last year, a startup company called Blucadia entered that field.
"Blucadia is an open marketplace to allow customers who have never had access to police before, off duty, to easily post a job," said chairman and co-founder David Bluhm. "And for officers who have never had the opportunity to work off duty because they don't have seniority, they're not part of the 'good old boys' network."
In the past, O'Toole and SPD leadership have voiced concern over the lack of transparency with secondary employment, because of the department's inability to track who is working where, for how much, and for how many hours.
Bluhm said SPD encouraged them to reach out to the union, known as the Seattle Police Officers Guild. The response caught them off guard.
"Our CEO received a very intimidating phone call," remembered Bluhm. "That had very little context other than a lot of verbal abuse and intimidation. That alone was a concern to us. Later we had reason to believe we were under a bit of surveillance at our company."
By surveillance, Bluhm refers to what appeared to be an undercover, unmarked police vehicle rolling up on their office in Olympia captured in this photo.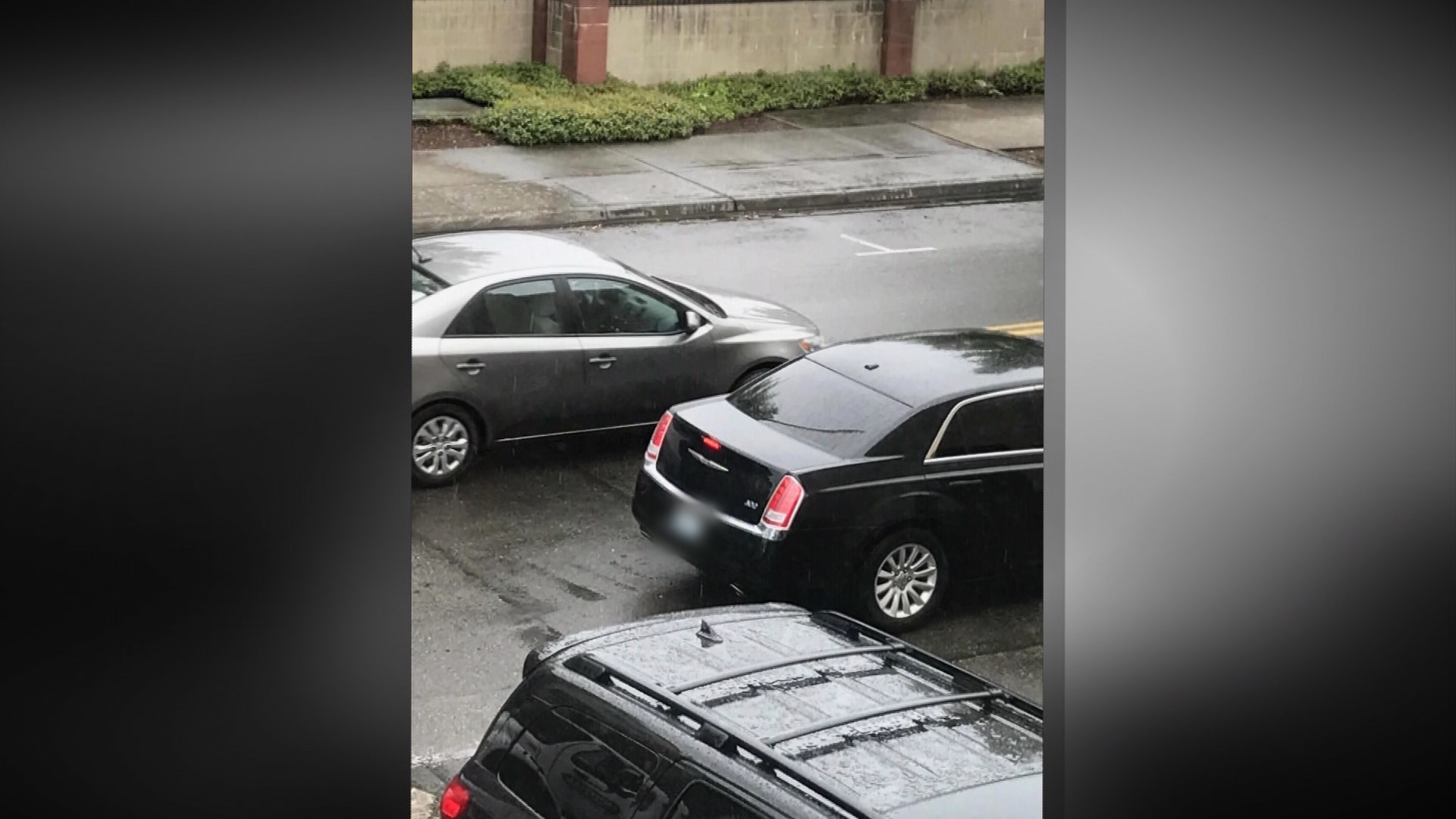 "I have no idea, but the phone call was clear about getting us to back down and get us to stop working with Seattle membership," he said.
SPOG did not return to any of our requests for comment Wednesday.
The reason behind the alleged hostility is unclear. But Kauffman said members have complained about a limited pool of officers charging $80 to $90 an hour.
Bluhm has heard prices as high as $140.
He believes his company would allow the market to dictate pricing by introducing more competition.
Chief O'Toole was in Ireland Wednesday. But in a written statement, she said as soon as she learned of the allegations she contacted the Office Of Police Accountability and the FBI.
She also reiterated how secondary employment, while providing a legal and necessary service to the community, has always been a concern.
Council member Lorena Gonzalez, who chairs the city council committee that oversees public safety, said the allegations are concerning.
She also feels they highlight a bigger issue that must be addressed within the Seattle Police Department.
"I think it's very atypical and unusual to have a union managing off-duty work hours. All of the other law enforcement agencies that we're aware of do this management in-house. And I think there's a clear reason for that in terms of making sure there aren't inherent conflicts of interest around money and other things," said Gonzalez.
She points to an audit done in April of 2016 and says it contained specific recommendations for SPD to change policies and improve oversight of off-duty work. Gonzalez says the issue was never fully resolved. And now she wants to know why.
"I think it's fair to say I'm frustrated at the fact that it has not been controlled," she said. "It's my belief that Chief O'Toole has the authority to do that, and it's my expectation that she exercise that authority."
Could council create legislation that might help SPD address the problem? Possibly. But that's not Gonzalez's preferred course of action.
"We could potentially look at legislating around the areas of off-duty work. My preference would be that we try to work with the chief to see if we can give management the control they should have around these hours. If that fails, I think it would be incumbent on the city council to look at whether or not this is an appropriate area for us to legislate and mandate certain controls," she said.
SPD Chief Operating Officer Brian Maxey told KING 5 that the department has already taken steps to implement the off-duty work recommendations laid out in the 2016 audit. He also points out, it was Chief O'Toole who requested the Overtime Controls Audit that Gonzalez referenced.
"The Seattle Police Department has been proactive at addressing concerns around secondary employment and not only welcomes but has requested assistance from city partners. The April 2016 Overtime Audit was conducted at the request of the Chief in an effort to obtain visibility into both the overtime and off-duty work of officers," Maxey wrote in a statement to KING 5.
He said only one recommendation from the audit was related to off-duty, or "secondary employment" work. That recommendation called for better tracking.
"In response, SPD identified Blucadia as its preferred solution, precisely because the service provided control and transparency for scheduling, approving, and tracking the off-duty work of officers," said Maxey.
The challenge is that SPD has been unable to mandate the use of Blucadia as the required method used to assign and track off-duty work.
Why? A lot of it has to do with the police union. SPOG and the city would need to return to the negotiating table and bargain the use of Blucadia.
SPD leadership has said they would welcome any support city council can provide in developing systems and possible legislation to allow SPD to address and mitigate the concerns regarding officers' off-duty work.
Meanwhile, the FBI confirmed it is reviewing the case, as requested by Chief O'Toole. If the public has information related to the allegations, they should call (206) 622-0460.