SEATTLE — Several different groups came through Seattle to observe May Day, which has become a traditional day internationally for political speech and protest.
The first and the largest was organized by El Comité, and marked International Workers Day, which focused on rights of essential workers and immigrants, especially during the pandemic.
El Comité, a social justice organization that advocates for civil, labor and workers rights, organized the largest of the planned labor protests in Seattle, which included speakers such as Congresswoman Pramila Jayapal.
This year, attendees also marched in observance of the strain the COVID-19 pandemic has put on millions of workers across the country.
"[The year] 2020 became a major challenge for workers, organized or not. As a result of the virus, thousands of businesses closed, some forever," read's an event description. "Millions of workers were furloughed or lost their jobs. Many lives were thrown into a world of unemployment, poverty, compounding rental debt, and homelessness. Essential workers became the soundbite of the decade, while the real meaning behind this rhetoric was 'expendable & excluded.'"
For the last 20 years, marches organized by El Comité have been the largest of the May Day events in Seattle.
Another march in support of workers' rights, the undocumented and anti-racist movements was organized between Blanche Lavizzo Park to the Northwest African American Museum. That group played instruments and spoke with nearby residents on the way to the march.
Another group marched through downtown Seattle and Capitol Hill, which wore all black and waved flags and umbrellas. The group clashed with the police at Cal Anderson Park and along their marching route. Police said the group dropped flares onto the ground, and threw items at officers including eggs, paint, bottles and a bag with an unknown liquid.
Fourteen people were arrested from that group, on charges ranging from assault, disorderly conduct, property damage and graffiti.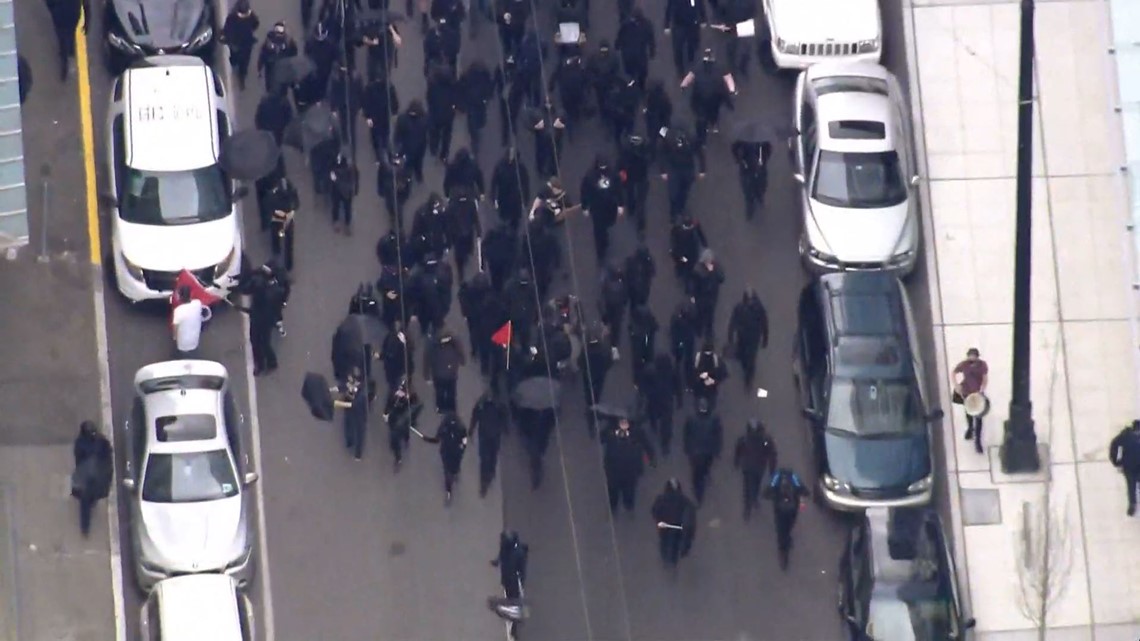 In most countries, May 1 is known as International Workers' Day or Workers' Day. In the United States, it's often a day for protests and commemoration to remember the struggle for the rights of working people, according to the University of Washington History Professor James Gregory.
Its modern roots worldwide trace back to a string of violent events in Chicago in the late 19th century, as unions pushing for fair working conditions began advocating for the eight-hour workday with strikes and demonstrations nationwide.
Other groups, like anti-capitalists, anti-fascists and anarchists, plan their own May Day events, too. They each have their own reasons for observing the day. Those gatherings, which don't have city permits, usually happen at night.
In the early 2000s, May Day often involved violent clashes between anarchists and police. In 2015, nine police officers were injured and 16 people were arrested after a May Day riot on Capitol Hill.
As a result, Seattle police have added additional crowd control management training, and the department was called to review its use of blast balls on the public and explore other forms of crowd control.