A Seattle City Council committee endorsed the creation of a special taxing district on the waterfront on Wednesday despite pleas from business and condo owners.
The city wants to set up what's called a Local Improvement District (LID) to raise $200 million to help pay for waterfront improvements once the Alaskan Way Viaduct is demolished. Owners would be required to pay assessments on their property.
Total cost of the project is $668 million. The difference would come from the state and city.
The city says property owners should pay part of the cost because the improvements provide an "increase in a property's market value resulting from Waterfront Seattle's park and streetscape improvements."
Of the $200 million collected from the LID, the city expects to take $25 million from condominiums and $175 million from commercial property owners.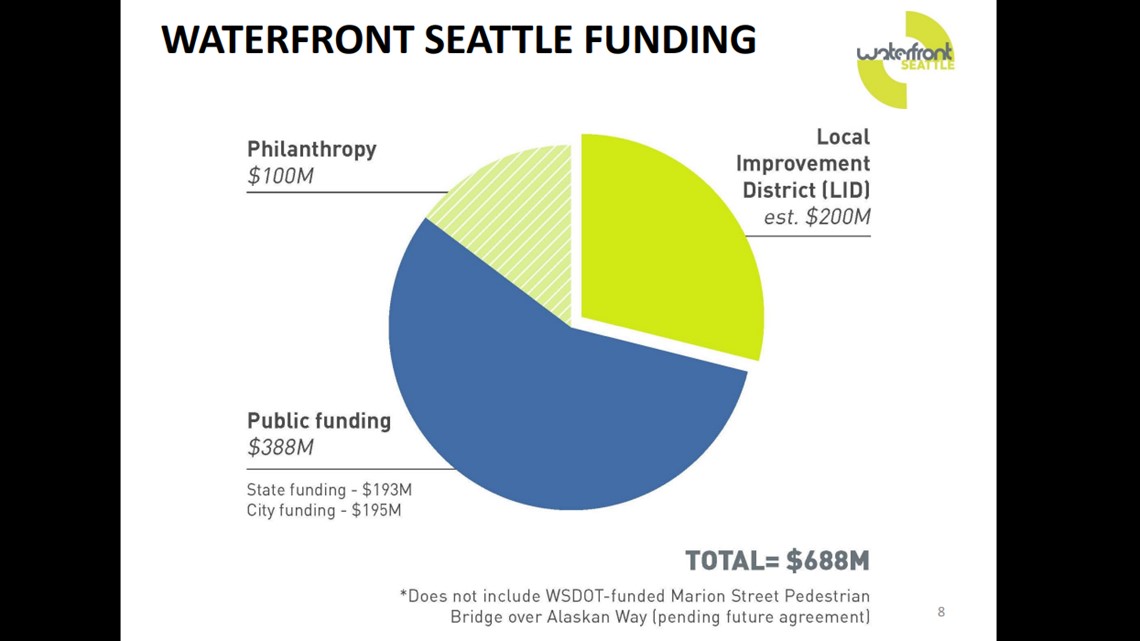 "If the LID assessment is approved, we will be forced to sell our condo. I consider this personal so I'm asking you to oppose the LID assessment," Kel Wilson told council members at Wednesday's meeting.
Wilson is a retired teacher who bought a studio apartment back in 2001.
"And if your effort to disprove the LID fails, I'm asking you to look for a wider base of taxpayers to fund this project, rather than asking so few to pay so much," said Wilson.
"The entirety of the city of Seattle benefits from this LID, not just a selective group of businesses and condominium owners," said David Star. "These tactics are destroying Seattle so I say, NO LID!"
Despite those pleas, the committee passed the measure, which is expected to go before the full council Monday afternoon.
Kim Rorschach is the CEO of the Seattle Art Museum and was one of the rare voices in favor of the LID.
"Our budget is significant, every year is challenging to raise the resources to meet it, nonetheless, I would be honored to do that, to support the LID because I believe it would greatly benefit our downtown neighborhood, including our residents, our businesses, and our nonprofits," she said.
"When you build a significant public improvement like this park, not only does it have general benefit to the whole city, but it creates a direct real estate value for those immediately next to it," said Marshall Foster, director of Seattle's Office of the Waterfront, told KING 5 back in March.
Seattle has formed several LIDs in the city's past; it most recently taxed people fund the South Lake Union Streetcar in 2008, Portage Bay Place in 1998, and the Third Avenue Transit Tunnel in 1992.
Public hearings are scheduled on July 13, at the Convention Center, and July 17, 18, and 28 at City Hall.
The city council published a list of planned improvements the LID will contribute to:
Promenade: A continuous public open space extending along the west side of Alaskan Way from King Street to Pine Street.
Overlook Walk: An elevated pedestrian bridge situated at the terminus of the Pike/Pine corridor, would include several buildings, an elevated lid over the surface street, open space with excellent view amenities, and an accessible pedestrian pathway with many connections between the Pike Place Market and the waterfront.
Pioneer Square Street Improvements: Streetscape and new roadway/sidewalk improvements to portions of S Main Street, S Washington Street, Yesler Way and S King Street from Alaskan Way/First Avenue E to 2nd Avenue S. The improvements would create pedestrian-friendly links from Pioneer Square to the waterfront.
Union Street Pedestrian Connection: A universally accessible pedestrian link between the new waterfront and Western Avenue. An elevated pedestrian walkway and elevator extends from the southwest corner of Union Street and Western Avenue to the eastern side of Alaskan Way.
Pike/Pine Streetscape Improvements: Pedestrian improvements along Pike and Pine streets from First Avenue to Ninth Avenue, providing enhanced pedestrian access to and from the Pike Place Market and waterfront.
Waterfront Park: A rebuilt pier park located at the base of Union Street, would provide a unique atmosphere for social gathering/performance spaces with excellent view amenities.