KITTITAS COUNTY, Wash — Monday marks the sixth day that multiple agencies were involved in a search for a Seattle Fire Department (SFD) deputy chief reported missing during a hunting trip in eastern Washington.
According to the Kittitas County Sheriff's Office (KCSO), Jay Schreckengost was staying at Squaw Rock Resort off State Route 410 while on a hunting trip. He was last heard from on Tuesday, November 2 when he texted his wife letting her know he had parked his truck and was headed out to go hunting.
In an update Monday morning, officials said about 60 searchers are pushing to locate home before a potential storm brings significant snowfall.
It is believed that Schreckengost went hunting alone, but his son was planning to arrive at camp Wednesday. When Schreckengost didn't check in with his family at the end of the day, they suspected something was wrong, according to KCSO.
"He's an experienced hunter and outdoorsmen, they believe he was well equipped for this experience, but something seems to have happened," said KCSO Inspector Chris Whitsett.
Schreckengost's family went to search for him Wednesday and contacted the Yakima County Sheriff's Office (YCSO) when they couldn't find him. The YCSO then contacted the KCSO.
Schreckengost's truck was located in the Cliffdell area of Kittitas County, north of SR 410. Search and rescue crews are looking for Schreckengost in a three- to five-square-mile area around where his truck was found. The KCSO said the area is fairly remote and borders Yakima County.
Crews described the surrounding terrain as "steep" and "slippery" in some areas which require help from mountain technical rescue personnel.
In a Monday morning Facebook post, Schreckengost's daughter Marisa asked for the help of anyone prepared to search, especially during the weekdays. Searches began around 7 a.m. from the Whistlin Jack Resort in Naches, which is the base of operations for the KCSO.
Search and rescue ground teams from Kittitas and Yakima counties are involved in the search. Klickitat County search and rescue brought two trail dogs to search along trails in the area. A drone with thermal imaging is also being used to try and locate Schreckengost.
A Chinook helicopter from Joint Base Lewis-McChord provided aerial support on Friday and is expected to join the search again on Saturday, weather permitting, according to KCSO.
Off-duty Seattle firefighters are assisting search and rescue crews, according to Seattle Fire Department Public Information Officer Kristin Tinsley. SFD is also aiding with some logistical and communication support in the search and rescue operation. The King County Sheriff's Office is also helping with the search, as they often do in Kittitas County, according to KCSO.
"This is still very much a rescue effort and we are very hopeful that Jay is going to be found and that he is going to be found safe," Tinsley said. "He's been a member of our department for 36 years working his way up from firefighter to deputy chief. He's not only a colleague to us, but he's our friend and he's a family member of the Seattle Fire Department and we've been working closely with his family who is here on-site. We're keeping them close in our hearts during this whole search effort."
The YCSO said Schreckengost is a survivalist and had the proper clothing on him, along with food, water, a rifle, backpack and maps. His last known location is known to be a typical area for hunters this time of year.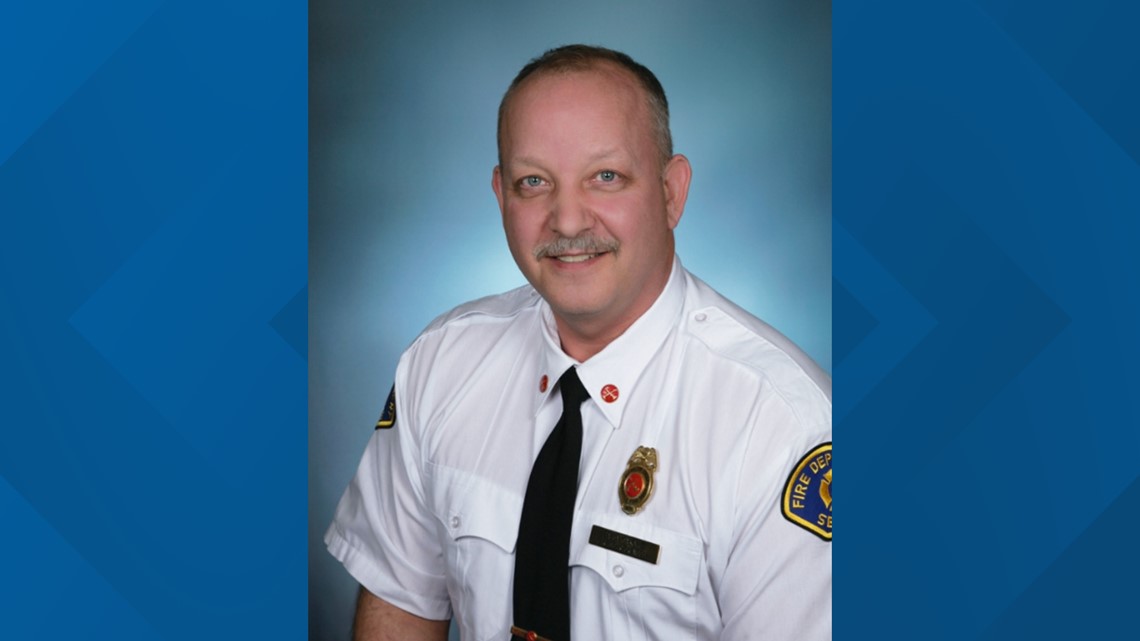 SFD Batallion Chief Erik Hotchkiss, who has known Schreckengost for over 30 years, said he believes the deputy chief is "as ready as we can hope one would be" to survive in the surrounding wilderness.
"His tendencies are he's well prepared, very knowledgable on hunting and experienced in the backcountry, properly equipped," he said. "Many of our searchers are the same, fellow friends, hunting partners of his. A majority of people coming from Seattle fire are experienced being out in the mountains."
Marisa Schrekengost said that the family has seen overwhelming support from the community, adding in her Monday Facebook post that some volunteers between the ages of 16-71 have stayed out looking for her father from dawn until dusk.
Anyone with information they believe may help locate Schreckengost is encouraged to call Kittitas County's dispatch center Kittcom at 509-925-8534.