Members of the Seattle Buddhist community are concerned by a years-long issue - fake monks reportedly panhandling downtown.
"This is happening all over the world, in major U.S. cities," said Steve Wilhelm, editor of NW Dharma News.
Wilhelm has been practicing Buddhism for more than 30 years and has met plenty of monks.
"None of them would be doing this, none of them would be out in the street," he said. "They're not out in the street asking for anyone to do anything."
The purported monks often approach people in heavily trafficked areas. Wilhelm said it's common for them to slip a beaded bracelet on someone's wrist or hand them a gold card reading, "Word Smoothly, Lifetime Peace." Then they ask for payment.
One monk was observed removing the bracelet from someone's wrist when she appeared to politely refuse.
Miriam Martinez often sees men in robes outside the store she manages on 1st Avenue, Simply Seattle.
"It does make me uncomfortable because I don't know how much money they ask for," she said. "People do fall for it every single time. I see people give them money every single day."
"I honor the fact that anyone feels generous enough that they want to donate to such a purported effort," Wilhelm said. "That's to people's credit. But they should just know monastics would not be out in the street asking for money. Monks don't do that. So if someone does that, they're not a monk."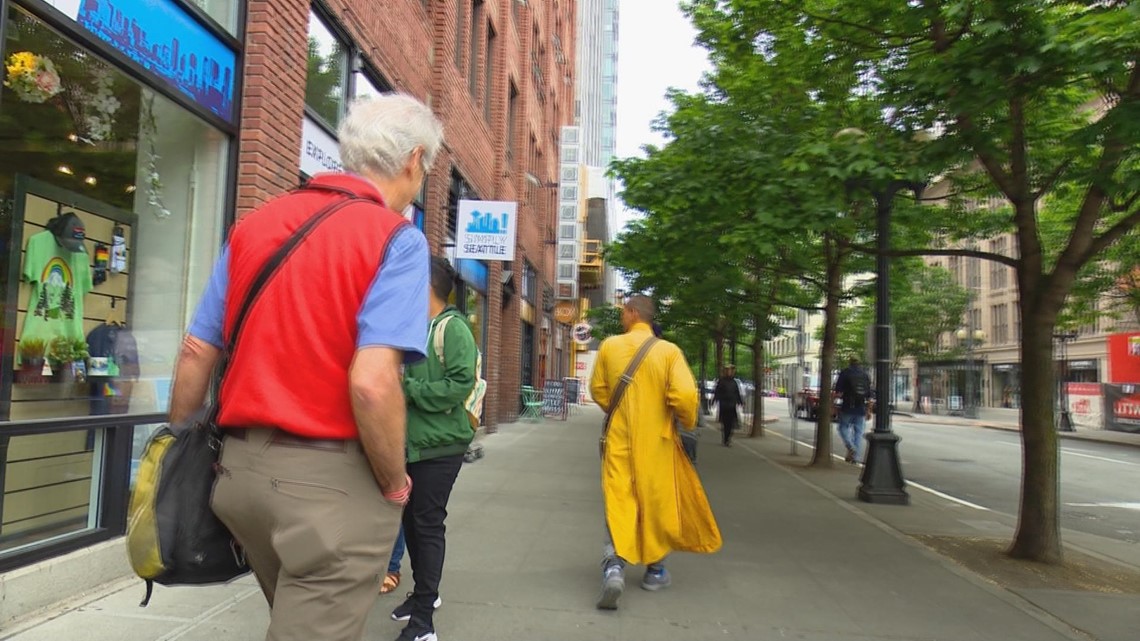 That's why he recommends asking basic questions about where the money goes. Wilhelm approached one man in robes panhandling near the Pike Place Market to do just that. When approached by the Wilhelm and a KING 5 camera, the man walked away.
"What monastery are you from?" Wilhelm asked. The man did not respond. Another person in similar robes began to walk away across the street.
"He's just a guy conning people," Wilhelm said.
That behavior did not inspire confidence in Martinez.
"That does say a lot," she said. "If you were actually raising money for a cause or congregation, you would stop and explain yourself, but if you're hiding something, obviously you want to run away and get out of the situation. That doesn't speak well of them at all."
A spokesperson for Seattle police said the department receives several complaints about the monks every year and has been aware of it for some time. However, he said they don't believe the act itself is illegal – though officers could issue an aggressive panhandling ticket if a situation escalated or potentially arrest someone for pedestrian interference.
KING 5 did not observe any men in monk's robes become aggressive, but Wilhelm said he's seen confrontations escalate before when they're questioned.
He said the situation still frustrates him and wishes there would be more enforcement.
"Well, it's sad," he said. "They're misrepresenting themselves, scamming people. It's sad. Begging on the street, that's OK, but they shouldn't make believe that they're someone else, and they shouldn't prevent the tradition of the Dharma."