Workers at Sea-Tac International Airport rallied Tuesday for more affordable health insurance.
The group, comprised mainly of passenger services workers, gathered in the arrival hall for a press conference.
The group said the event is part of unified protests at 40 airports in 13 counties for better working conditions. Organizers compared the fight to the previous push for $15/hour minimum wage for airport workers.
"Our work here is not done," said Zenia Jabalera, Secretary-treasurer of SEIU6, the union. "Five years later, we see that higher wages are not enough to make good jobs at the airport. Healthcare costs are too high, and they're keeping workers down."
SEIU6 pointed to its own survey, which found 41 percent of passenger services workers have no health insurance, and 73 percent do not have savings to cover a $400 emergency medical expense.
SEIU6 represents about 1,000 workers at Sea-Tac. That group includes baggage handlers, wheelchair agents and cabin cleaners.
Yared Sima is a wheelchair agent, and spoke at the event: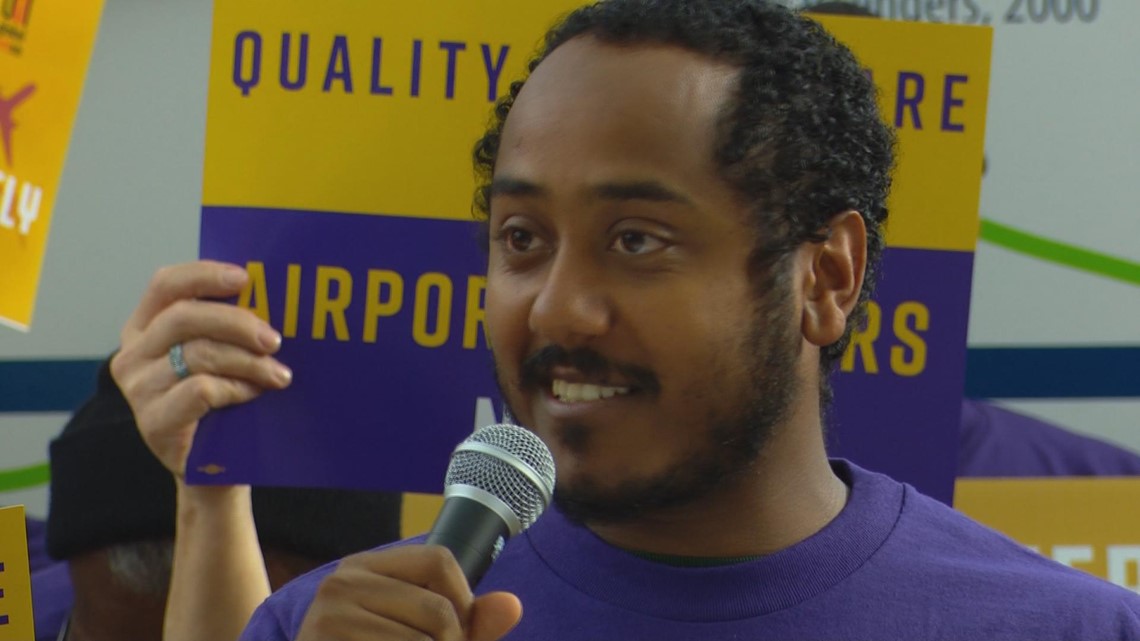 "The companies don't care as long as you do the job," he said. "But we are like the engine of the airport. Every employee deserves a better quality, affordable health insurance."
He said he accrued $2000 in medical bills after taking his wife to the hospital.
"We can't afford health insurance," he said. "I've worked for several companies at the airport, and I've never had health insurance with any one of them."
SEIU6 said most of the members protesting work for Huntleigh USA Corp., G2 Secure Staff and ABM Aviation.
The Port of Seattle noted the protesting workers are employed not by the port, and added the following statement:
"We all depend daily upon the performance of airport and aviation employees. About 19,000 employees work at the airport for more than 350 different employers and are represented by many different unions. With all employers combined, the airport is the fifth largest employment center in King County.
The Port of Seattle has taken actions to ensure that airport jobs are quality jobs. In 2016 we included a Quality Job category to assess job benefits as one of the criteria when awarding competitively bid dining or retail leases. The category assesses information such as wages, health insurance, sick pay and retirement savings. We require all covered airport businesses to comply with the City of SeaTac's minimum wage, which is now $15.64 per hour. We also support continuing education for Port employees through the Port Jobs program.
Aviation jobs can be high stress with lots of demand and zero tolerance for failure. We urge all parties to discuss the resources employees need to provide the vigilance and awareness that increases everyone's safety.
The Port will continue to work cooperatively with our stakeholders on this issue including SEIU."