An estimated 125 Tacoma Public Schools employees crossed the picket line and returned to work after being offered extra pay for extra work.
According to the district, a call to employees offering extra pay was an attempt to get people in buildings to prepare for the start of school.
District spokesperson Dan Voelpel said four teachers were among the group who accepted the offer.
The Tacoma Education Association (TEA) says the district went too far by offering extra pay before the start of school.
TEA president Angel Morton criticized the voicemail, saying, "I'm thoroughly disgusted by the Tacoma School District and their strike-breaking efforts. This is really low, to call people and act like school is back in session. The strike has not been resolved."
The Tacoma School District remains at an impasse with teachers a week into the strike. The school board introduced a new offer Thursday afternoon but did not want to release the details until TEA negotiatiors had a time to review it. I
ts offer on Wednesday included a 12.45 percent salary increase, and that it would bring median and high salaries above those of neighboring school districts: University Place, Peninsula, Steilacoom, Fife, Clover Park, Franklin Pierce, and Puyallup. The district also says their new proposal devotes $18.7 million to increase teacher salaries for this current 2018-2019 school year.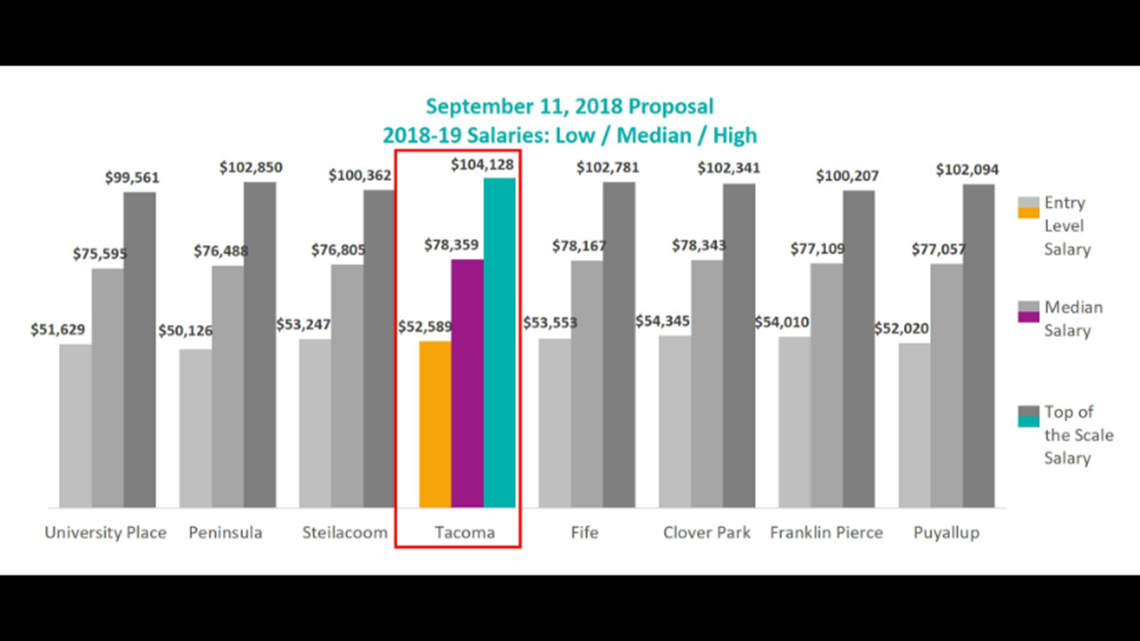 "We are counting on legislators from across the state to come together and more equitably distribute education funds to school districts," district spokesperson Dan Voelpel said. "We can't make progress toward closing education opportunity gaps if wealthy school districts on the East Side of King County continue to see massive increases in funding when low-income urban school districts like Tacoma have their future per-student funding cut."
The TEA disputes the district's calculations. Union president Morton said, "Their current salary increase offer still leaves us below the middle salary range compared to neighboring districts."
The TEA released the following statement to union members Wednesday:
"4.4% of the 12% is "recycled" money. Meaning, they are taking the optional days that they already pay you for, and are moving it on to the base salary schedule. The district's latest offer would require you to work another district-directed day. More work for more pay is NOT a "raise." Their last proposal removes $150,000 from professional development reimbursement funds and these dollars are also rolled it into the base salary, and again calling it a "raise." This proposal puts us below the average of our neighbors and won't keep us competitive. So, when all is said and done, the 12% "raise," actually only translates to 6.95% of new money."
The district is now considering a counter offer from the union Wednesday night.
Gov. Jay Inslee is paying close attention to the teacher strike. Tara Lee, Inslee's deputy director of communications, said the governor spoke with both sides this week over the phone. Inslee has urged the district and teachers union to come together and negotiate, according to Lee.
"The governor's office continues to monitor the situation and hopes that teachers and kids get back in the classroom as soon as possible," she said in a statement to KING 5.
Roughly 30,000 students are enrolled in the Tacoma School District. During the strike, all school activities and events are also canceled. High school athletics will continue as planned.
This year has seen the most teacher strikes in Washington state since 1983. The reason stems from the McCleary Decision, which set aside $2 billion for teacher salaries in the current budget.