If viewing in the app, click here for live blog and procession map
"Please come out - we can't put into words how much it means to the family & to all of us," the Pierce County Sheriff's Department tweeted Sunday.
The procession will begin about 11 a.m. and will travel from the North Gate of Joint Base Lewis McChord to Pacific Lutheran University for a memorial service. The procession will last about 45 minutes.
- Leave Joint Base Lewis-McChord, North Gate
- (Right Turn) East on 112th Street S
- (Right Turn) South on Steele Street S
- Road curves to left and becomes 116th Street S
- Road curves right and becomes Spanaway Loop Rd S
- (Left Turn) East on Cross-Base Highway (SR-704)
- (Left Turn) North on Pacific Avenue from Cross-Base Highway (SR-704)
- (Left Turn) West on Tule Lake Road S
- (Right Turn) North on Yakima Avenue S
- (Left Turn) West on 124th Street S
- Arrive at Olson Auditorium at Pacific Lutheran University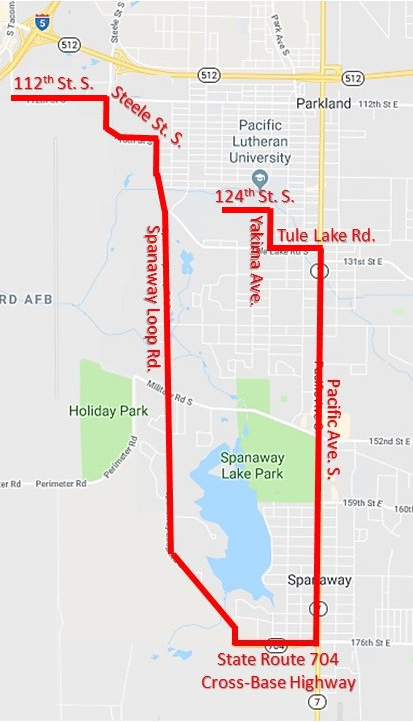 "Support anywhere you get it is big at this time," said Pierce County Detective Sgt. Gary Sanders.
He not only worked with McCartney, his brother-in-law, Ronnie Owens, was one of the four Lakewood police officers killed in 2009.
Sanders said the outpouring of support during the Lakewood procession helped his family, and his law enforcement brothers and sisters heal.
"You don't want to watch the news, you don't want to relive the incidents, and the first time you're out in public you see the support of people," said Sanders, "They didn't know you, but they're there to show that his life mattered.
He's hoping for the same kind of showing Wednesday. Sanders said the department needs it.
"It's heart-wrenching, but you gotta go forth. You can't tap out, you gotta keep moving forward," said Sanders.
The memorial service will be held at Olson Auditorium on 10th Avenue and 124th Street South in Tacoma at 1 p.m.
It is open to the public.
Seating in Olson Auditorium is limited, and will be taken up by 1,500 law enforcement personnel who came to the procession. Overflow seating for the public will be available in other on-campus buildings with a live stream of the service.
Memorial service parking is available at Church of All Nations at 111 112th Street East, Tacoma. A shuttle will run between the church and PLU beginning at 11:15 a.m. There is no memorial service parking at PLU.
Tuesday morning, Governor Inslee ordered flags at all state agencies to be lowered to half-staff until close of business or sunset in honor Deputy McCartney.
McCartney was shot responding to a robbery call January 7 near Spanaway. He later died from his injuries.