Sponsored by State Rep. Tina Orwall, D-Des Moines, House Bill 2857 would also open up more secure recovery beds for victims under a three-and-a-half year pilot program, which would begin in January 2019.
Police officers would be required to bring minors to one of those two "receiving centers," or another safe location -- instead of booking youth into detention for prostitution offenses.
"I don't think a victim of trafficking should ever be put into detention for a situation where they've been potentially threatened or coerced into doing actions that are really harmful to them," Orwall said.
The proposed bill stops short of decriminalizing prostitution for minors, maintaining police officers' ability to arrest youth in order to conduct trafficking investigations.
"But we're not expecting that (the youth) would be put in handcuffs," said Val Richey, a senior deputy prosecutor in King County, who advised Orwall's office on the legislation.
The legislation, co-sponsored by one Republican and six Democrats, is scheduled for a hearing Tuesday in the Early Learning & Human Services Committee.
'There Are A Lot Of Competing Differences'
Currently, Washington is one of 27 states where juvenile sex trafficking victims can also be arrested and charged for the crime of prostitution. Public records show local police officers rarely arrest these youth for the crime and prosecutors rarely charge them. But while officers and victim advocates generally agree that the minors are victims, law enforcement has historically pushed back on attempts to change the state's law.
"There was collective agreement that a bill like this should be created, but once you get into the nitty-gritty of it, you realize there are a lot of competing differences," said Leslie Briner, a Seattle-based victim advocate and an expert on child sex trafficking issues.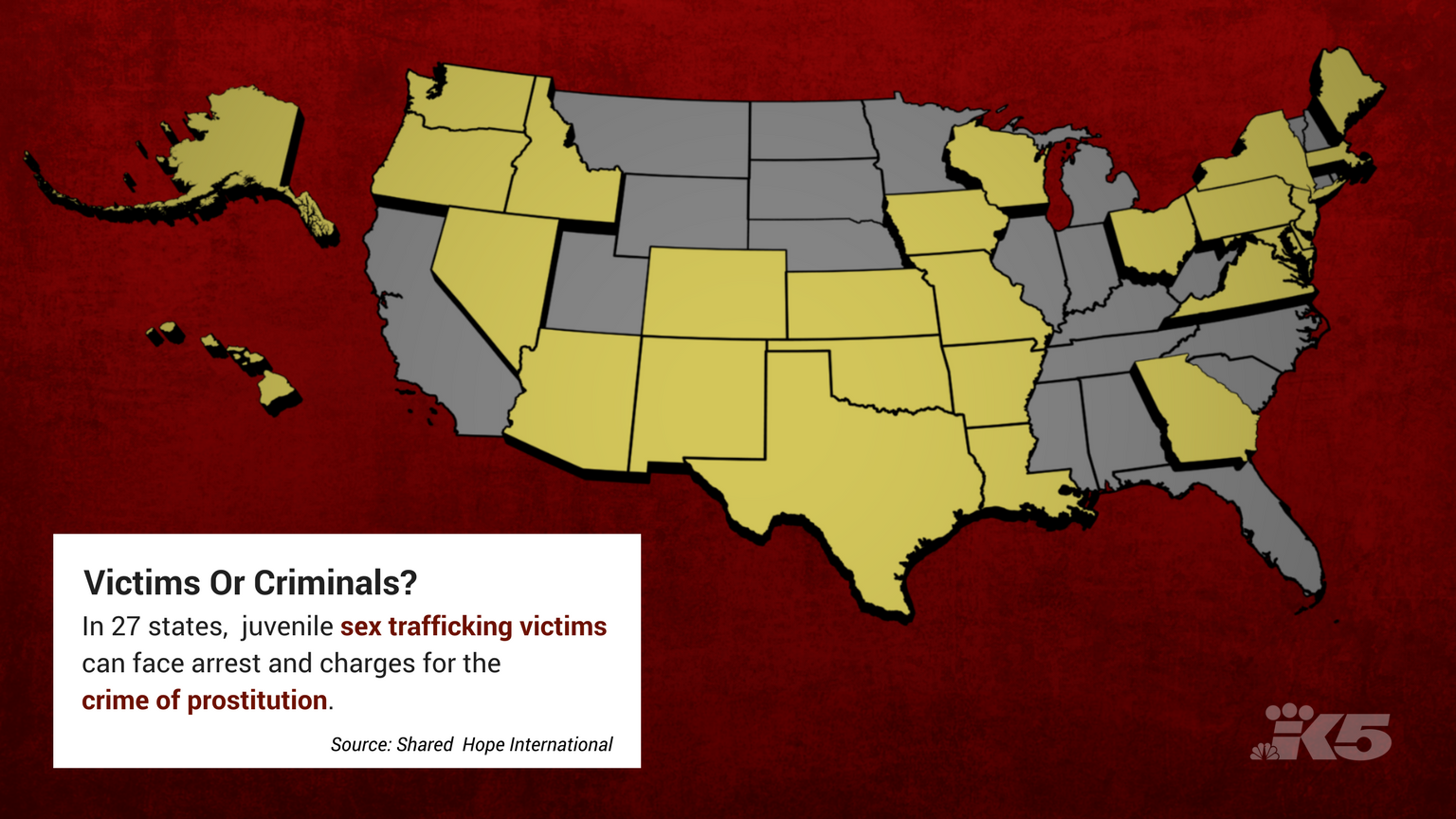 Victim advocates, like Briner, argue that children should never spend time behind bars for a prostitution offense because they're victims who are too young to consent to have sex.
But police officers have long been wary of losing the ability to arrest youth for prostitution. They often argue that arrest can be a "tool" to bust a child's trafficker, and they say that detention is sometimes the only secure place available to keep a victim away from the person who is exploiting them.
"It has to do with are you trying to remove any young person who has experienced sex trafficking from the criminal justice system? Or are you trying to get the bad guys? Those two things are at odds frequently," Briner said.
At the heart of the debate about how to help these victims is a widely-recognized need for more recovery centers equipped to care for them. Experts say sex trafficking victims are likely to run from services that aren't secure because they usually don't recognize themselves as victims and their traffickers work diligently to pull them back into "the life."
"The very disturbing reality is that a lot of girls don't want help," said Andy Conner, a King County Sheriff's deputy who also runs a non-profit recovery center for sex trafficking victims. "They are being seduced by this romeo-style pimp and they love him in their mind."
Stakeholders Consider Proposed Bill A Compromise
In the fall, Rep. Orwall convened a group of victim advocates, service providers and members of law enforcement who work on the front lines of the state's sex trafficking fight. Recommendations from the group informed HB 2857, she said.
Some stakeholders who participated in the working group say the proposed legislation is a compromise that shields sexually exploited kids from some aspects of the criminal justice system while still allowing police officers to conduct their sex trafficking investigations without pause.
"Putting kids in jail is not good for them and charging them with a crime is not good for them," said Richey, the prosecutor.
"Nobody is arguing that an arrest is a good thing either," he added. "But we're trying to strike a compromise with figuring out how law enforcement can keep their authority to go after those who are exploiting them. My guess is that the advocates would like (de-criminalization) to go all the way, and I understand that."
Briner, the sex trafficking expert who participated in Orwall's working group, agreed that the proposed bill is a compromise. She said she's pleased that lawmakers are attempting to take action, but that it's only one step in a much bigger fight.
"I support it, but it's not enough," she said, adding that the bill wouldn't protect sex trafficking victims from ending up in detention for other crimes they're forced to commit as a result of being trafficked.
Briner said she helped map out the proposed pilot program that would create 10 to 15 secure recovery beds at each of the two locations. Officers and service providers alike say the extra space is long overdue, but that two additional centers won't be enough to meet the state's demand in the long run.
"It's a start," Rep. Orwall said. " It's an important start."
The state's Office of Homeless Youth and Protection would fund the pilot programs, but the proposed bill doesn't spell out how much the program would cost.
"It would be a significant new investment of state dollars," Orwall said, adding that she didn't have firm numbers ready to share. "(The centers) will have the kind of expertise and professional staff that you would see in a crisis unit."
Conner, the King County sheriff's deputy, said he supports the legislation because "something is better than nothing." But the deputy has questions about what will happen once minors and their traffickers no longer associate legal consequences with the crime of prostitution.
"I think there's going to be some pushback on this bill because some people are going to say 'If there are no consequences, it'll be completely exploited (by traffickers)," he said.
Detectives who investigate sex trafficking cases at the Seattle Police Department and the Bellevue Police Department said they were not authorized to comment on the proposed legislation.
KING 5 aired the below story on Nov. 9, 2017.