If you have an elderly loved one in your life, this surveillance video is sure to make you angry.
The video shows the moment a purse snatcher in Normandy Park targets a 90-year-old woman unloading her groceries. The thief was caught on camera stealing the woman's purse right out of her hands.
It happened at the Normandy Park Market on First Avenue South.
"It's just so horrible. Who would do that? Who would even think to do that?" said Alyssa Love, the victim's daughter.
Her 90-year-old mother, Carol Love, is extremely independent.
"She is pretty remarkable," said Alyssa. "You would never think she was 90. I mean, she drives, she likes to go to the casino. She likes to shop. On my day off we go get her hair done, we go shopping, she's really on top of things."
Anyone recognize this purse thief? He robbed a 90-yr-old woman at 12:15 Fri afternoon in Normandy Park. @KING5Seattle @HeatherGrafK5 pic.twitter.com/hY4l9beKqU

— Ryan Gibson (@rgibsonK5) November 19, 2016
Alyssa said her mother was just finishing up her grocery shopping at the Normandy Park Market, at about 12:15 p.m. Wednesday. Carol was unloading her groceries into the trunk of a car when she says a man walked up to her and said, "I'll get that for you." Carol said she thought he mean he would take her grocery cart. But then he reached for her purse, yanked it right off her cart, ran to his car, and left.
Normandy Park Police said cameras at the Normandy Park Towne Center caught the whole thing on tape. The cameras also show the thief's car circling the parking lot several times, watching Carol as she unloads her groceries. He appears to wait until no other shoppers are in the parking lot before he pulls up and snatches her purse.
Detectives have reviewed the footage, and believe the thief was driving a black Nissan Rogue.
Carol says the suspect was a thin, white man with glasses and looked to be around 50 years old.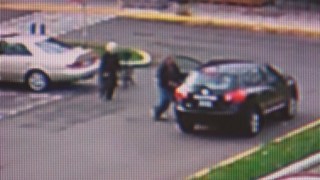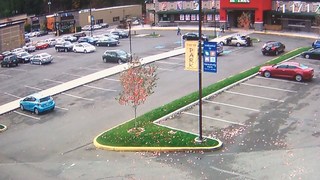 "It's sickening, it's unbelievable. Just all the trauma she has to go through. Her credit cards, her checking and savings accounts, her whole wallet, her pictures in her wallet, everything is gone," said Alyssa. "I know she's hoping he gets caught, and so are we."
If you have any information that could help detectives, call Normandy Park Police. Detectives say they have a few other leads besides the surveillance video they are now following up on.