A Native American mother in the Edmonds School District is calling attention to a social studies curriculum she believes is patently racist.
Shawna Gallagher's 11-year-old son Blaine was given a writing assignment at Meadowdale Elementary School asking him to describe his feelings after seeing a group of white colonists get slaughtered at the hands of "Indians."
"You have welcomed them into your homes, and have often shared your meals, your good times and your sorrows," read the assignment. "Many of the colonists were killed at their dinner table as they shared their meal with their 'friends.'"
Students were told to, "Express your conflicting feelings toward the Indians."
"It's just unbelievable," said Shawna. "This shouldn't be happening. It is institutional oppression."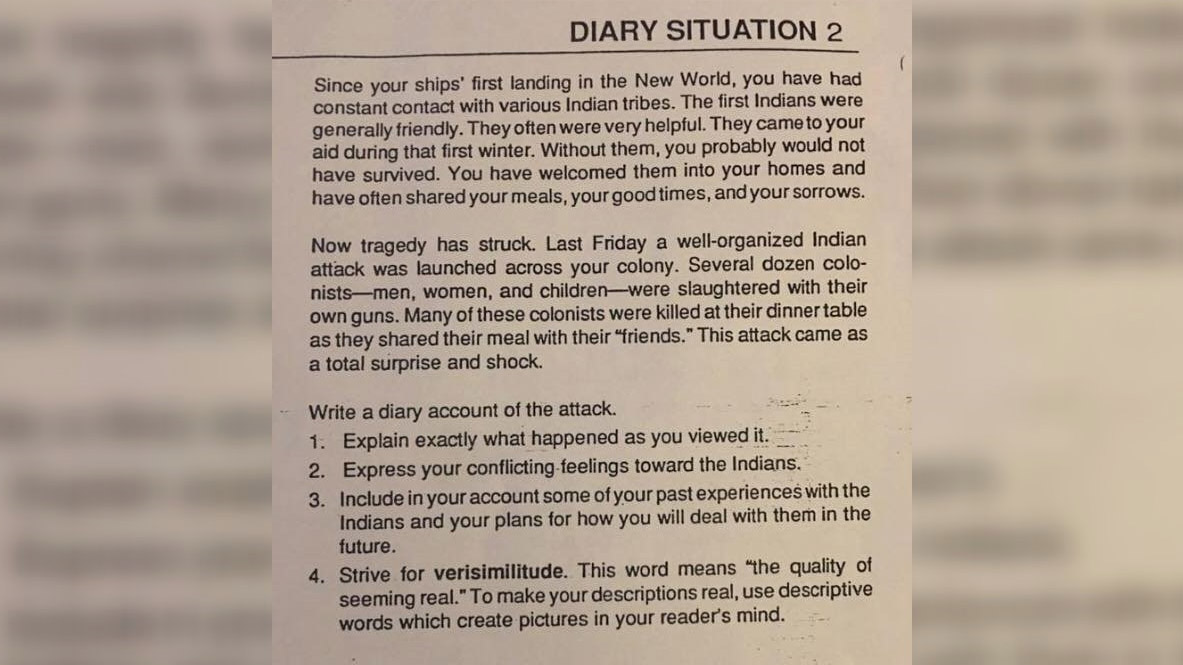 Blaine, a member of the Klamath Tribe and the only Native American in his class, was told to explain the killing of the colonists from the perspective of a white man.
"We didn't slaughter the white man," he said, tears streaming down his cheeks. "They came over to our world and they started slaughtering us."
Shawna concedes Natives certainly did kill whites but there was no context given as to why in the assignment. She said it continues the recurring, racist narrative of Native Americans as savages.
"What they're doing is perpetuating hatred and segregation and stereotypical views of Native American people," said Shawna.
Shawna worries such narratives become "fact" when presented in such a way in our classrooms.
A district spokeswoman said the assignment was not part of the district's curriculum and that the teacher brought it to the classroom on her own as a supplemental exercise.
Gallagher provided a copy of the supplemental curriculum dated 1971.
"No one disagrees with this parent," said spokeswoman Debbie Joyce Jakala. "This is exactly the sort of thing we want families to do. We need to hear from them about changes that need to be made."
Jakala said the assignment will not be used again and the district is looking into additional checks and balances for supplemental assignments to make sure outdated, inappropriate content is not presented to children.
She said she cannot comment on whether the teacher involved will be disciplined.