SEATTLE - "Give us six months."
Tim Leiweke repeated the phrase a few times Wednesday morning, as he sipped coffee and ate breakfast at a Pioneer Square restaurant.
The CEO of the Oak View Group sat for the first time, with former Seahawks Executive Lance Lopes, talking at length about their vision for a new NBA/NHL arena in Seattle.
The former head of arena and entertainment giant AEG also made it clear that his group is looking at a full scale renovation of the spot where KeyArena now sits.
"We're talking about a massive rebuild," said Leiweke, who has a long history with arena management and construction, most recently with Toronto's BMO Field, Madison Square Garden in New York City, and the Forum in Inglewood, California.
Leiwekie recently hired Lopes who worked for the University of Washington to help with local efforts. He is also responsible for the construction of Staples Center, the accompanying LA Live entertainment district and bringing David Beckham to Los Angeles, which elevated the profile of Major League Soccer.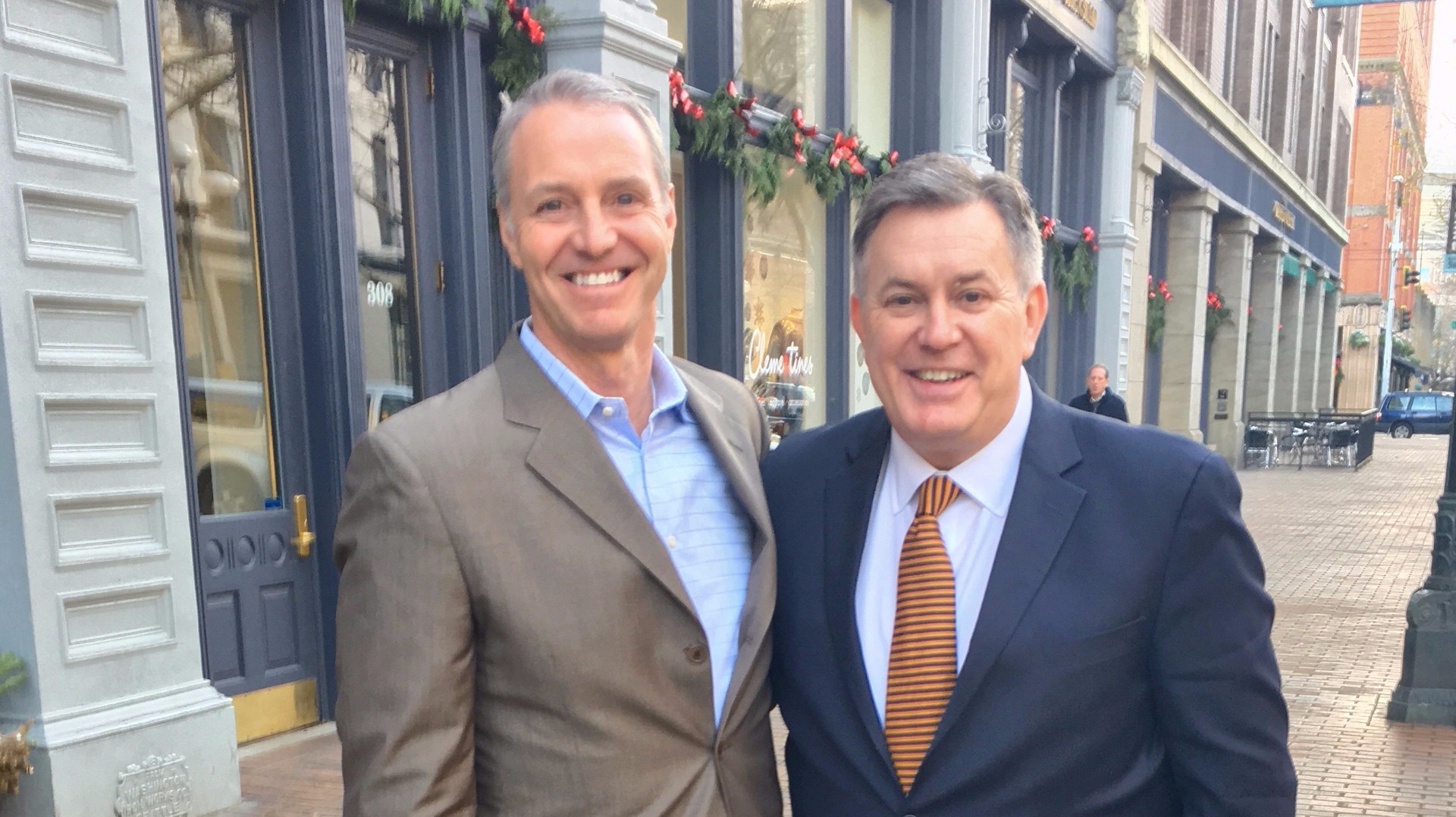 Leiweke says he's interested in the market because of the rapid growth and was "motivated in a huge way by my brother Tod, who sees this an opportunity."
Tod Leiweke ran Vulcan Sports and Entertainment, including the Seahawks and NBA's Portland Blazers, before leaving to become a part owner and CEO of the NHL's Tampa Bay Lightning. Tod is now the chief operating officer of the NFL.
Tim says he's hired Icon Venue Group and Populous to help look at Key Arena's footprint and a potential design. Both companies are considered major players in the industry and have been involved in multiple arena projects in the past.
Tim admitted, the AECOM report, frequently cited by the City of Seattle when it comes to KeyArena, likely shorted the overall cost of a major renovation or construction project.
"(It's) not a $285 million project," he said of the AECOM projection. Adding, emphatically, when asked if it would cost more, "Yes, Yes, Yes."
But who would pay for such a project in a public park like Seattle Center?
Tim said any project would be privately funded, but his group would seek tax credits and rebates. Lopes acknowledged separately that Icon and Populous will like have to look at a "Plan A and Plan B," because of the KeyArena roof, which has been in place, with its support columns, since it was the Seattle Center Coliseum in 1962. They believe they could have those answers before the end of the RFP process, and then "We need to have a year for design and drawings, we will assume the risk," said Tim.
Lopes added that traffic mitigation will be part of their pitch in the RFP process, noting they know traffic is congested in the Seattle Center area. However, Lopes said "(The) tunnel is going to change things. Three roads will open up after it's done."
In fact, SDOT has already laid down bike lanes on Thomas, John and Harrison, which will be through streets and, according to SDOT's previously discussed vision, will alleviate congestion now on Denny and Mercer.
They both acknowledged, in between sips of coffee, that they're not exactly sure what that renovation could look like and will leave it up to Icon and Populous to find the answers. But they stressed they remain on good terms with Chris Hansen, who has spent several years trying to convince Seattle to work with his group on a SoDo arena.
This is "good for Chris", said Tim, who noted they do not feel like they are in competition with the Hansen camp. "They are not going to building a spec arena, we are," he said.
Hansen's group, which includes Seahawks quarterback Russell Wilson, former Sonics Exec Wally Walker and Pete and Erik Nordstrom, sent a letter last week to the city saying they would not vacate a one block stretch of Occidental until they acquired an NBA or NHL team. The city has been reluctant to grant the street vacation permit, and the council voted in May to reject the petition. Hansen is expected to refile soon.
Tim says he feels the market is strong enough to support a new building, without the NBA and NHL. And their project would proceed without a promise from either commissioner.
"We're not going to get in front of a commissioner," he said with a smile. Tim has been on the Board of Governors with both leagues. But he says his group is "not going after a team" and that "Chris and I are compatible," and this is "not going to hurt acquisition of a team."
He said perhaps, if OVG's proposal works out, Hansen could acquire an NBA franchise to play in the new building and save money on the arena construction.
That's why he stressed it will take six months for everything to sort out. The City of Seattle is expected to finish the RFP process by the middle of 2017.
"It will end well for everyone, I predict," said Tim.