A former inmate and his family are suing King County alleging negligence and a violation of his rights after a brutal beating in a jail cell attributed to a fellow inmate.
Toby Meagher was attacked in the King County Correctional Facility on July 15, 2018, while awaiting a competency hearing in a case. He suffers from schizoaffective disorder and schizophrenia, his family said, and was transferred to the jail from Western State Hospital.
Meagher's mother, Geraldine McNamara, said several days before the attack Troy Leae was placed in the cell with her son – a move the family believes was inappropriate. According to charging documents, Leae attacked Meagher causing "substantial bodily harm."
The family believes both men were housed incorrectly, facilitating the alleged assault. They cite a 2017 charge against Leae for assaulting another inmate and believe staff knew Leae had a violent history.
The suit also includes a jail document showing Leae was classified as "ultra security" after the incident. Meagher's attorney said right now it's unclear if that classification was reduced prior to his placement with Meagher.
"…employees locked the mentally ill Mr. Meagher in the same cell as the homicidal Mr. Leae, walled in by cement, steel and glass, a decision that effectively granted Mr. Leae free reign over his vulnerable victim," the suit reads.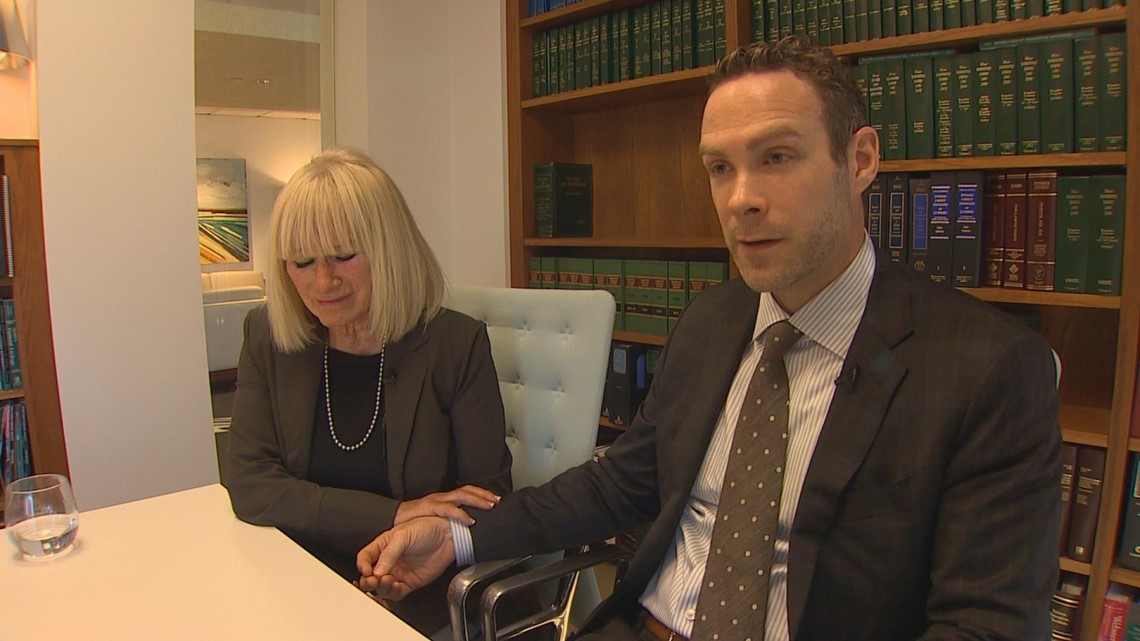 The family believes this was a violation of his civil rights, and that some of their claims could have standing in Federal court.
McNamara said her son was unrecognizable after the attack and required significant medical attention.
"He couldn't walk alone," she said. "His head was stapled from the back to the middle of his forehead."
The suit includes images of a bloodied Meagher laying on the floor of the cell. McNamara said her son is still dealing with a traumatic brain injury and it's magnifying his past issues with mental illness.
"He's already had a rough life due to that," said Teddy Meagher, his brother. "But after the attack, the difficulty speaking and difficulty to explain – he was already kind of paranoid and didn't want to talk about his mental illness or things he's struggling with. And it's much more severe now."
The suit alleges Meagher asked to be removed from the cell multiple times before he was injured.
"My brother asked for help multiple times," said Teddy Meagher. "To be let out, and the guards just ignore it like it's not a big deal. It's just insanity."
"He should have been in a room with anyone, let alone my brother," Teddy Meagher said of Leae.
McNamara said her son now requires 24/7 care. They hope for justice from a jury – and to give Meagher hope for the future.
"My son, he had no one to turn to," said McNamara. "He was alone. He asked for help and didn't get it. This was – just alone in a cement block. Being beaten. Never should have happened."
A spokesperson for King County said it doesn't comment on pending litigation.