A phone call from a concerned woman likely saved the life of a hiker from Germany who was attempting to travel through the Cascade Mountains to the Canadian border without proper gear as snow and cold hit the region, authorities said.
Nancy Abel of Sultan, Washington met and hiked with Katharina Groene Oct. 24 near Stevens Pass and noticed she didn't have equipment for snow travel, according to the Snohomish County Sheriff's Office.
Groene told Abel she had started her 2,650-mile solo trek along the Pacific Crest Trail (PCT) at the Mexican border in May and was determined to complete it. Groene said part of her purpose was to see if there was any goodness still left in the world.
With bad weather on the horizon, Abel worried what lay ahead for Groene and tried to convince her to end her journey.
"The whole two hours we were together I was trying to talk her out of it," said Abel. "I've experienced that weather. I really thought she was not gonna have a good time."
So close to the finish, Groene was determined to complete the trek. She carried on, but the bad weather she had been warned about hit.
"It's hard to turn back," said Groene. "I thought I could make it."
Abel returned home but continued to monitor weather reports. With snow and colder temperatures in the Cascades this week, Abel believed Groene was in danger and called 911, according to the sheriff's office.
Using the information provided by Abel, Snohomish County Helicopter Rescue Team on Tuesday were able to track Groene down by following footsteps they saw in the snow near Glacier Peak.
All alone, Groene pondered her own mortality and left messages for her family on her phone to be received after her body was discovered.
"I informed my parents," said Groene. "I apologized for dying on the PCT for risking too much, for being too stupid."
Rescuers found Groene soaking wet, her tarp shelter had blown away, she was low on food, and that she tried to call for help but had no cell service, the sheriff's office said. At one point, it took Groene an hour to travel just 100 feet.
"I was crying," she said Wednesday. She added that she had screamed for help before the rescue team arrived.
Rescuers took her back to Snohomish by helicopter, where the sheriff's office said she met up with Abel, who offered her a place to stay until she returns to Germany.
"The weather wasn't great, and we were running out of fuel," said Chief Pilot Bill Quistorf. "If we hadn't seen here right when we did we would've had to turn back."
If Abel had not taken action, Groene most likely would have died in the mountains, the sheriff's office said on Facebook.
"Who makes a call for stranger?" Groene asked. "No people call for strangers."
"Well you weren't a stranger," Abel joked. "You talked my ear off for two hours. I knew your whole life story by the time we parted ways."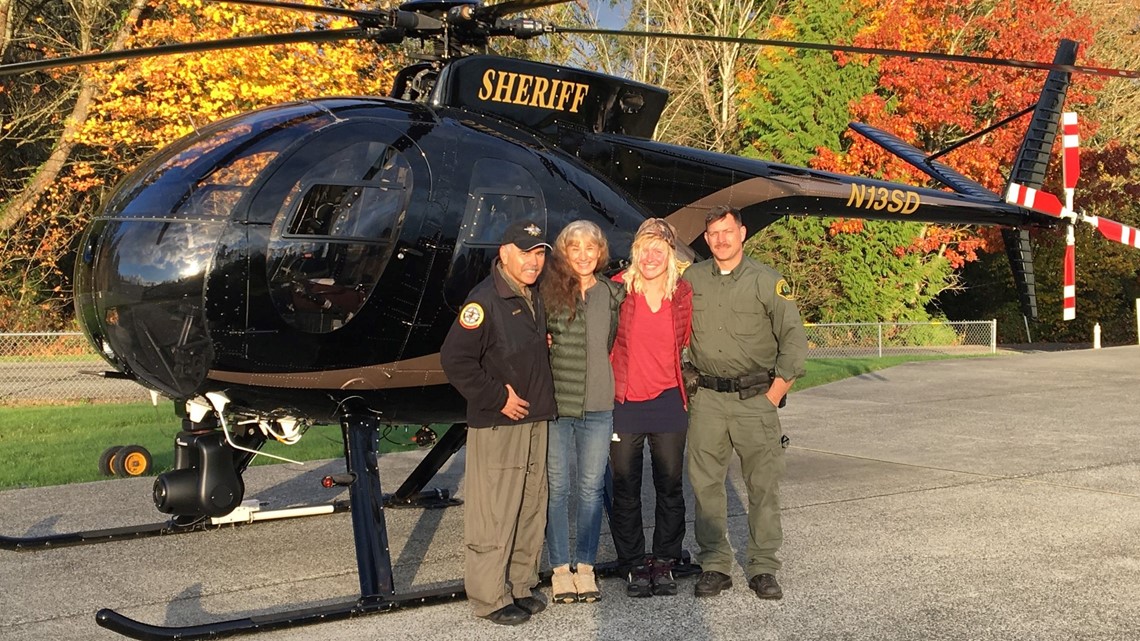 Abel's trip ended just 140 miles short of the trail's end, but she found what she was looking for on her journey.
Recounting the event on Wednesday, Groene said she had several reasons to be on the trail. She said she recently started losing faith in humanity; wondering why people don't care about each other. But that changed after Abel showed compassion by calling for a rescue of a complete stranger.
For a young woman who set out seeking goodness in the world, the journey was much more important than the destination.
"I'm good. I made it to the helicopter. I made 4,000 kilometers count. This is perfect," she said with a wide smile. "My faith in humanity is definitely restored. Box checked."