Heroin's Children: Rebuilding a childhood lost
While Alex Lovelace strives to make up for lost time with her kid, she faces a reality of her heroin addiction that she never considered when she got high. Her daughter -- and thousands of other kids left behind by addicted parents -- know too much about a drug they should be too young to understand.
'They Don't Know If Their Parents Are Alive'
:
SEATTLE -- Alex Lovelace reaches under the table for her 6-year-old Alia's hand at the start of the family court hearing.
"How much longer, mommy?" asks the fidgeting first grader, who twirls in the King County courtroom chair and tugs on her 29-year-old mother's arm.
"Like five minutes," Lovelace whispers, as a judge asks a social worker about the mother's progress since she's been clean.
"They're getting ready to say you can come back home," she tells her daughter.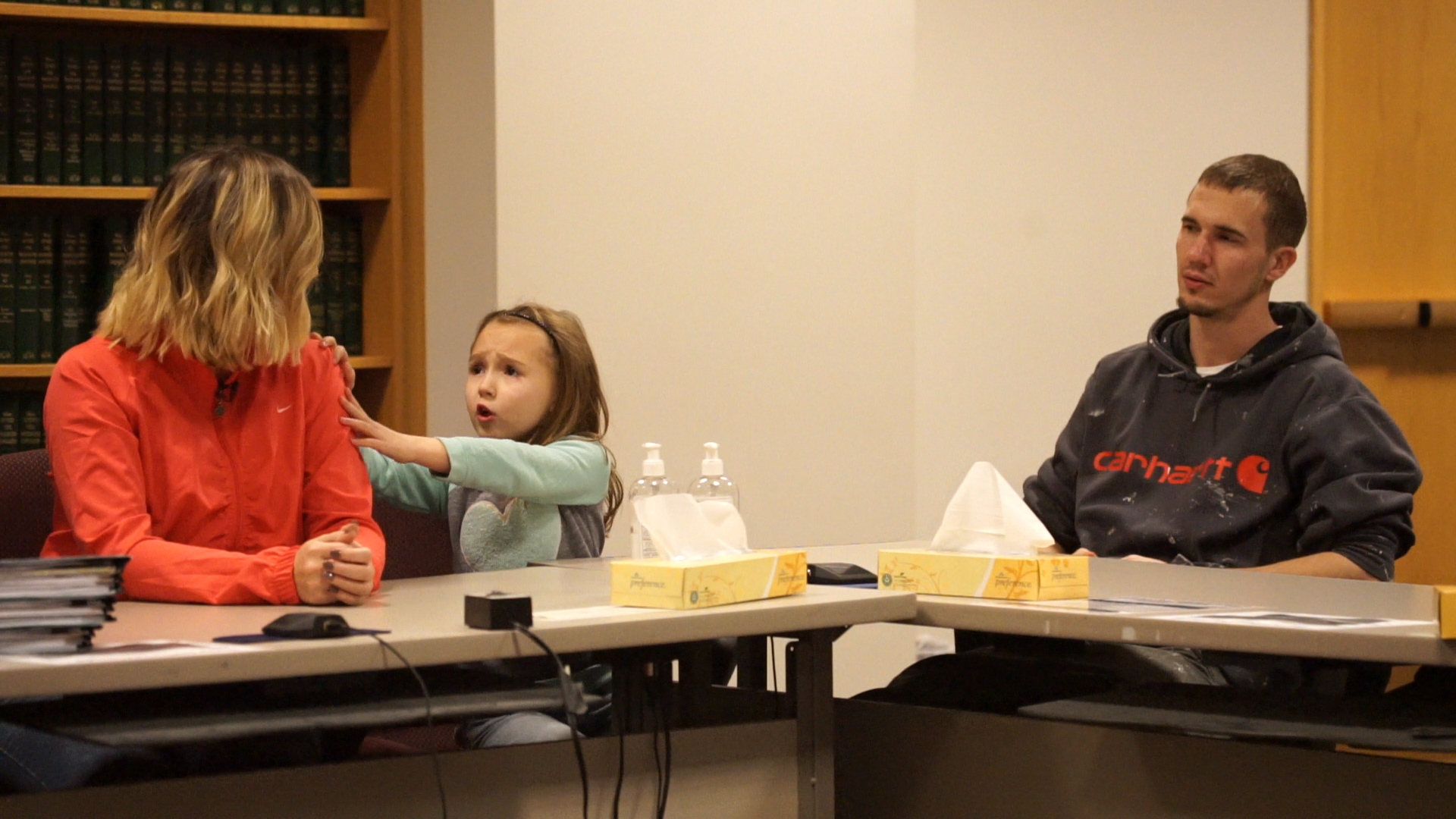 Lovelace and Alia exchange a silent smile. Minutes later, the Marysville mother exhales a sigh of relief.
It's been more than two years since a judge forced the now-recovering heroin addict to hand over custody of her daughter to Alia's grandma, Janet Jones. But on this February afternoon, the judge ruled, Alia could return to her mother's care.
"I'm happy. I'm just happy!" Alia said, wrapping her arms around her dad, Taylor Foote, in the hallway of the King County Superior Court. "I'm happy that I get to come home."
Lovelace, who says she stopped using heroin in November 2016, had been preparing for weeks to give her daughter a new start.
She decorated Alia's room with star-shaped lights that dangle from the wall. She filled the room with toys, and she bought Alia a brand new bed that she could bounce on. The last time her daughter lived under her roof, the then 3-year-old girl slept in between her parents on a California King bed while they got high.
"I get a chance to make up for that and give her a childhood," Lovelace said.
But while the mother strives to make up for lost time with her kid, she faces a reality of heroin addiction that she never considered when she got high. Alia -- and thousands of other kids left behind by addicted parents -- know too much about a drug they should be too young to understand.
"(Children) are the causalities of addiction," said Donna Merryfield, who works with recovering drug addicts and their children at Evergreen Recovery Centers in Everett. "I think they probably see a lot more than they should. That's going to affect anybody's innocence."
In 2017, Washington officials removed more children from their parents because of substance use than in previous years, according to the state's Department of Social and Health Services. Though the agency does not classify their removals by drug type, local substance abuse experts who work the children of addicts say heroin is commonly the drug of choice.
Substance abuse treatment professionals consider heroin one of the most difficult addictions to treat. The drug delivers a powerful high, while withdrawal symptoms for the addicted are extreme.
"This is an illness," said Naomi Villano, executive director of New Phoebe House Association, a Tacoma drug treatment program that helps addicted mothers reunify with their children. "There is such a fear of the withdrawal and the pain of withdrawal. It's not a drug that you can just stop taking without serious physical ramifications."
Addicts who do recover often relapse multiple times and succeed only with intensive medical and psychological treatment.
"(Children) see someone lying down, passing out -- it depends on the user. But they don't know if their parents are alive or dead," Villano said. "But besides what these kids see, (I worry about) the long-term effects on these tiny people who are so dear."
'Are You Sick Mommy?'
:
Years after watching her parents get high, Alia is haunted by the image of her mom getting sick from heroin and the withdrawals.
"I didn't know what to do," Alia said. "There were no doctors anywhere."
So Alia often grabbed her doctor play set. She'd pull out her plastic stethoscope and place it on her mom's heart.
"It was beating," she said.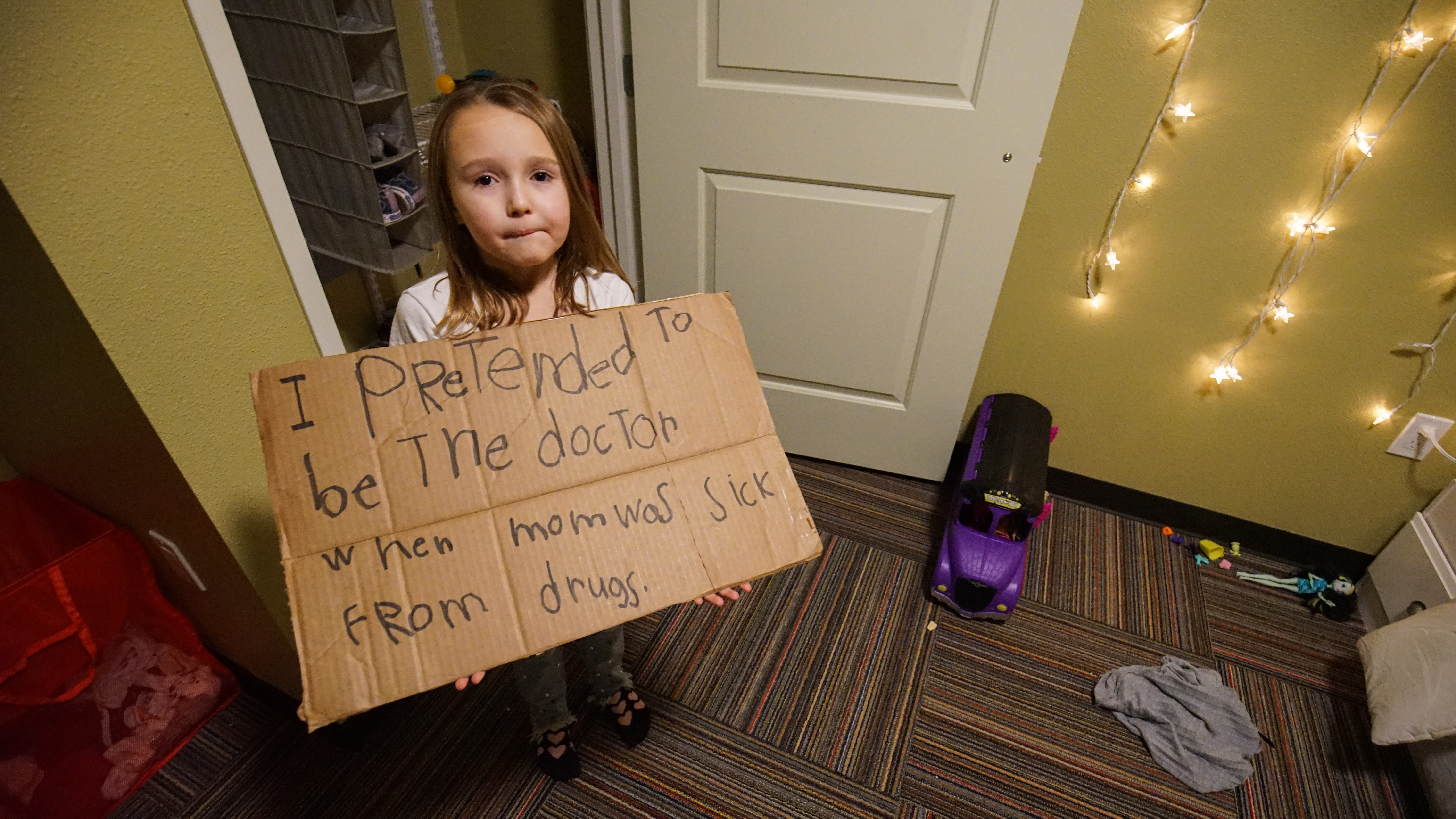 Sometimes, she'd even bring her mom juice from the fridge.
"She would always ask me, 'Are you sick mommy? Do you feel better now?' A 3-year-old, a 4-year-old taking care of her adult mother. That's a sad thought for me to have," Lovelace said.
Alia was used to taking care of others, as much as she had to take care of herself. Jones, her grandma, started to notice the child hoarding extra food whenever Alia visited her Sultan home.
"There were times she went hungry with them," said Jones, who got temporary custody of Alia in December 2015. "On her way out the door with her parents, she would make sure to grab a bunch of food items -- cheese sticks, crackers. She'd say, 'Mommy, this is for us!'"
Once she moved in with her grandma full time, Alia gained stability she was missing with her mom. She had her own room and saw a child therapist to work through abandonment issues, Jones said.
At parent-teacher conferences in preschool and in first grade, Alia's teachers told Jones that she was taking care of all the kids in her class instead of herself.
"She started helping other little kids in the classroom to the exclusion of doing her own homework," Jones said.
Parenting Again
:
In 2016, a year after she lost custody of Alia, Lovelace decided to treat her addiction.
"Oh my God. It was such a relief. I fully expected her to die," Jones, Lovelace's mother, said. "I was preparing myself to get that knock on the door -- that telephone call."
The 29-year-old completed a treatment program in Monroe. Then, she moved to another program in Everett, where recovering addicts who have children learn parenting skills while they also learn to live clean.
"She followed through with everything CPS wanted her to do. She went above and beyond," Jones said. "She loves Alia. That's very apparent when she's sober and clean. When she's not sober and clean, she can't have Alia. Period."
Substance abuse experts who work with drug-addicted parents say it's possible and common for parents who neglected their children while using drugs to become good parents once they get clean.
"Yes, they can. We prove that every day (in our program)," said Villano, who runs the Tacoma-based treatment program for mothers. "They can begin the process of healing -- looking at what underlying causes contributed to their addiction. They can have a safe environment for their child. They can gain stability."
Of the 2,328 times Washington kids were removed from their parents because of substance abuse in 2017, children reunited with a parent in 314 of those cases.
While Alia saw too much in her early years, Lovelace said her daughter rarely talks about it now that she's back in her mother's care.
"She doesn't seem to really hold a grudge," Lovelace said. "She says I was sick, but I think she also understands that it made me do things and say things that I would never have done."
Children's Administration officials will continue to check in on the family in their Marysville home over the next six months.
And Lovelace said she will work to rebuild the childhood that her daughter lost.
"I feel closer to her because she's watched me go through all of this from beginning to end really," Lovelace said. "I never wanted her to grow up fast. But I get a chance to make up for that and give her a childhood now."