If you're reading this story on the KING 5 app, click here.
The flag-waving routine of a Navy veteran is doing more than turning the heads of motorists on a Renton overpass.
WATCH: Fred Pepper's Story
For nearly a decade, thousands have caught a glimpse of Fred Pepper during their morning commute past the Exit 7 overpass on Interstate 405. It's hard to miss the 67-year-old bearded man, who always dons a Seahawks jersey and walks up and down N.E. 44th Street with an 8-foot American flag pole.
"I'd see him beating his chest and yelling and stuff, and I'm like, 'What is this guy doing?'" said Topher Welsh, 30, who started to notice Pepper several months ago on his way to work -- in rain, snow, and hail. "I know everyone is wondering about him, but not everyone can stop on their way to work to ask this dude what he's doing on the overpass."
Pepper, who calls himself the "flag bearer," flails his right arm in robotic motions toward incoming traffic. He makes eye contact with each person who passes and shouts: "United we stand. Divided we fall. God bless you. Your life matters. Love you. Stay strong."
"When we hear that -- that somebody is going through all that to tell us that our lives matter -- I think for a moment they consider it," Pepper said. "I've had people tell me that I'm the reason they did not kill themselves."
The Vietnam veteran, who served in the Navy from 1969 to 1973, said he started the routine years ago to raise awareness about the prevalence of military suicide. The exit number is the same as the ship he said he was stationed on during the Vietnam War, USS Henry B. Wilson DDG-7.
"We just don't know how many of our heroes are killed trying to keep the edge off to be prepared to go and do their duty," he said. "I know what it's like to have things going on you can't understand and things you can't control happening, and then to lose control."
But when he arrived on the 405 overpass one May morning in 2015, he realized it wasn't just the veterans who needed a leg up. A civilian woman jumped off the bridge into northbound traffic moments before he got there, he said. Now, flowers mark the spot where she jumped to her death.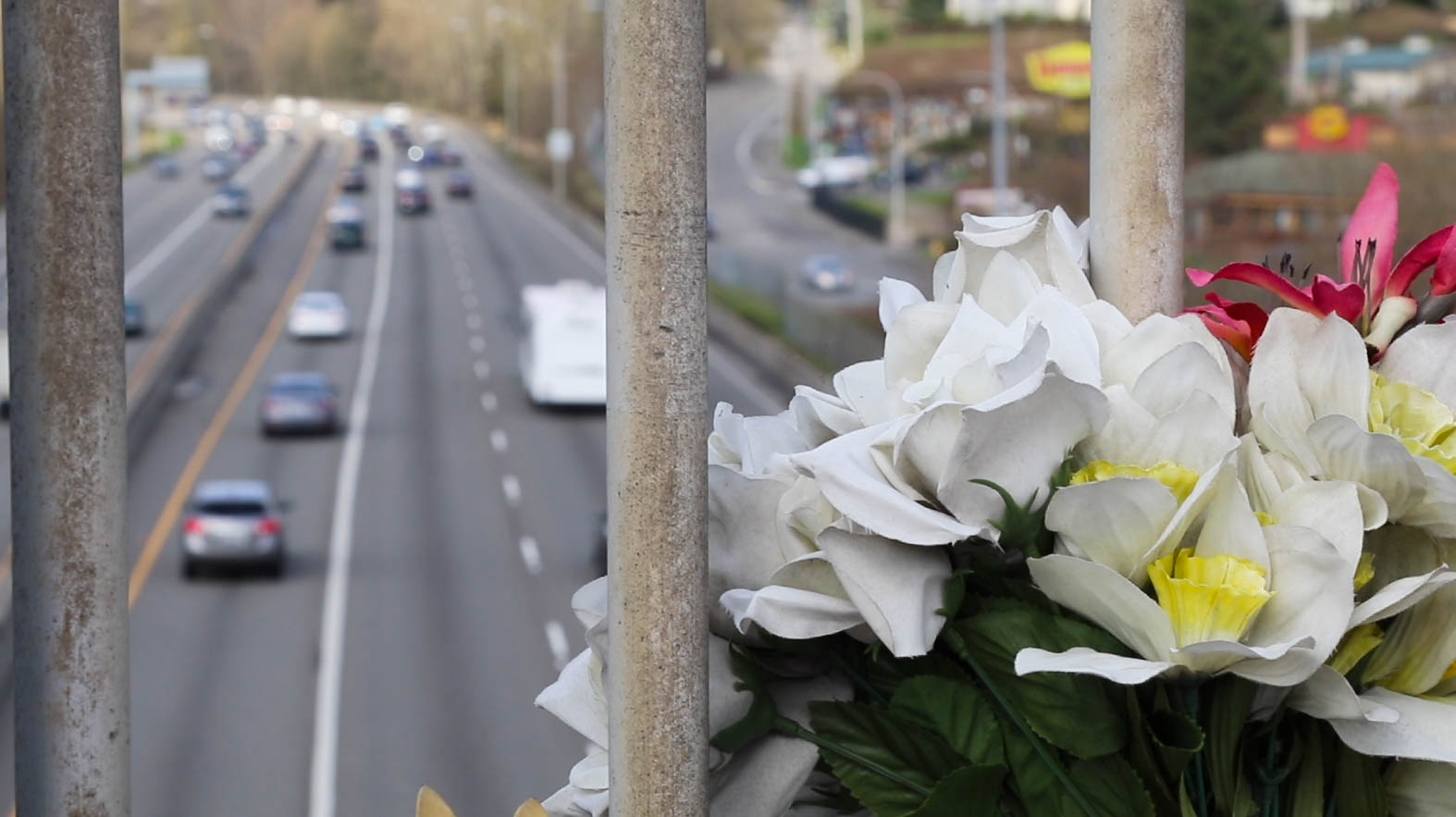 In Washington, 5,282 people killed themselves between 2011 and 2015, according to the Washington State Department of Health. Pepper said he almost became a statistic, too.
"I've had several ego deaths in my life where I found that the person I was I couldn't live with," he said. "I was going to commit suicide and then 'Oh Jesus' jumped in, and that's what brings me to the bridge at the end of the day."
He said he comes to the overpass three to five times per week, even when he's not feeling well.
"It's like being a soldier. You know, if I fail and I die, I can live with that. If I fail and you die, I can't live with that," he said.
A few months ago, Pepper said, he talked a woman from jumping off the railing into traffic.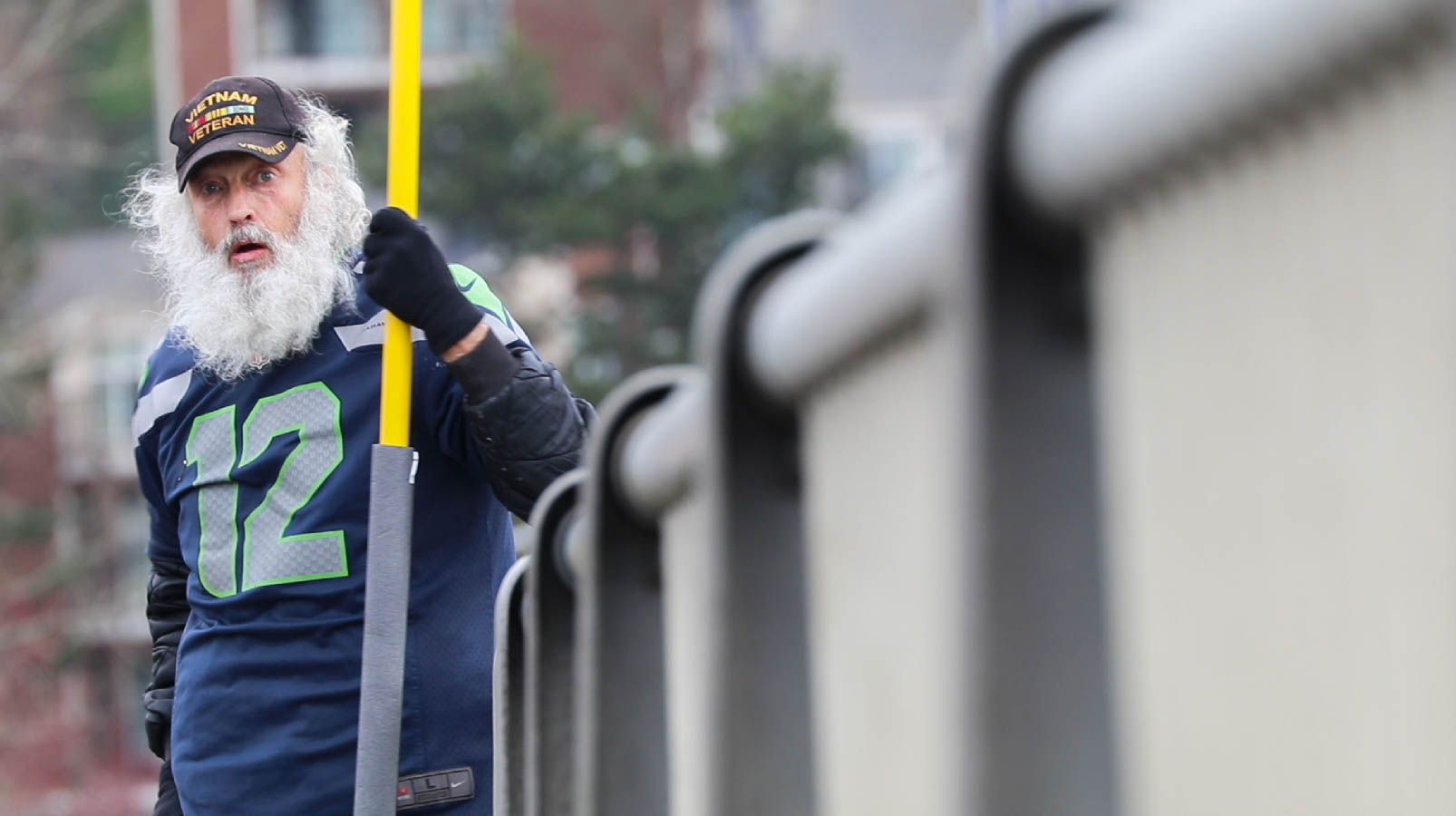 "The lady was standing there on that railing with her arms back, doing the Titanic scene with nobody holding on to her hands," Pepper said. "I said, 'Oh God!' and I pointed out the flowers and stuff down on the bridge where the lady jumped off and killed herself (in 2015). I told her I had to talk to her family members as they came, and I told her I didn't want to do that again."
Before the I-405 overpass became his "home bridge," Pepper made the rounds at Seattle Seahawks games, the Interstate 90 floating bridge, and he stood outside of local military bases to greet service members with encouraging words. In 1995, he carried the American flag from Olympia to Washington D.C. to protest federal funding cuts at the Veteran's Administration.
"I think this is helping him live," said his son, Patrick Pepper. "I think it's helping him because of the way that he's changed over the last 10 years especially. He's much more at peace with himself."
Greeted with a steady stream of honks and waves most mornings, there's no doubt Pepper's routine is helping some motorists find peace, too.
"He's a constant reminder when you see him that 'Hey, everything is going to be OK," Welsh said. "Especially for the people who stop and say, 'Hey, what's up?'"