Richard "Beebo" Russell left authorities with a blueprint of significant security flaws within the U.S. aviation industry and a wake-up call that counterterrorism and aviation security experts say the country must take seriously.
"We are not as prepared as we could be to defend against the insider threat," said Jeff Price, one of the nation's leading aviation security experts and consultants. "The airline industry should take away the very real possibility that somebody with terrorist-intent could be hired at the low-level at the airport. It's been part of the terrorist narrative for quite some time."
Russell, the 28-year-old ground service agent who stole the Q-400 turboprop plane on Aug. 10 and performed dangerous maneuvers before crashing on Ketron Island, is the only person who died in the bizarre incident, which captured national and international attention. But Price, a former assistant security director at Denver International Airport, is worried that the wrong people have been paying attention to the incident, too.
"The challenge is terrorists, criminals often will test security measures to see what the response is, but in a case like this, they didn't have to test any security measure. This guy did it for them," Price said. "They now go to school based on how he was able to get this airplane."
The incident highlights that about 13,600 employees at Seattle-Tacoma International Airport have access to aircraft that don't require keys or other security protocols to start, take-off and maneuver. It brings to the forefront the lack of mental health evaluations required for those airline staff, including pilots. And it underscores a major challenge within the aviation industry: balancing employee access with security.
"A maintenance crew (member) can jump in (and fly) without something stopping them? It really highlights the vulnerabilities that exist within this particular industry now," said Dave Gomez, a former Seattle FBI agent who specializes in counterterrorism issues. "This access flaw to airplanes has to be fixed. It has to be changed."
Sea-Tac Airport officials said Monday that they temporarily beefed up police presence in the airport cargo areas, like the area officials say Russell stole the plane from. Perry Cooper, the airport's public information officer, declined to share how many additional police officers and security staff were assigned to those areas.
One of the most significant changes Gomez and Price say they expect to soon see across the airline industry is an additional layer of security needed to start and fly a plane.
It's an issue aviation security experts identified as need after the 9/11 terrorist attacks in 2001, but Price said technology back then wasn't adequate for the job.
"Nowadays, they can program these type of airplanes with some sort of passcode. I think you'll see these things (change)," he said. "You'll see airlines review their procedures on who has access to an aircraft, and you'll see aircraft manufacturers enable the aircraft to have the ability to control the engine from the ground."
The Q-400 prop plane Russell stole wasn't locked from the outside, and he didn't need a key to take off. Authorities say he used a tow vehicle in the airport's "Cargo 1" area to turn the plane around 180-degrees and prepare for take-off before starting the plane and taxiing to the runway.
But the fact that the engine started without a key wasn't a fluke.
"This is aviation in America. The doors to the airplanes are not keyed like a car," said Brad Tilden, CEO of Alaska Airlines, during a press conference Saturday. "We secure the airfield, and then we have — the mindset is we have employees that are credentialed and authorized to be there to operate, do their various job responsibilities."
Authorities are still piecing together how Russell gained a working knowledge of the cockpit and flight procedures. Russell told the air traffic controller who communicated with him during the more than one-hour flight that playing video games prepared him to fly.
"To my knowledge, he didn't have a pilot's license," said Gary Beck, CEO of Horizon Air. "I don't know how he achieved the experience that he did."
Richard Bloom, director of terrorism, intelligence and security studies at Embry-Riddle Aeronautical University, said changing locking procedures on an aircraft could be effective but there are no changes that would be fool-proof.
"If you have a bigger lock, somebody gets a bigger key," he said. "There are always vulnerabilities in any kind of security system."
Who Should Have Security Clearance?
The aviation industry's model of granting security clearance to specific people instead of focusing on securing the planes raises new questions among security experts about whether or not airlines should tighten their trusted circles.
"This has been a problem in the past where the worry was that some aircrew member or a baggage handler would be able to place weapons inside a plane — or even the people who clean airplanes. That was always a bigger concern than someone actually stealing the plane," Gomez said. "A complete evaluation has to be done on how access to the planes is granted."
But a challenge for authorities reviewing needed security changes after this situation is that unfettered access for some employees is essential for them to do their jobs.
"I think one of the things the public has to learn, too, is there will always be gaps in our security system because there have to be some or else we don't have an aviation system," Price said. "The second you decide to get into an airplane, you've introduced some risk into your life."
There are about 24,000 employees who have security badges during Sea-Tac's busy season, according to Cooper, the airport spokesman. About 13,600 of those employees have access to aircraft, like the one Russell stole and crashed. Russell, who worked for Horizon Air since February 2015, was among the 11,400 Sea-Tac employees who have credentials to access the "airport operations area," which include the ramp area, cargo area, gate area and several hangers.
Russell was permitted to be near the aircraft on the evening that he stole the plane and crashed, according to officials. His security clearance did not grant him access to runways and taxiways.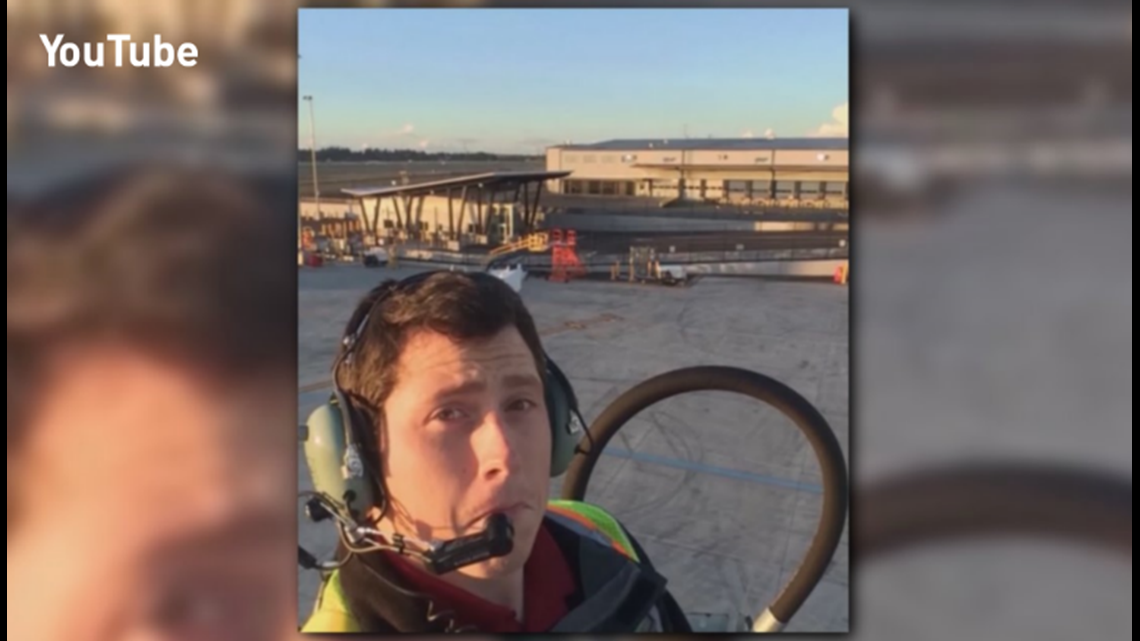 "Even people who would have passed him or seen him in that time-period would not have had an alert that something was wrong," Cooper, the airport spokesman, said.
Airline officials said the ground service agent passed a background check and had a certification to tow aircraft, which gave him higher clearance than other ground service agents. Access to the cargo area was essential for him to perform his job responsibilities, which included handling baggage and directing aircraft.
Port of Seattle Commissioner Courtney Gregorie said a news conference Monday that the Port had not yet identified any lapses in security protocol after the ground control agent stole the plane.
Tilden, the Alaska Airlines CEO, told reporters Saturday that it was too early to identify what procedures the company will change as a result of the security breech, but he added that the airline "will be a leader" on the issue.
Alaska airline officials wrote via e-mail Monday that they were "unable to respond to specific questions at this point."
Mental Health Evaluations Not Required In Airline Industry
Following the crash, law enforcement officials said they believe Russell's death was an apparent suicide.
Alaska Airline officials and Russell's family members have not provided details about the 29-year-old's mental state.
Most employees of the airline industry are not required to undergo psychological exams or mental health evaluations. Price said it's common for airlines to require a "personality test" during the hiring process, but he said those tests focus mostly on whether or not the person will fit in with the corporate culture.
Price said the aviation industry historically relied on co-workers to pay attention to and report concerning behavior.
"The challenge is if they report them, it could mean the loss of that person's job," he said.
Aviation security experts, including Price, stated that the aviation industry is unlikely to require mental health evaluations for all employees because there are tens of thousands of employees at any given airport.
"There's far more ramp workers than there are pilots and flight attendants. It would be quite a huge industry change to try and subject all those people to some sort of psychological examination," Price said. "I think the better solution is having an outlet for employees to report suspicious activity that actually gives help to the person that's having a problem rather than resulting in their dismissal."