EVERETT, Wash. — The Everett police officer who was shot in the head while responding to a robbery call early Wednesday morning was released from the hospital on Thursday.
Officer Chad House was wheeled out of the hospital where he was met by Everett police officers and civilian employees, who were all there to wish him well on his road to recovery.
Around 3:10 a.m., Everett police responded to a report of a robbery in the 7600 block of Evergreen Way, according to a release from the Snohomish County Multiple Agency Response Team.
Upon a search for suspects, officers located someone near the 8600 block of Evergreen Way. As Officer House approached the scene in his patrol vehicle, the suspect fired multiple shots, one of which struck House in the head.
The suspect fled across the street and was confronted by a second Everett officer. The suspect was shot and declared dead at the scene.
Officer House was taken to Providence Regional Medical Center by another officer via a patrol car.
"We are all so pleased to see Officer House released from the hospital today," said Everett Police Chief Dan Templeman. "The excellent first aid administered on scene by his fellow officers yesterday morning, combined with the outstanding care he received by the staff at Providence Medical Center, all played a role in his quick release from the hospital."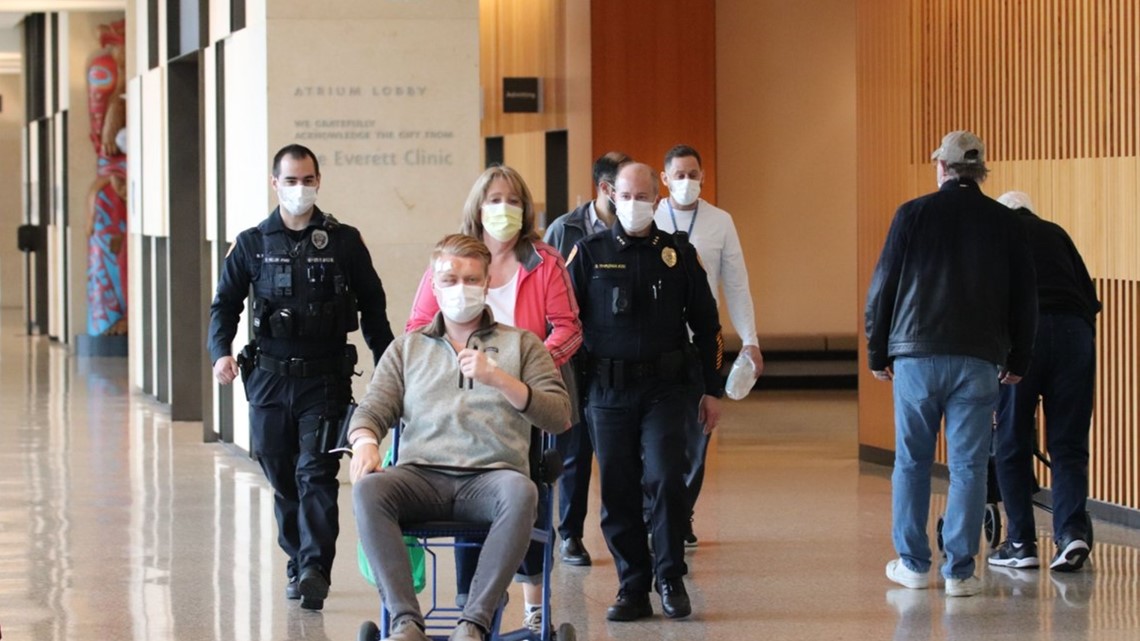 Templeman said the department looks forward to welcoming House back after he takes the time he needs to recover.
Officer House joined the Everett Police Department four-and-a-half years ago after attending Washington State University where he earned a bachelor's degree in sociology.
Three suspects involved in the initial robbery have not been located, and the investigation remains active.
The Independent Force Investigations team is investigating, which is standard practice for any shooting involving a law enforcement officer.