SEATTLE -- Many workers dread those annual work reviews, but it turns out managers don't like them much either.
Research from Seattle-based TINYpulse shows 31% of responding managers think the process is too time consuming.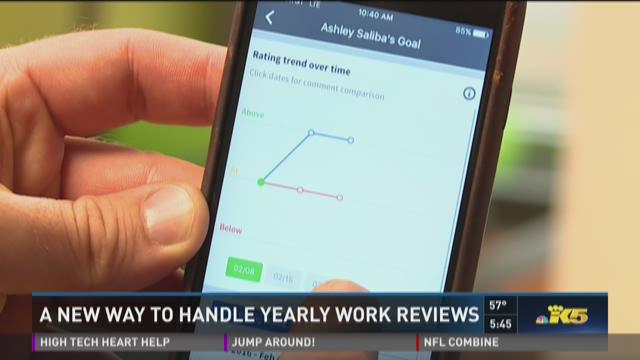 More companies, including Microsoft, GE, and Deloitte, have eliminated annual performance reviews.
Wednesday TINYpulse released a mobile app called "Perform" that breaks annual reviews into weekly check-ins. The app allows bosses and workers to swipe up for exceeding expectations, down for not reaching the goal, and swipe to the right for meeting expectations.
It's like a professional "Tinder" to rate how workers are doing.
"Millennials want constant feedback, constant coaching," said TINYpulse Chief Product Officer Matt Hulett. "What we found is having weekly conversations that are transparent and real-time are the best ways to calibrate the most out of your team."
TINYpulse found workers think reviews are too negative, time-consuming and not timely enough.
That timeliness issue is a big one for Chelsea Truesdell. She's a 26-year-old marketing specialist at Brenthaven, a Seattle-based computer bag and backpack company.
"When you look at such a large amount of time, you miss the little things that could've been little wins," she said. "I like feedback. I also like recognition."
Brenthaven's Human Resources Director Harry Ross isn't a fan of the process either.
"It would take days to sort through it all and it was painful," said Ross, who has been doing yearly reviews for 35 years, until a couple weeks back.
He started using TINYpulse Perform to track progress. He thinks the change is necessary to attract and retain engaged workers.