BROWNSVILLE — Zachary Darner's little brother Noah spent his first year in and out of hospitals.
"I hated it. It was scary," said Zachary, now 8. "And I wanted to make a project where kids can feel safe in the hospital at Christmastime. And where like if Santa doesn't deliver toys to the hospitals, who will?"
That year, Zachary set a goal to collect 50 toys for sick kids hospitalized during the holidays. He went door-to-door, put up fliers and spread the word. The toy drive in 2016 exceeded all expectations, and he distributed 259 toys.
Noah, soon to turn 3, has overcome the kidney problem that overshadowed his infancy, but Zachary's toy drive continues. Last year, he set out collection boxes, spoke to service clubs and collected nearly 1,600 toys that were given to Mary Bridge Children's Health Center in Tacoma, Seattle Children's Hospital and Harrison Medical Center.
This year, Zachary is getting a jump on the holidays, given his goal to collect 5,000 toys. On Thursday, the Brownsville Elementary third grader and his family received the first donation of the season: about 1,500 toys from the Port Orchard Eagles.
Zachary's eyes lit up when he walked into the South Kitsap garage of Ron Weekes, an Eagles member who has been storing toys for the organization. There on the work table were piles of new toys. Boxes of toys filled the rafters.
"It's amazing. I love it," Zachary said.
The Eagles distribute toys each year to children throughout South Kitsap. The 1,500 toys were part of a large donation the Eagles received four years ago that have not yet been distributed. Recently, Weekes and other leaders in the organization decided to share their bounty with Zachary's nonprofit Kidzz Helping Kidzz.
"It's just a big circle of people helping people," Weekes said. "When I see kids helping kids, it doesn't get any better than that."
Past President Tom Riedel commended Zachary for his work and made him an honorary Eagle.
"We're always jumping at a chance for any toy drive," Riedel said. "It's important for us to give back to the community. Nothing makes us happier than handing out food, toys, clothes."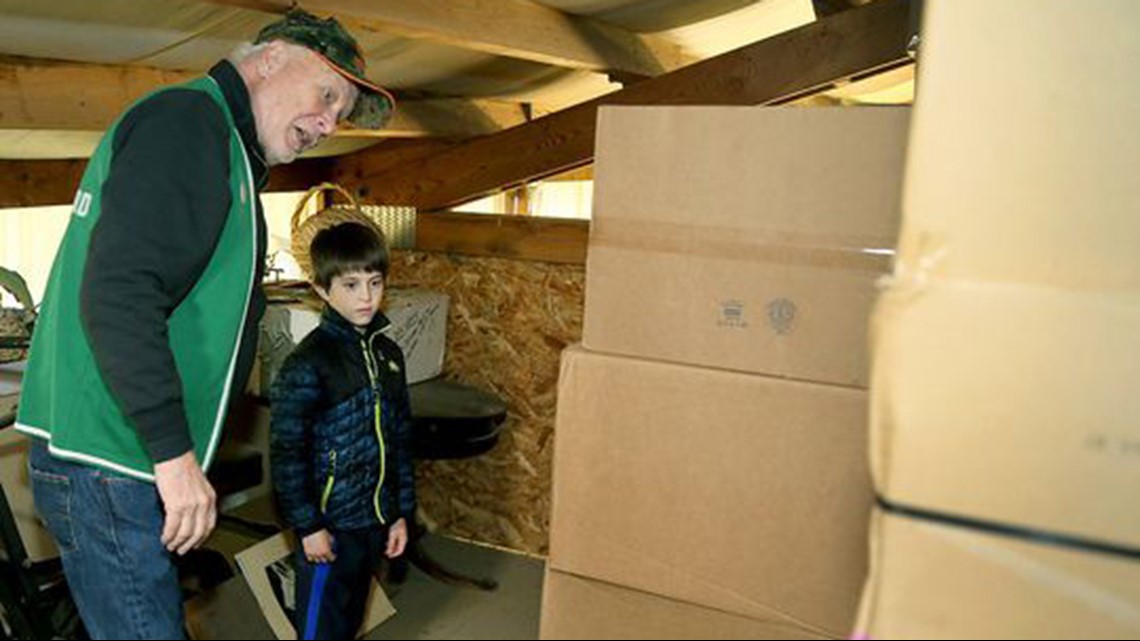 Zachary's parents, Beth Friedman Darner and Rhandal Darner, have offered their support to the cause, accompanying him door-to-door, driving him to speaking engagements and helping with the collection boxes. But Zachary's zeal is the driving force behind Kidzz Helping Kidzz, said his mom.
"He did it all himself. He knew what he needed to say and what he wanted to say." Beth said. "We're just here to support him. We think it's a beautiful thing that he wants to accomplish. Zachary is a very bright, very compassionate kid. ... He just has this golden heart where he wants to give to other people, particularly kids."
Zachary has wowed people with his poise and natural marketing skills.
"He was so well-spoken," said Janel Wohlers, in-kind gift coordinator for Seattle Children's, who greeted Zachary and his family last year when they delivered toys by U-Haul trailer. "He kind of stole the show."
"He's a great kid," said Pamela Deaton, Harrison Medical Center's volunteer coordinator. "He's wise beyond his years and his heart is huge, and his goals are as big as his heart."
Hospital representatives said that donations during the holidays allow them to distribute gifts and comfort items to young patients throughout the year. Deaton said Zachary's toy donation last year has helped carry Harrison into the spring.
Zachary said the idea to collect toys for sick kids came to him after one of his brother's hospital stays.
"Let's say I'm a kid in the hospital. I'm sick, like I have cancer or something. I'm sad, you know, like I'm dreary. Toys make kids feel happy. They make them feel safe," he said. "I think I would want a toy if I was in the hospital."
The toy collection drive is a lot of work, but it has brought the whole family together, Beth Friedman Darner said. Last year, the project operated under the umbrella of Caring Clowns International, to whom the family is grateful, she said.
This year, Zachary and family formed their own nonprofit, Kidzz Helping Kidzz. Zachary has expressed a desire to help homeless kids and to start a scholarship. "Whatever he wants to do, the organization will be there to support that work," Beth said.
His precocious philanthropy aside, Zachary is just a typical kid. "He loves to swim. He loves to play. He loves to run around. He loves to be crazy," his mom said.
Zachary and Noah are close. "They have a wonderful relationship," Beth said. "They love to play together. They fight together. They're normal siblings in all respects."
Because of health privacy regulations, Zachary has never met any of the children who have received his toys. He'd like to, but he also gets satisfaction from simply delivering the toys.
"I love doing this," he said. "The best part is always the giving to other people. That's what Christmas is about. It's not the getting. It's about the giving."
Kidzz Helping Kidzz is in need of storage space and would welcome in-kind help transporting toys. For information, call (360) 536-7559 or visit the Kidzz Helping Kidzz Facebook page.