Editor's Note: If you are viewing this story in our mobile app, click this link.
SEATTLE — Marjon Riekerk and Alexander Voorhoeve are the kind of neighbors who know most people on their block by first name.
For the last 20 years, the couple has hosted a block party on their colorful suburban Crown Hill street, where neighbors garden, tricycles sit in front yards and people walk their dogs.
"When they have a baby, we celebrate, and when you're sick, somebody brings you soup. When you need a referral for something, you ask your neighbors. When you can't find your cat, they help you find it. That just happened last week," said Marjon, 80.
Marjon Riekerk and Alexander Voorhoeve (Taylor Mirfendereski | KING 5)
This summer, a new neighbor will join their block's pseudo family. A homeless person will live in Marjon and Alexander's backyard.
"I expect it to be just like another friendly neighbor, but a neighbor who's had some different problems than most of us," Marjon said.
They're one of four Seattle families who volunteered to put a 109 square-foot structure called a "block house" in their backyard to house a homeless person, as part of the BLOCK Project.
"This is not a housing project. It's a community building project," said Rex Hohlbein, co-founder of the BLOCK project. "We specifically are trying to get past the 'Not in my backyard' phenomenon that takes place when people with good intentions and good hearts are for something, but then when it happens in their backyard, they are not for it. So we are wanting to literally say 'Yes, in my backyard.'"
It's a new non-profit program, managed by Facing Homelessness, that aims to help homeless people join Seattle neighborhoods, where entire blocks can play a role in helping them get back on their feet.
Marjon Riekerk and Alexander Voorhoeve's Crown Hill backyard (Taylor Mirfendereski | KING 5)
"Currently, all the other housing solutions for people that are homeless are segregated. You have small house villages, tent cities, low, medium, high-rise buildings for people with low income. This is not a knock on those housing answers. Those are really beautiful solutions because they get people off the street," Hohlbein said. "But we see a profound change when you take people who are suffering and you surround them with people who are not suffering."
The community-funded solution comes as Seattle faces a seemingly insurmountable homeless crisis. Officials continue to grapple with the best way to find homes for the nearly 3,000 people who were homeless outside during one night in 2016. Experts say the city's problem is fueled - in part - by soaring housing costs and a shortage of both temporary and permanent affordable places to stay. The median home value in Seattle is $624,700 -- up 11.4 percent from the last year, according to Zillow.
"If we put one block house on every residential zone block in the city, we would have twice the amount of housing as there are homeless in the city," said Hohlbein, who is fundraising to build 20 block houses in Seattle by the end of the year.
The Block Project follows the launch of a similar project in Portland, where county officials there are offering to build a granny flat in willing homeowners' backyards if they agree to house a homeless family for five years.
But unique to the Seattle project, which is funded by community members and local businesses, is that the team is just as focused on helping the people who agree to put the off-grid tiny homes in their yards as it is on helping the people who need to live in them.
"The idea of homelessness is very daunting and very intimidating, but once you make that connection with one person who's suffering through homelessness, you suddenly feel like you can make a difference," said Jenn Lafreniere, Hohlbein's daughter who co-founded the Block Project with her father.
"That's where the healing is going to begin -- not only for the person who was previously unsheltered but for the people that are living in that community because they feel like they're giving back,"' she said.
The first four families who volunteered their backyards for block homes live in Crown Hill, Greenwood, Beacon Hill and the Central District.
Once Hohlbein's team receives the required permit from the Seattle Department of Construction and Inspections that makes it legal to build the structures on existing properties, construction on the $30,000 homes will begin. He said he expects the first four homeless residents to move into their block homes this summer.
Hohlbein and his daughter, both architects, designed the block homes to be completely self-sustaining. Just over 100 square feet, they'll have a composting toilet, a shower, a sink, a small kitchen counter and a place to sleep.
"By allowing them to live in a home that is completely off-grid, we elevate them to a place of dignity. They are living how we should all be living," Hohlbein said.
A mock-up of a block home. (Provided: The Block Project) .
The block home residents will share 30 percent of their income -- if they have one -- to pay the homeowner, maintenance costs and fund future block homes. Hohlbein said there's no time constraint for how long they are able to stay in the block house.
"People don't heal their lives based on a schedule. Somebody might move in and get involved in the community for six months and get their feet on the ground in a stable way. It might be enough for them to move on to their next place of housing, but then someone else might take up to a year," he said.
An outline of the proposed block home in Marjon Riekerk and Alexander Voorhoeve's Crown Hill backyard. (Taylor Mirfendereski | KING 5)
Unlike housing projects that have barriers keeping a certain group of people from being eligible to move in, Hohlbein said the homeowner and potential resident will go through a heavy matchmaking process. Each person who moves in must have a case worker who provides wrap-around care. But the other requirements depend on what a family is willing to handle.
"This is one of the really beautiful strengths of this project. Each host family and each block will come with their own threshold -- their own barrier. Let's say I'm a former drug user and have 12 years of sobriety, my threshold for being able to take someone in my backyard who is just recovering or using is bigger than someone who has no experience with drugs," he said.
Marjon and Alexander said they have no expectations for the soon-to-be arrangement.
"We are not very fearful people. We are not very rich. There isn't a lot they could take from us," Marjon said. "If the person turns out to be violent or use hard drugs or set fires or something, I mean you take a chance, but you also take a chance when you get married. You take a chance when you get a job. It looks like a chance worth taking."
Involving the Whole Block
Several of the first BLOCK Project families have started to include their neighbors in conversations about their plans to open up their backyards.
"Having sort of the consent of the block is an important part of this project," said Dan Tenenbaum, a Beacon Hill resident who will have one of the first block homes in his backyard. "We went to all our neighbors, and we left info with our neighbors who were not home. Nobody objected. Some people actually thought it was great."
Members of Facing Homelessness recently met with a group of Tenenbaum's neighbors to answer their questions about the project.
"We want that to be a standard process. We believe the more people we pull into this, we empower them." Hohlbein said. "We are not trying to bring in someone that is uncomfortable with their life living homeless only to make other people uncomfortable. We are not trading discomfort. The goal is to get everyone to move on together."
Lafreniere said she hopes the BLOCK project will organically create opportunities for the people living on a street to connect with the homeless person in ways giving cash to someone can't accomplish.
"Whether that's bringing them leftovers that they have too much of or doing their laundry or teaching them how to play guitar. There are so many possibilities that this person will get exposed to that they normally wouldn't get in many situations," she said.
Simplifying An Overwhelming Problem
Empowering the community to take small actions has shaped much of Hohlbein's career.
The creative director of Facing Homelessness is also the man behind the Just Say Hello campaign, which encourages people to make a connection with a homeless person by saying hi.
"We are saying you don't have to worry about finding a solution for the big problem. All you have to do is give a smile and say hello," he said.
The BLOCK Project takes that one step further. lt gives community members a tangible way to tackle the homeless problem that can otherwise feel paralyzing.
"Even though people are emotionally upset when they see someone on the street who is homeless, the issue is so complex that the answer is not evident. The complexity of 'What should I do?' or 'Is this person going to take advantage of me?' 'Is this person going to harm me?'... It's enough to make people walk on by." Hohlbein said.
Rex Hohlbein and his daughter, Jenn Lafreniere, have been working on the BLOCK Project for two years. (Taylor Mirfendereski | KING 5)
Marjon Riekerk said she knows that paralyzing feeling. When she takes a daily walk to the nearby park, she said she becomes overwhelmed by the people who don't have a roof over their head.
That's why she and her 82-year-old husband, Alexander, decided to volunteer their backyard.
"I can't stand to live in a world where some of us have everything and some of us have most things and some of us have nothing," she said.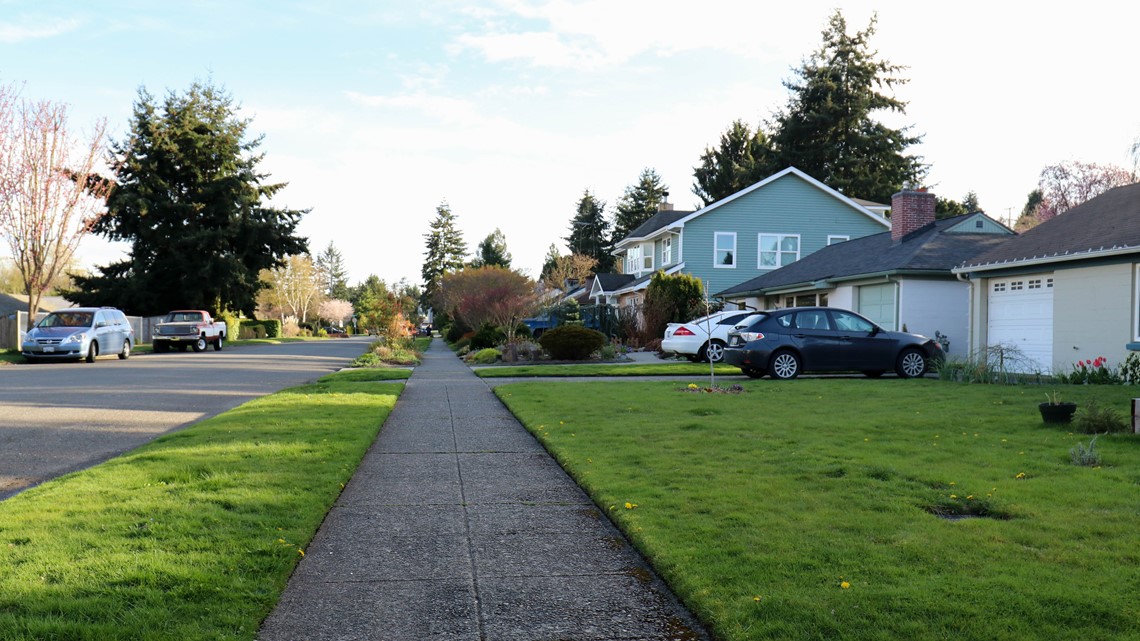 The couple may own a safe home in the suburbs now, but they both know what it's like to not have a stable place to stay.
"We have a long life behind us, and we have been in some dire circumstances. So we are happy to be able to help somebody," Alexander said.
And Marjon knows she and her husband will be helping their community, too.
"I think if people get to know an unsheltered homeless person personally, they'll find out they're just like us," she said.