Seattle's arena saga: Top officials reflect on Sonics history, regrets
Big players in the decades-long KeyArena and Sonics story speak out about favorite memories at the Key, losing the Sonics, and how to keep it all from happening again.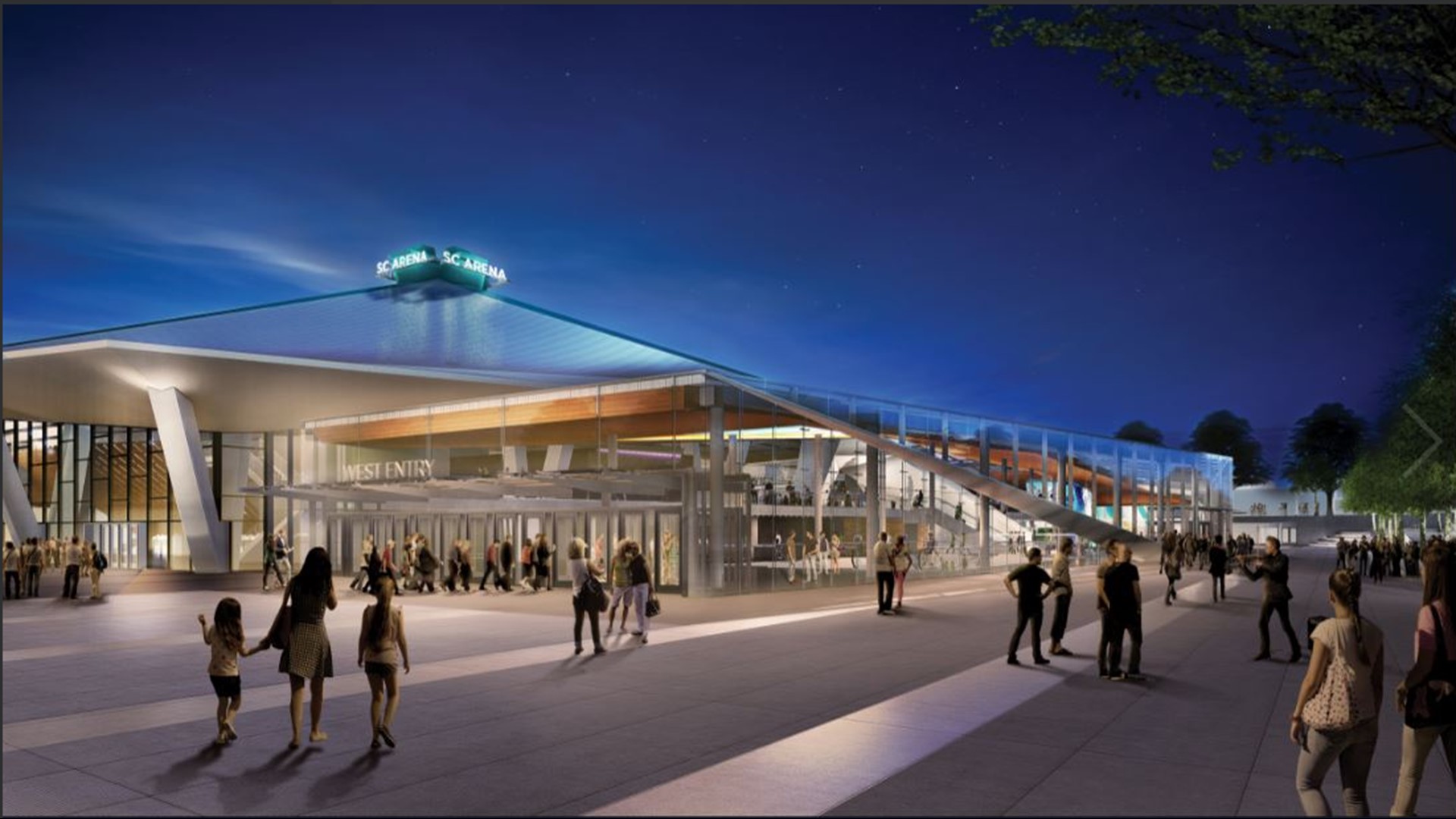 Seattle's arena saga
:
The NHL Board of Governors, which consists of team owners and their representatives, will meet in Sea Island, Georgia the week of December 3 and are expected to formally award an expansion franchise to Seattle to play in the new arena at Seattle Center.
Seattle's last successful arena project was in the mid-1990's, when the City and the then-owners of the NBA's Seattle SuperSonics paired up to create KeyArena at Seattle Center.
The power players behind the deal sat down with KING 5's Chris Daniels for an on-the-record conversation about how the deal came together and the lessons learned for the next arena.
Seattle businessmen Chris and Ted Ackerley – The Ackerleys are also minority investors in the new Seattle NHL franchise and sons of former Sonics Owner Barry Ackerley.
Former Seattle Mayor Norm Rice – Rice served as a two-term mayor of Seattle and has been honored with multiple awards and honorary degrees since his term in office.
Former Seattle Storm CEO Karen Bryant – Bryant is now the CEO of Atavus, a football and rugby company based in Seattle.
Seattle Center Director Robert Nellams – As Seattle Center director, Nellams has presided over the biggest makeover of the Seattle Center since the 1962 World's Fair.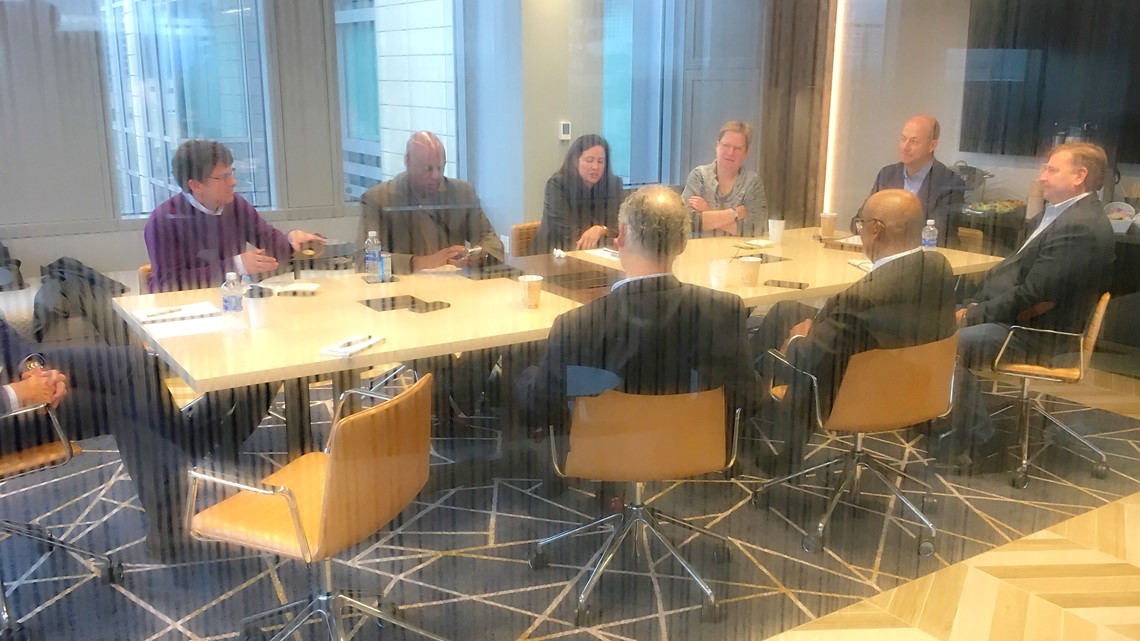 Former Sonics Executive John Dresel – Dresel went on to run Tully's, and has his hands in multiple business ventures
Former city and Sonics Executive Terry McLaughlin – McLaughlin retired shortly after the Sonics moved to Oklahoma City.
Seattle Center Redevelopment Director Jill Crary
Editor's note: Portions of the conversation were edited for flow and clarity.
Threat of relocating the Sonics
:
In the early 1990's, the Ackerleys strongly considered building a new arena at the existing Safeco Field site in SODO. The idea fell apart, but no one believed the Sonics would ever leave Seattle.
Chris Ackerley: Was it ever a real threat? Probably not. I mean, listen to me, going back to 1983, you already know this, right? The purpose of the acquisition then was it was going to leave. Right? And we're eight years into our tenure at this community. And were convinced…that if somebody didn't step forward it was going to leave. And I think that was the mindset from that date all the way to 2001, in securing the BCOS and that group. Through all that, there was never really an intent to go. There were some fabulous offers, economically, right?
McLoughlin: And that reality, I think, made the eventual sale of the team unfortunately easier for the next iteration of doing something with the arena. And the reason is because nobody really did believe entirely the actors would ever really leave. It never got to the point where we weren't looking for options…Yes, there would be the periodic article about somebody had been somewhere in a city somewhere, Milwaukee, Toronto was the big one, you know, in who were interested in buying our team.
But at no time that I can remember did the Ackerleys ever say, "Yeah, we're seriously considering an offer from Toronto." They would verify that, yes, there are some people interested, and it's subtly kept. From a negotiating standpoint, it's a smart move. You needed to do that, you needed to do that to keep the pressure on, to have something done. But nobody really believed, I don't think there was a tenor in the town, it certainly wasn't a political belief, that they would really leave. They would if we couldn't get a deal together. That was the big thing. And it drove it, it drove it. It was useful for me, negotiating with and talking to the city saying, "You know, we've got to get this together. Because if we don't get it together, they will leave." But we never got that point.
Chris Ackerley: I remember three really important, distinct Ackerley family conversations in particular about our relationship with the team and the city. One was '83, when Mr. Ackerley came home and literally had a massive family conversation about "Dad, you are buying the SuperSonics." We went great. But we got a vote, yes. Yes! Then when there was a conversation, but say late '80s, that '90-era, we were talking about that gap where if the decision were to be made about entertaining an overture from another market in North America or making a choice about this family uprooting. And not continuing to build our path towards Seattle. And in 2000, 2001, if we're going to make the decision to move on, we have to do it with a local group. We can't, we won't. Period. And in each case, we stood on our principles that this is a Seattle community asset. And the rest is history.
Meet the players
:
Dresel: My role at the time was president of Full House Sports Entertainment, and it was the business and marketing arm of the Seattle SuperSonics, and our specific role at the time of the building, before, during, and after was to figure out a way to sell all the products that were offered in the building. The suites, the title sponsorship, the club seats, et cetera, which became an economic engine of the deal, because I think at the time we had a $70 million bond, right, Terry?
Dresel: 73.4, and in order to pay those bonds, we needed the economic reality of dollars coming into that building, and that was on my shoulders, I think. Am I right?
Rice: Boy, I don't even know where to start when I think about this. I've never seen a city that has been successful that didn't have a good sports team and a fan base that rallies the community around it, and I think one of the best things…at the end of the day, the venue of the Seattle Center, the Sonics, the tourist dollars coming into the city, spending money, you know, helps the city and helps to pay for the kinds of things you want.
And so there were a lot of my friends who said, "Why are you doing this?" And I said, "Look, it's the collective sense of the city, but I've never seen anything rally a city more than a community coming around a team."
I had a lot of my friends saying, "Why would you do that?" there is homelessness, there is other kind of things…But if you want to rally city pride and city effort, a team exemplifies a lot of that spirit, even though it may not be directly related, but it gives you the impetus to get people to rally around a lot of things.
It was just a wonderful time, and I wouldn't trade it for anything. I got beat up for it. Some of my friends say, "Why would you be for a sports team, why would you?"
I don't want to be a mayor who lost the team. But I do think that what people don't understand is the economic advantage of a team and a successful team and what it does for the city. It's not always tracked, so therefore people don't always see that, but it does bring out a kind of a spirit.
And it...the public feeds off of it for other things. We can do this, we can do that, just like the Sonics, or just like, you know, people feel that spirit, can-do, want-to-do, something, and you can build off of it. That gives you energy.
McLoughlin: I was the deputy director at Seattle Center when this whole thing started and had the fortunate opportunity to be the person assigned to negotiate the deal with the Ackerleys and the Sonics to do KeyArena. So, I owe a lot to my two bosses for that, actually Virginia Anderson, who was my immediate boss. And her immediate boss, to my right.
And I couldn't agree with Norm more, that it takes leadership on the part of the mayor, and it's not always easy. I know it's not always easy to be the mayor that says, "Yeah, we are going to do this." Rather than the mayor that says, "I don't know, I'm going to get my head handed to me if we do this." And Norm did that. He did a lot of things, I will say, during that time. Benaroya Hall went in, and I get some good fortune to work on that one as well. Pacific Place here, and I'm trying to remember what happened with KeyArena.
This town was really depressed. Where Benaroya Hall is right now was a huge hole in the ground, called the Marathon property, right, cause it was owned by a Canadian company, a DC company. And nobody could buy it, nobody could sell it, all the big developers in town were going belly up. We were in a bad place. And it was the vision of this guy (Norm), to lead us out of that. And to make some deals that weren't always popular, and KeyArena was not a slam dunk. It took political courage to go there. And then became one of the most exciting things happening in town, as far as I'm concerned.
After the completion of KeyArena in '95, October of '95, I had the good fortune of being asked to go work for the guys I was working with for the last few years, to put this thing together – the Ackerley group and the Sonics.
Nellams: I came prior...right there, but to rewind just a bit, I will say that one of the things that was most impressive for me, as a person who grew up in this community, went to the World's Fair, had gone to the old Coliseum, to watch a lot of things, the very first time I walked into KeyArena, I was blown away by what could be done. In terms of turning a venue from what it was to what it became. And so I was very impressed with that, it's one of the reasons I wanted to come to Seattle Center was because things were exciting, happening here.
Bryant: So I'm here too because of my tenure with the Seattle Storm for 15 years, and the KeyArena being the birthplace of what I think is pretty consistently considered the most successful WNBA franchise in the league. So obviously really proud of the foundation we built with the support of the Ackerley family, namely Ginger, but certainly John and the whole crew at Full House. You really created a standard for the WNBA in terms of the model. Particularly the way you had the city full transition from an NBA franchise, and a lot of NBA affiliated franchises are working to aspire to become.
But my love affair with KeyArena is long. I grew up here, I went to the Jackson 5 concert at six years old in 1973 in the Coliseum. Many basketball events, grew up as a Sonics fan, have many memories sitting in the back row, at the Coliseum. Played in KeyArena as a high school, college athlete.
Crary: So from 1990 to 1998, I had a somewhat ill-defined job called events service rep at Seattle Center, which didn't mean a thing. It's really sad.
I used to say I'm accountable for everything but responsible for nothing. But the transformation that had to take place with the partnership to even set the stage for the Key to be possible is one of the things that's very, very vivid in my mind. When I got a call from the woman who offered me the job to become the events service rep, I said, "Why would you give me this job?" It's your most important piece of business, I'm in a theater background, I know nothing about this. And she said, "Well, they're building their own building. How badly can you screw it up?" I mean, that was the relationship in 1990. You guys were leaving, you know, you owned the land down where Safeco is, and the power between then and '93, when the deal got signed, the transformation that had to take place was really, really huge.
Why Coliseum was saved after SODO Ackerley arena deal fell apart
:
Crary: It's hard to remember, what a dump the Coliseum was.
Crary: What an impossibly difficult building it was, to take care of the client, to take care of your high-end customers, to take care of court side people.
Crary: Pipe and drape, that's it. That's the one thing had there. And we would allocate...there was these portable walls that would go in and out, right. People would take them out and not put them back. The cats!
Crary: Because nobody would lock the doors, and even if they did people would cut holes this big, and so the wild animals came in. You just can't imagine what it took to envision how that could be different. How it could be a home, you know. Or it could be place that...where people had clubs and suites, and sell a hunk of space to people that had 20 seats and promise them it was going to be there every time, and there wouldn't be wild cats in it.
The west side of the campus, the west side of the building, was storage. And we had to carve a place through storage to the old world's fair turnstiles, to let people come in and out for the game. And nobody thought it was weird that you walked by all the junk that wasn't being used in the building, sitting outside. And it was nice, we would cover it with pipe and drape.
So it was an amazing growth opportunity for me, and it was an amazing transition, that took people visualizing something that wasn't there. And I don't think people really can remember, what a growth and sophistication it was when that building opened. Because it was still the Kingdome that was competing. It wasn't fancy Safeco and CenturyLink. And as Robert said the first time in it just to walk in...'cause from the outside all you saw was the glass and the old diapers blowing away.
Rice: You know, I'm going to go back a little ways, because it's not a matter of...if place matters so much, versus what you want, then it interferes with your decision that you're going to make. So, the Kingdome, or wherever we're going to be, wasn't the thing with me. It's where's the best venue. And clearly the Seattle Center is the center. And it has a focal point for a city that needs to be maintained and helped.
I'm going to do one quick aside, because I do get in trouble with the Seattle Center, because I elected to put the opera house...to move downtown, which caused a lot of consternation for some of the things. But when you think of a city, there has to be entertainment places in places that thrive and are not just one place. And so if you can think about give a little, get a lot, it picks up a lot of places.
Along that corridor, from Seattle Center downtown is the corridor, and if you look at what you want to build along there, whether you want it downtown, whether you want economic development that goes along that whole way. It makes sense to go back that way.
And so it wasn't hard for me to say, we can do this, let's do it. And get out of the way. And that's really what we decided to do. This is what we need to do, this is how we ought to do it, and then get out of the way and let the people do it. That's really what...I looked at it and didn't have a real problem.
I probably would never have invested in the Kingdome anyways. As a venue, I think it was an extraordinary...blah.
Rice: It never worked to make it in the first place. And as you see, it's not there.
Everyone: (More laughter)
Rice: We needed something that had a better sense of the city, that had a better, whatever you want to call it, just a big hulk of a place that didn't really make you want to come to it.
McLaughlin: When the Ackerley group bought the property that is now Safeco Field, we were pretty anxious to try to persuade them that they didn't need to develop the new arena. But what we really would like them to do is develop the KeyArena.
We weren't sure we could do that, and at that point I think the Ackerleys were pretty focused on trying to do this new arena. So we ended up shifting gears, from what our preferred option was, which was to do the old Coliseum, to supporting this new project. Because what was overriding, again from your leadership Mr. Mayor, is that we keep the Sonics in town. And the way to keep the Sonics in town was to build the arena they wanted built.
Fast forward, you know, economic times, bunch of considerations, that didn't work out. And so one day, without really full understanding on my part that really it was not working out in terms of the economic development, I got a call saying, "Is there any possibility that we could go back to your earlier ideas about excavating and redoing the Coliseum?" I will never forget that day, because it about knocked me out of my chair at the time. This was – we were back on that possibility.
So we scraped together about $250,000, and I said, "I don't know if we can do this. I don't know if we can do it politically, I don't know if it's even physically possible to do this project." This was so sketchy at that point, that we've got to do some studies on this. We need some engineering studies, we need to find out if you go down 30 feet in this bowl, you're not going to hit Puget Sound, and have to drain all of Puget Sound to do it. So we did that, and at the same time we were talking with the mayor's office about well, can you get behind this or not?
And we got the engineering done, said you can do this, you can go down 33, 34, whatever it was, feet in the bowl, and you won't get Puget Sound. You can preserve the compression ring. That thing, that's about $15 million worth of construction and it's seismically as sound today as it was when it was built in '62. You can preserve the roof, at least the roof line, you take the old roof off, because the diapers are no fun, and we put on new technology that didn't even exist in '62 when the Coliseum was built. Get rid of all the wires and all the floating panels and all of that stuff, and put a fixed roof on this thing. You can do all that.
So now it was the question of the politics of it, and the financing of it. And those were pins that we blocked. And the marching orders were, yeah, we can get behind it. And this was coming more from the council at this point. Because we had to pursue this, and you authorized us to go down and start talking to folks, to see if there was any political viability there. We can get behind it, but don't bring us any deal that costs one penny of taxpayer money. And those were the rules, and it was very clear and unequivocal. And that's without…if taxpayer dollars were going to be involved in this, it was DOA. Even back then in the early '90s. So we talked with the Ackerley group and said, "These are the rules of the game if we're going to get this done. Can you live with that?" And quite honestly they weren't sure they could. Nor were we, because we didn't know what you could do with this kind of a new building. But what the Ackerley group did commit to is a revenue sharing deal.
And we thought, well, if we can model this thing in such a way that it can kick off enough income that can be shared with both the city to service the debt and to return value to the bottom line of the Sonics, who needed to earn more income to stay competitive, we got a deal. So we really spent the next year probably with armbands and visors doing pro formas that would fill this room about how that would work. So we put together, we being the Seattle Center, we put together a financial model on pro forma, schlock up to 5th Avenue where the Ackerley offices were at that time, and I would sit down with Bill, and we'd go over it, and say, "Well, if we split the revenues from the suites, if we can get this value from this weeks, if we can get these kind of per capitas from the concessions, and et cetera, et cetera, et cetera. And you guys take this much, and the city takes this much, we can service the debt."
And first of all we figured out we can build this building for $73.4 million, which is insane.
Yeah, but there was some interesting math that goes into that. The amount that was bonded against, so if you go back to the bond documents, it's 73.4. You get to the 120 by saying, well, we saved the 15 million for the compression ring. So that's the value, you know, that you retained. And so it really was an amazingly inexpensive...so by comparison, the same year that we opened KeyArena in December or October of '95, within a month the Rose Garden opened, and Paul Allen spent about $260 million on the Rose Garden. Vancouver opened, and they spent about the same amount.
Dresel: Okay, I've got to chime in here…What's really interesting about my memory, we all are searching for what's accurate and what's not, is that the two entities, the Seattle Center and City of Seattle and the Ackerley group, we all were in pain at this point. Someone great, who I admired and still do, said once, "No one ever does anything unless they're really in pain."
The Seattle Center really needed a shot in the arm, and an economic shot in the arm. We wanted a place to play. We didn't want to move the team. That was not going to happen, and the economic times were tough where you couldn't just write a check. So how are we all going to come together with a win/win? And that's where you and Barry I remember, sat down, and said, "Okay. Let's get our guys going." And all this stuff started to happen, and all the pens and the paper happened, but it was really about, hey, this is a great theory, but can we sell this stuff? And that was really a tough deal, because remember suites in this town were not popular. If you owned a suite in the Kingdome, you didn't tell anybody, because it was too ostentatious. It was too flamboyant, and you were deemed as being wealthy. And so everybody would hide it and put paper bags over their heads in their Kingdome suites.
The deal gets done. The building opens. But there is push back.
:
Rice: I always get a kick out of this. I won't forget. I went to a junior high school to talk there. And there was a kid sitting there – there's always one who will take the crap out of you. Basketball teams. Why do you subsidize basketball teams, you know, and I'm looking at him, and he's getting ready to give the economic needle and whatever. And I said, "Have you ever lost a team?" And he looked at me for a minute and he said, "I get it." Because you can get into all the economic things and come up with all the formula and everything else. It's about winning. That means we got to win, but it's also the spirit that comes out of a team, is not something that's calculable. But it's there. And you see people around the tube and running in and seeing the playoffs and seeing what's going on and following it all along – one of these. It builds a kind of spirit that really can transform itself into a whole city.
That's the one thing that probably brings all the city back together, even though people who don't like it, they own it. Especially when you're winning. So you can then use that spirit for a lot of other things as you move along. So I don't ever take it for granted that a team in an integral part of the spirit of the city. And if you don't, you will see it quickly lose. And I think that's the reason I tell some of my friends who are thinking about running for office, all the teams. Can't be just your team, right? All the teams, the collective sense, it's teams, build a spirit that can help you move forward. And so you can't play one off the other, you know. I used to kid (Greg Nickels), I'd say you're a baseball guy, I'm a basketball guy.
Sonics go to 1996 NBA finals – in the new arena
:
Dresel: We took a huge leap. The other economic realities were that we were team that we had to make money. We couldn't be a team that would suck up millions of dollars' worth of losses, and most of the owners back then weren't like the owners today. Very different. So it was a business, and the other thing was the Ackerley family was bound and determined to win a title. That was number one goal. It was pedal to the metal, but make a dollar.
We went from the best of times to the worst of times, economically. And we were all tested, really tested, and the most interesting memory I have is we were always about controlling our own destiny. We were entrepreneurs, and the Ackerley group was founded on that principle. Entrepreneurism. Finding your own way, taking something from nothing, and building it to here. And we were all of a sudden thrown into a private/public partnership that had politics, and it had systems and processes and a way to do things publicly that was completely foreign to me.
Chris Ackerley: We used to...remember, you always say, right, there's a business that you have to run, but at the end of the day, you always flipped to C6 for the sports section, and wins and losses dictated a lot of it. But two real important things that came of this, right? One, it demonstrated to the community something you said earlier, that the value of this arena, the environment and the atmosphere it can create, has a profound impact on community.
When you think back on the great run of '95, '96, and this perfect score that has been talked about here, and the Sonics having a 64-win campaign, who can forget being in KeyArena when they beat Utah in game seven. It's just this sea of humanity spilling into the streets of Seattle. And you know, when you're in that moment, nobody looks left and right. You could be a Democrat or Republican. We're Seattleites! We're sharing in this glorious moment as a community together, and venues like that and teams like that, they create it.
Dresel: I spent a few minutes of that game in a church across the street.
Crary: Those free throws were just killing me. And Rob had a whole bag of all the shirts and the hats and everything under his table. And everybody's knees were just knocking against it, like are we going to be able to get this bag out or not.
Dresel: Otherwise we're going to make a really painful donation to Goodwill.
Crary: Yeah! But you know the first game of the finals I remember coming out early in the day and standing on the suite level, and for some reason I was walking out, and I looked into the campus. And this, thousands of people there at noon for this nighttime game, and Jean Enersen, Dennis Bounds just appeared, Kathy Goertzen up here. And every single TV station was there all day long, all three of those days, all the days in between. So that whole run of games three, four, and five were just thousands and thousands of people in every nook and cranny on the campus. And the first one didn't end very well, but those next two games were a lot of fun.
Watching them have to keep putting that trophy back away and get it out, and then you'd see them polish it, and then we'd go up five points, and they'd put it back away. Watching them have to leave that building.
Yeah, watching them have to take that with them, and all the champagne that the Bulls had sent in, watching all that have to go out, felt so good.
Ted Ackerley: Here's a memory from the finals. Jerry Reinsdorf, the owner of the Bulls, calls our office, and they were very hospitable when we went to Chicago, so what can we do for you when you come to Seattle. And he says, "Tell me about the Monorail." Well, it can take you from the middle of downtown, down to Seattle Center where the arena is. "Okay, that's good. Can we have a meal down there?" Well, there's a lot of different things you can do outside of the building, in the building. He said, "Well, what if we want to have a picnic. On the lawn. I understand there's a lawn and a fountain." Yes. He said, "Well, that's what we're going to do. We don't need any limos, we don't need any – we're going to take the Monorail, we're going to down to Seattle Center, we're going to sit on the lawn and have a picnic as a family before we walk into the arena for the game."
Favorite KeyArena memories
:
Ted Ackerley: Honestly I think it was opening night. Because it really brought so many different elements of this community together, and the obvious thing was it benefited Seattle Center. It benefited a few other nonprofits, but...you know, sitting back and listening to some of that music, that night. Natalie Cole. Jose Carreras. And I think just the realization that it got done, and to watch people walk around that building and to realize that our city had something of this significance and this value. He would still say it today, Commissioner (David) Stern, when he first walked in the building said, "This a world class arena. This is as good as it gets in the USA." Right?
Rice: Took a long time to get there. But he got there.
Dresel: But he did get there.
Bryant: He forgot pretty quickly.
McLaughlin: But you know what I mean, he wasn't as kind in the beginning. He lost religion about 10 years later.
Nellams: In terms of an actual event, the building. 2004, March Madness. In KeyArena, one of the teams there is coached by my junior high, high school buddy. My best friend. He brings his university to that arena for his first head coaching job, the University of Nevada, Reno Wolf Pack, up here. They beat Michigan State and Gonzaga in that building. And I got to sit...if you're in the building for a basketball game, where March Madness is just like that, 'cause it's not the NBA finals, 'cause they don't have the same level of ownership for everybody, 'cause you got all the other teams there, but the energy in the building is just fantastic. And to have all of those people in that building cheering for my friend, was one of the more memorable days. In fact, the next day I got on a plane and headed to St. Louis to watch them actually lose to Georgia Tech in the sweet 16. But it was one of the most fun, most memorable things I've seen, and since that guy, Trent Johnson, is from this community, went to Mercer, Franklin High School, all those people, all of us that played ball against each other, we are all there. And we are all cheering for him. And so it was an incredible, incredible night.
Dresel: You know, I don't have a favorite moment in the building, because as an operator, when you're running the biggest bar in town, your eyes aren't really focused on how great the moment is until after it's over, but I have two that really stand out.
In '95 I went to Disneyland...not Disneyland, but Orlando. Disney World. And I went to Disney University, and I was just blown away. Back in the day it was like four days, and they really taught you how to do the...how Disney is Disney. I came back and said, "We're opening a new building. We got to hire these guys." So the two guys that were actually in my group, I asked them, "Could I hire you?" And they said, "Well, we really don't do that. People come to Disney World. We don't farm out like that."
And we had a two-day seminar, and nothing but Disney and all of the customer service piece that goes into it, and instead of just having my hundred employees, we invited all the Seattle Center ushers, the part-time people, anybody that was involved in the show got to go. I think we might have had 500 people, right? And we handed out all the ushers a brand-new uniform, we had uniforms, and so opening night came, with Jose Carreras, and the opening song came, and we all had this commonality that was so cool, because Disney came out, and Ackerley group wrote the check, but it set the tone.
Crary: I'm totally with you on the Carreras concert, the symphony. Again, I was quite seldom in the bowl to see it. But to stand there and watching people pour into a building that 24 hours before didn't have locks on the doors, and everybody was in there all night cleaning, and in the afternoon rehearsal there was a black powder gun that was supposed to be in the 1812 overture, and they didn't get a chance to test it. So when it went off it set off the fire alarm. And all of a sudden...and it was the end of the first act, and everybody thought the strobes and everything were like part of the show? Do you remember that?
Dresel: I remember the alarm going off.
Crary: "Oh my God, we're in alarm. How did that happen?" And we turned it off, and the second act was just kind of quieter, and it was fine. And we were like, wow, nobody will believe that.
Bryant: Obviously, the (Storm) championship in '04. But in between that was the logo unveiling. This was a WNBA team having an NBA checkbook and Full House Sports and Entertainment. And locking arms with JD and Robbie and Bret and saying, "We're going to do the greatest team unveiling in the history of the NBA."
The Storm now has three championships, the first of which we won in that building. And there is really nothing compared to, when you're in this business, you have a love of the game and love the fans, nothing compares to dropping confetti on your home court.
So October 4, 2004 will forever be one of the most memorable moments for me in my life.
Regrets
:
Nellams: So, go from '96 when I came there to 2006 when I became the deputy director at Seattle Center. 2006 I become the director of Seattle Center, and in 2008 the Sonics leave. Now what did you just say? You don't want to be a mayor who loses a team. Okay, so I worked for a mayor who lost the team and had to navigate the period of time that we went from being on top of the world with a team and all of the fans and all of the excitement, and all of the things that are going on to being the butt end of jokes. Because what's going to happen to Seattle Center? The Sonics are gone, KeyArena's going to die, Seattle Center's going to die.
And if you looked at us in 2008 when the Sonics left and then in 2009, you could see a clear path of death. We lost seven figures in that building and so forth in 2009. And what I'm most proud of is the fact that within three years we had turned that not only completely around, but we had made seven figures in that building.
Rice: I have a little regret. I only think about it now. I don't think about it a lot of the time, but I wish when we were planning light rail and the transportation system to really have made a more efficient connection from here to the Center. The Monorail works, but not really. You know what I mean? Because there's that gap. But they have a more seamless transportation route into the Center. I think that's a missing link for want of a better word, because it's so simple, and it's not that far away. You follow what I mean. Any way you can make a connection. 'Cause if you did that, I think you'd even get more people coming than you do.
'Cause I was thinking about that with the Storm the other day with the connections. Watching people kind of traverse to get to the Center, and folks...it's there! You know what I mean? Wouldn't take much to do it, you know.
(Crary noted the odd number of seats in rows.)
Crary: One of the big mistakes that they made, one of their things that they just didn't...I have to tell you, like when we made McCaw Hall, I counted the seats. Every three weeks. On the edge, and "Everybody, stop. We're going to count seats." Because when did your thing, the south end, all those little pie-shaped, riser sections that had to come together. They assumed the same utilization that they did on the concrete of the other end. Which you can't have half a seat right out on the pilot bench. Yeah, or to the other half. And so, that's when they really, that was a huge.
Chris Ackerley: We had our first executive community meeting the other day of the new NHL room. And we'll be getting an update on a variety of the different work that needs to be done, clearly. And I looked at one gentleman and I said, "Shared experience. Make sure you get an affidavit signed from the architect and the builder, that you won't have an odd number of seats in any row in the building, and that what you sell arrives in that building when it's done."
Bryant: I think it's interesting, I think from my perspective having lived also in the trenches through the darkest days of the NBA and that building. Misperception of the Sonics aren't here because of KeyArena. And although it's a factor, if I go back to where we started this conversation, you could take that same misperception but with different leadership, different fortitude, different entrepreneurship, and envision something different. And from my perspective, different conversation. But you change up the players back then, and you insert the players of the more recent demise and debacle. Therein lies why the NBA is not here. It's not the building. The building became the sacrificial lamb in the political landscape of it. Because it was easy, and there was definitely some real perception around the sort of limitations of the building. That was real. But then what it became...And we never controlled the message. And the players were different.
So, I think at the end of the day, to the degree – you know, everything you guys did...I mean one of the things that's really striking me in this conversation is the degree of pioneership. Think about the age sports and how it's evolved over the last 20, 30 years; it's how this conversation started. You guys are all really pioneers in what you did. You think about venue discussions today. But that to me is – that building gets blamed.
Bryant: And it was the people – it was the players. It was the players, it wasn't the venue. To use a sports analogy, it was the guys on the floor.
Nellams: Brilliantly said.
Rice: You know, and it is about the political leadership, or political will, not leadership. As any political leader is going to see it, all the teams as important, not one. You know what I mean? And understand the value of each – all the teams bring to the table. If you're only thing is baseball and not basketball, then you don't think about basketball. And it's really about all the value of all those teams building in the city. And I'm not saying that for me. They all bring revenue. A championship team that any one of them brings us the spirit, that is really important. And make a commitment that you're going to make it work.
I think the second thing is ownership. And that sometimes we had bad ownership. I'll speak my...Clay Bennett didn't have a sense of what Seattle was. You know what I mean is, as a living or being a part of it. So, he wouldn't see it in the same way as others who roll teams, who really have a vested leadership. And then at the end of the day I say political will. Because don't let the politics drive your decision of what you need to do or where you need to invest or how much you need, any of that. Because it's never going to be one of those, "Well this is so easy to explain to Robert." You just got to do it. Once you win, everybody thinks they are part of that that team, all the people who weren't there. But it's a part of – just as a tunnel is, just as a transportation grid or anything else, it's as essential in a city as anything else. And bring the city together, a team does as much as anything else which you can handle. And recognize that, that there's a value in there. There really is a value.
Chris Ackerley: It's the ultimate community tent.
Dresel: Exactly. And it really was with – the players were different, that the beginning until the end, they'd have to demise a whole...It's not the demise anymore, maybe this is the phoenix rising from those ashes. My memory is pretty vivid about the relationship that went on in the '90s to put the deal together between the city and the team ownership. And it was a partnership, almost from the get-go. There was a partnership to try to make the Safeco site work. A million dollar, the council passed an ordinance dedicating the million dollars estimated in those days. It sounds like nothing compared to the bond in '06. In 1990, 1989, something like that, dedicating that revenue stream to the ownership of the building. So there was a partnership going on from the get-go. And, when negotiating sessions were happening, there was an attempt to try to make a deal come about. It was a two-way street.
McLaughlin: So prior to the sale of the team to the Oklahoma group, Clay Bennett and company. When we were attempting to try to do KeyArena two. And we made three runs at the legislature to try to pull that off. You can't go down to the legislature as a team and the city of Seattle. Where is the city of Seattle? Is the city of Seattle a partner in this couple? Of course they're a partner of this deal. But not really. You know I shifted hats, but I remember the dynamics vividly that in the second go-round there was not this effort on both parties to try to come to a deal. And ultimately it failed.
Nellams: Those are two great points. I was going to go the same place Karen went, is that KeyArena is blamed for the demise of the Sonics, and I think that is greatly exaggerated and totally unfortunate. I also believe, and if just kind of go back and think about all the things that have happened, we kind of been on this cycle a couple of times. I mean, we had a building that needed to be renovated to our team, the Ackerleys back then, they're looking, they look for another site, they come back and we remodel this building and we go for it. We get to fast forward again, we have a building that says that we needed to be remodeled again. They're looking for another site, we go into bed with Hansen, we run a deal with these other stuff that doesn't work out, we come back, we're going to remodel.
Dresel: History does repeat itself.
Rice: I'll give you a quick aside. I think Greg (Nickels) was cut off from basketball teams. Like junior high.
Ted Ackerley: Let's get the yearbooks Norm.
(Editor's note: In July 2008 while Nickels was mayor, Seattle settled with the Sonics' new owner Clay Bennett for $45 million, allowing the team to move to Oklahoma City.)
Nellams: Terry's point is exactly right. When you have commitment and partnership, and you're aligned and you're going together, you can do virtually anything. If you don't have that, one hand's over here, one hand's over there, nothing is ever going to happen. And from that administration, not to go too crazy, but I walked in after the Sonics leave to a cabinet meeting, and I'm introduced as the guy who lost the Sonics. Because the perception is we lost the Sonics because of the building. That is not true. We lost the Sonics, because we didn't have the will or the partnership to keep it. That's what happened.
Rice: You need to, like you said, make it happen.
Lessons for the future
:
Chris Ackerley: And at the end of the day, you got to have a good, local committed business partner. And I think we can all agree that Mr. Bonderman understands the value in having qualified good local partners. Because you need to have that authentic connection to the community, that understands what's happening with your community. That's the goal with the input of the local group that's part of the deal.
Nellams: Oh no, I couldn't agree more.
Chris Ackerley: Have to have it.
Nellams: Having the U-dub grads, the guy whose first job was a security guard at the Space Needle. Having him being the lead on the team. That's exactly right.
Bryant: To me, regional stewardship. That's the phrase that I would think of. That you have keys for a period of time. That the building will outlive, teams will outlive, mayors will outlive, potentially owners. It really is stewardship. And if you come from that perspective, I think to Norm's comments, easier said than done, and I think in the dynamics of the physical realm and fiscal challenges and whatnot. But to keep that as a center. You just get to sit in those front row seats for a period of time. Somebody else will take your place. And it's about the period of time that you are in a place to be the steward of something that will last for generations. A powerful perspective I think, but sometimes lost.
Nellams: And to piggy-back on Karen, Seattle Center's been here in part of this community and a reflection of the values of this community for 56 years. This arena is a foundational piece of the next 50 years of civic accent. And a community gathering place for this community, that can continue to reflect the values that we have. And so, this is a lynchpin for that.
Crary: The first thing that excited me about the proposal was the design. I think compared to the stuff that's in SODO and some of the others, even ideas that we've come up for the KeyArena, they were limited, they were small...These guys were crafted engineered method and that's what it takes to make the building big enough far off into the future. And so that was the first deciding thing. This is the right program, this is the right scope.
And then the second idea is to the way that Tod (Leiweke) has arrived, and decided through the FEIS process and through everything that all of these people lining up for the players are future partners. I want to make a partner out of KEXP, let's make a partner out of the SIFF, I want to make a partner out the apartments across the street. And he's rolled up his sleeves and done that. And those two foundational things could put you in a really good place, I think, for the future.
Dresel: Both what you just said, but to somehow put in practice the core value of being partners all the time with the Seattle Center. As a building that's going to be run by itself and who knows where that's going to lead. You said buildings outlive owners, etc. But rather than, sort of – with the spirit, create a partnership somehow to Seattle Center that lives forever. So that it is the team or the building, and the city always together somehow. And when they need something they go to the council together. As opposed to the latter. So rather than talk about it and write it down in your vision statement, figure out a way to keep Tod's legacy going, rolling up your sleeves and partnering with that whole area. Otherwise, what happens is what happened.
Bryant: How can that stay as a core value through different mayors, through different political cycles, through different owners. I mean how could we get to a charter? Between whoever team owner, whichever mayor, whichever team, that really governs.