Potential NHL owner David Bonderman spent the day in Seattle, and -- in particular -- at Seattle City Hall, meeting with Seattle City Council members about the potential renovation of KeyArena.
Bonderman was spotted in the Seattle City Hall lobby late Monday morning, with Oak View Group CEO Tim Leiweke, and OVG's Director of Special Projects Lance Lopes, talking with Seattle City councilmember Debora Juarez and was later seen leaving with Seattle City Council President Bruce Harrell.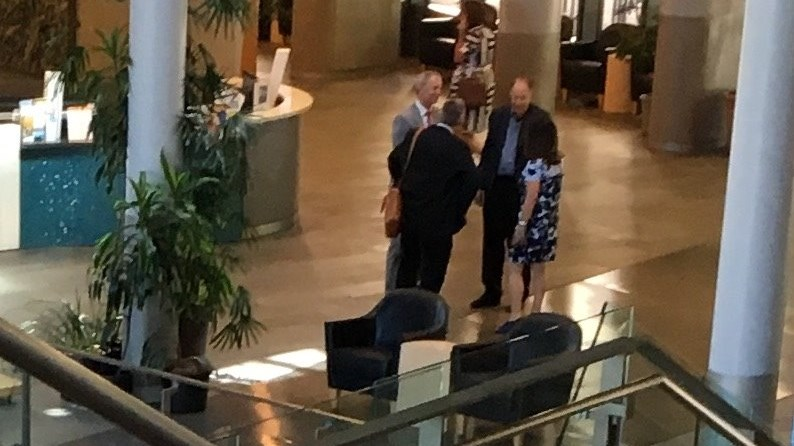 The UW grad is in town, as OVG begins negotiations with the city on a proposed $564 million remodel of KeyArena at Seattle Center. Bonderman's background and wealth gives the project instant credibility.
He's worth $2.5 billion, according to Forbes. He has long had an interest in owning a NHL franchise and has talked of teaming with movie producer Jerry Bruckheimer. Bonderman, 74, is currently a minority owner of the NBA's Boston Celtics. The Bonderman Travel Fellowship at the University of Washington includes a $10 million endowment. His private equity firm also owns Cirque du Soleil and a stake in the Creative Artists Agency.
Bonderman was also on the Uber board until he resigned last month after making what was widely perceived as a sexist remark. He apologized, and Leiweke issued a statement saying he was sticking with him.
It's unclear what exactly he discussed during the meetings with council members, but in the very least it's a physical sign of his level of interest in bringing hockey to Seattle.
The council's Select Committee on Civic Arenas is scheduled to meet next Monday at 10:30 a.m. to talk about the status of the negotiations.