Chris Hansen's investment team has purchased another piece of land in Seattle's SODO neighborhood.
It will likely prompt a question from real estate developers and city officials: What is Hansen and his investment team up to?
Hansen's investment group, which calls itself WSA Properties, closed on a 10,000 square-foot spot at 1936 First Avenue South on Wednesday morning, according to King County public land records.
The building currently houses a Jimmy John's franchise and other businesses.
The records show the purchase price was $2.4 million, which was significantly above the appraised value, according to the King County Assessor's office.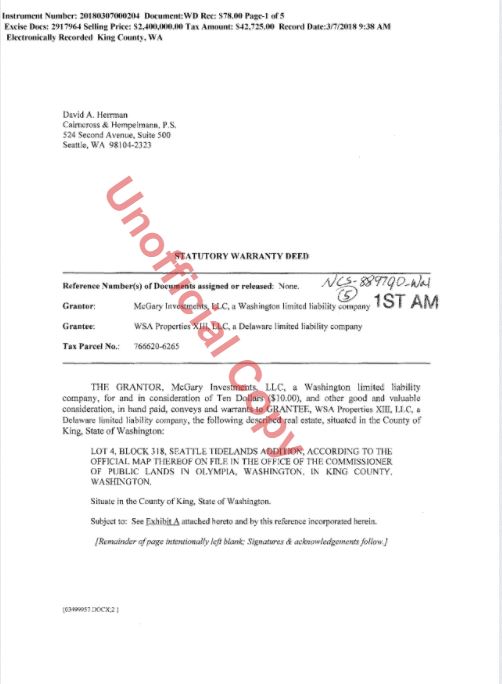 It now means than Hansen and his associates have closed on land deals worth more than $125 million over 13 acres in the SODO neighborhood.
Former Microsoft CEO and current LA Clippers Owner Steve Ballmer has a minority share in the land holdings.
Hansen has tried since 2011 to build a new sports arena and acquire an NBA team. However, he was rebuffed by the Seattle City Council in an effort to seek the elimination of a one-block stretch of Occidental Avenue South and since the city has signed an agreement to build a New Arena at Seattle Center.
That project is on track and on schedule. It also received a big boost this past week from a season ticket drive for a new NHL franchise, which would call that Arena home. More than 33,000 deposits were made on tickets. The City and the developer, the Oak View Group, says demolition could begin on the site this fall.
Hansen has said very little in the events of the past few months, but has indicated that he believes a second arena could be built to house an NBA franchise. However, such a large, controlled land mass so close to downtown will also likely attract other interested parties if an arena is not built there.