Seattle City Council will vote on an amended Seattle Center arena deal on December 4.
The deal was approved out of committee Thursday with a unanimous vote.
The Select Committee on Civic Arenas has been tasked with reviewing the Memorandum of Understanding with the Oak View Group (OVG) for a $660 million package to build a new arena at Seattle Center.
The committee vote was needed to bring the measure to the full council for approval.
On Tuesday, a memo was circulated from the Council central staff to councilmembers with proposed changes to the deal.
The deal already called for OVG to privately finance the $600 million arena proposal, cost overruns, put $40 million into a transportation fund, and another $20 million towards non-profit organizations.
The memo showed that OVG had significant financial interest in securing both NHL and NBA franchises to fill a new arena, which is says it can open by 2020.
A chart within the city memo said revenue would be three times higher for OVG with an NHL team alone and be close to triple for the city as well. The revenue numbers were even higher with an NHL and NBA franchise. However, the memo stated that the "OVG share reflected doe not include revenues generate(d) from arena operations (i.e. rent, concessions, sponsorships, etc) or deductions for any expenses."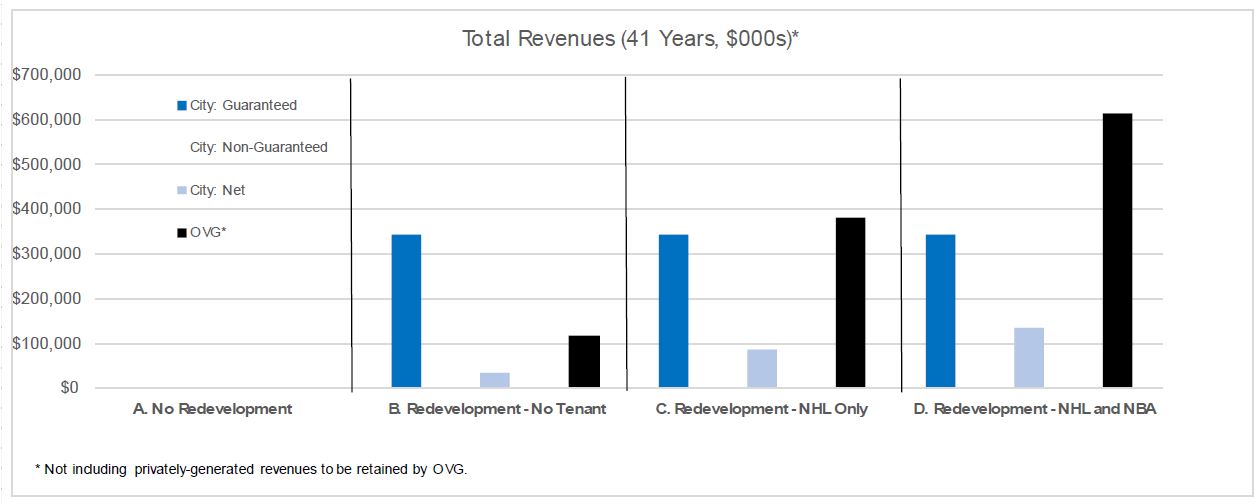 The amendments included requiring Seattle Center to consult with tenants before re-naming the arena complex and requiring a scheduling agreement between OVG, Seattle Center, and arts organizations like Pacific Northwest ballet and the Seattle Opera. That amendment was something pushed for by councilmember Rob Johnson.
Other changes included requiring OVG to pay Pottery Northwest for all relocation costs and other financial losses associated with a temporary location, restricting any use of the transportation fund for capital improvements of the monorail, requiring OVG to begin baseline rent payments "no later than six months beyond the projected 24-month construction period, unless the delay is caused by the City," and requiring OVG to increase the number of free community event days from 14 to 24 days.