SHORELINE, Wash. — A popular YouTuber from Shoreline is making face shields to help solve the shortage of critical supplies for healthcare workers.
Joel Telling hosts the show, where he shares ways to use the additive manufacturing process to design and print a myriad of fun things – from a giant Thanos sword to small flower pots.
His YouTube channel has nearly 400,000 subscribers and 48,000,000 views.
These days, he's using that reach and his skills in a new way.
"Right now, 3D printing is being used to provide some personal protection equipment for nurses and doctors and all the frontline healthcare workers that are trying to battle (COVID-19,)" he said. "As Mr. Rogers says, always find the helpers right, I wanted to be a helper."
It all started with a request from Telling's friend Britt Brouwer, an emergency room registered nurse who works at a hospital near Seattle.
"I'm worried about being able to protect myself so I can protect others from this virus," she said.
Brouwer sent Telling an article about a 3D printed face shield, and he started investigating the idea.
"I showed her a model that my friend in Sweden had designed and she said, 'Yes, this would work! This is perfect,'" Telling said.
Last weekend, he got to work. Using the model and some ingenuity, he created 50 face shields in two days.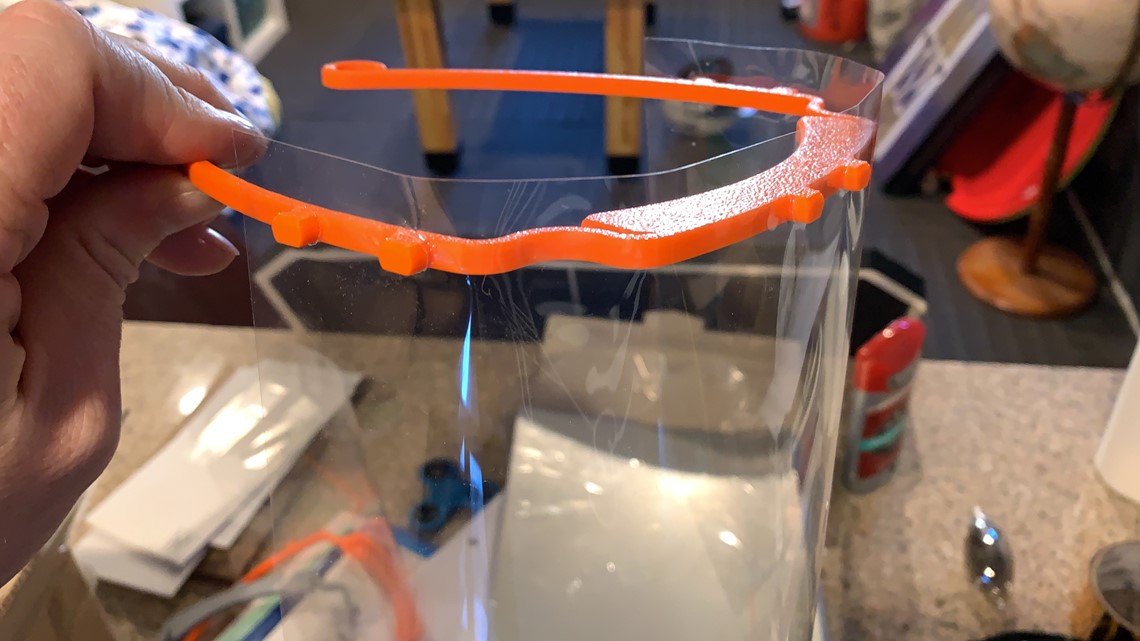 "It's a visor you can put on your head, and then there is a sheet of plastic that attaches to the front. In a time of need, you find what works. And what works for me is overhead transparency sheets from an office supply store," Telling said.
The plastic sheets can be easily cleaned or replaced.
When Brouwer wore one during a recent hospital shift, she said it worked "perfectly." It fit snugly, didn't collect moisture around the headband, and didn't fog up.
"That is a huge deal when you're nervous and running around in an emergency, or you're trying to start an IV and it's fogging up and you're trying to wipe it without contaminating yourself," she said. "I had a lot of inquiries from colleagues as to where they could get theirs, too."
He hopes his legions of 3D printing followers will do their part to help.
"It feels like we were built for this," he said. "It's quick to design, it's quick to implement, it's quick to iterate… and it's saving lives."
An innovative new way to help the helpers, like Brouwer.
"The fact that Joel has all these friends that are using their special skill to help us in our time of need, it's really heartwarming," she said.