The number of sea lions found shot in King and Kitsap counties since late September has now risen to 10.
The total number of dead sea lions that have washed ashore in the past two months is 16.
"This is an extreme spike in what we normally see. We see one to four dead sea lions throughout King and Kitsap County this time of year. But to have 16 dead, that's an enormous spike," said SR3 Co-Executive Director Casey Mclean. "It is hard to see when we don't have an answer for why all of them are dying."
Mclean has performed many of the necropsies on these animals, but what she can see with the eye doesn't always tell the full story. Another gunshot death was confirmed by radiograph Tuesday, several days after Mclean examined the dead sea lion. That animal washed ashore on Vashon Island over the holiday weekend. There are several more sea lions awaiting similar exams.
"We have seen that in several cases. There are times where we aren't able to see that external evidence until we take the radiograph," Mclean said.
Sea lions are protected by the Marine Mammal Act. The fine for killing a sea lion can be up to a year in prison and a $25,000 fine. The illegal killings often have no witnesses, so it's rare anyone is prosecuted for the crime.
The reward has increased for information leading to an arrest in the sea lion shootings. Sea Shepherd Seattle is raising their reward contribution from $5,000 to $10,000, with an addition $2,000 reward for video proof. Project SeaWolf Coastal Protection, a marine mammal advocacy group, has contributed $500.
NOAA notes that many local tribes have authorized their members to protect themselves, their catch, and equipment from sea lions. If non-lethal deterrence is not effective, tribes have adopted regulations to use deadly force, based on their own view of treaty rights.
It's not uncommon to find sea lions shot in the winter in Puget Sound as they migrate north, according to NOAA. In the winter, the males travel north while the females and pups stay off the coast of southern California. Nearly every California sea lion spotted in Puget Sound in the fall and winter are males.
The idea of hunting sea lions has gained new momentum in Washington as the Southern Resident orca population continues to decline. The orcas primarily eat salmon, and a joint Oregon state and NOAA study found in 2017 that marine mammals catch more salmon than commercial fishermen. There are an estimated 250,000 sea lions along the west coast.
"I definitely think it had some impact, the fact that this is now a hot topic for discussion and the task force has been talking about this. This doesn't seem to be a management issue. This is not the way I believe any of the fishing industry would suggest we go about managing the population. This is more of an animal welfare problem and it seems to be the actions of a few individuals rather than something the industry believes we should be doing," Mclean said. "I don't think this is the way to go about it. These few cases where they are shooting these sea lions, this is not going to help the salmon problem."
As a call for a cull mounts, the Southern Resident Killer Whale Task Force appointed by Governor Inslee did not make such a recommendation.
If you have any information about crimes against marine mammals, call NOAA's law enforcement hotline at 800-853-1964.
These are the number of sea lion strandings (not all necessarily shot) in King and Kitsap counties from September to November each year (the months of the recent shootings):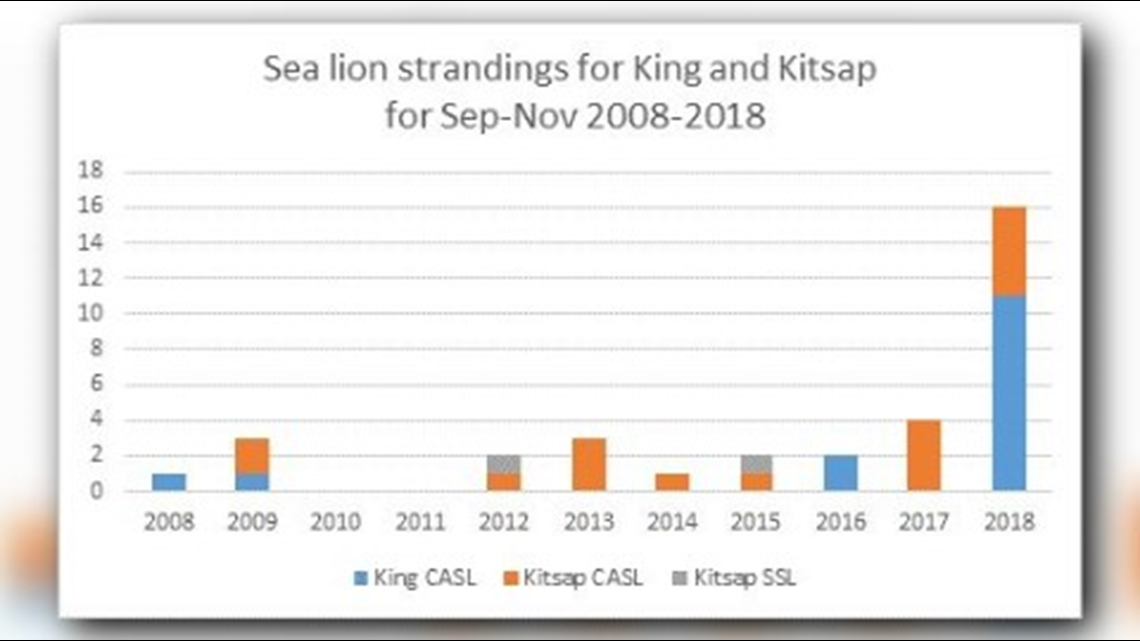 These numbers come from the West Coast Marine Mammal Stranding Network and are contributed by the member organizations that respond to strandings.