TUKWILA, Wash. — A former Tukwila police officer – once fired from the job for repeated use of excessive force – recently got a second chance to work as a cop in the small Thurston County city of Tenino.
Officer Christopher Backus passed a background check before Tenino hired him last summer. But it's unlikely city leaders found any record of his troubled past because he and his former employer made a deal to keep it a secret, a KING 5 investigation found.
Over the course of Backus' three-year career as a Tukwila cop, city records show he was the subject of at least four internal probes where police brass concluded he violated department policies. Tukwila police investigators determined Backus falsified reports, failed to report the use of force and showed a pattern of using a taser or threatening to use one when it wasn't warranted, according to disciplinary records.
The year after Backus' 2017 firing, the city agreed to revoke his termination, reverse all findings of misconduct and remove the disciplinary records from his personnel file, according to an August 2018 settlement agreement obtained by KING 5. The city paid Backus $75,000 in exchange for his promise to resign from the police department and remain quiet under a confidentiality clause.
"Everything the police do is subject to being reviewed by someone, and it's inappropriate to cover up cases," said Darrel Stephens, a national consultant on police leadership and.the former executive director of the Major Cities Chiefs Association. "It further erodes the trust that people have in police."
Tukwila Mayor Allan Ekberg signed the agreement, along with Backus and a Tukwila police guild representative.
It's unclear why the city of Tukwila made a decision to settle with Backus, 35, who worked for the King County agency between 2014 and 2017. City and police leaders declined to explain why they agreed to the deal.
"When it comes to such agreements, they are reviewed and advised upon by legal counsel," wrote Tukwila Police Chief Eric Drever in a statement. "We are typically unable to comment on them due to the potential for litigation and or included clauses that preclude us from making any statements."
During a brief phone call this month, Backus also declined an interview.
'What's the easiest way we can get rid of this officer?'
For this investigation, reporters scoured Tukwila police disciplinary records, incident reports and dash camera video from cases where the Tukwila Police Department found Backus was out of line. KING 5 obtained information from public disclosure requests to multiple agencies and from sources familiar with Backus' case.
But uncovering details of Backus' law enforcement record was no small feat. It underscores the great challenges facing employers who are tasked with vetting police job candidates named in similar deals that change or hide the existence of disciplinary records.
"The public should care that they don't have access to information that they're publicly funding," said Lauren Bonds, a civil rights attorney and executive director of the National Police Accountability Project. "There's a huge public interest in who is policing us."
The city of Tukwila blacked out any mention of Backus' name in copies of the four internal investigations they provided to KING 5 in response to a public records request. At the front of each internal file, the city included a memo explaining that it "reconsidered" the cop's termination and reversed all sustained findings before he "voluntarily resigned" to pursue employment elsewhere.
Tukwila Police Department records show Backus' settlement isn't an isolated case. In 2019 and 2020, the city entered into two similar deals, where officials agreed to change and remove disciplinary records from the personnel files of two police department employees in exchange for their resignation.
"A lot of times when we see these reversal of findings, these expungement of findings, it is because the officer is threatening to pursue or has pursued some kind of appeal of the original finding," Bonds said.
Bonds and Stephens – a former police chief – said that police departments are quick to settle with officers to avoid scandal, union battles and lawsuits that are time-consuming and costly.
"And when that's on the table, they're going to kind of weigh their options and say, 'What's the easiest way we can get rid of this officer?'" Bonds said.
A 'pattern' of excessive force
The first of four controversial incidents wiped from Backus' personnel file took place at a Tukwila McDonalds in 2015.
Backus was the first of multiple officers to respond to the fast food chain after a manager called 911 to report a group of teenagers were "destroying things."
Without asking questions, police records show, Backus entered the restaurant and immediately tackled and punched a 15-year-old boy named Marquez Riddle. Another police officer tased the teen as the cops worked to arrest him.
"I was so upset. Just really traumatized," said Riddle, who is now 23 and living in Nevada. "I have no words for it. I really don't. I'm holding back tears."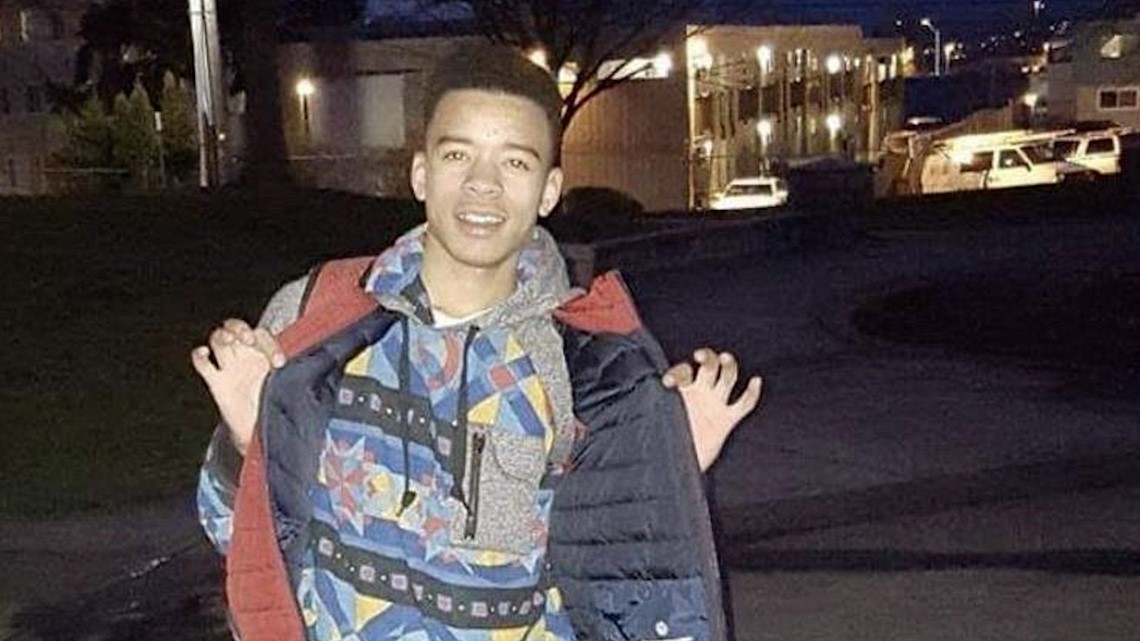 A Tukwila police dash camera captured audio of Riddle insisting that he was innocent and that Backus grabbed the wrong guy. But the night ended with Riddle in the back of a cop car, with a bloody nose and charges of obstructing, attempted assault and resisting arrest.
Backus justified his actions that night, writing in his police report that he feared that Riddle "was going to assault" him. But when the city later opened an internal probe and reviewed surveillance video from the incident, the officer's story fell apart.
Tukwila investigators determined that Backus not only grabbed the wrong person and used "excessive force," but he also "falsified reports." Investigators noted in disciplinary records that Backus' version of events were "inaccurate and a clear contradiction to what occurs on video."
All charges against Riddle were later dismissed.
The year after the McDonald's case, in the span of only five months, there were three more incidents involving Backus that led his Tukwila bosses to conclude his use of excessive force had become a "pattern."
At a Tukwila bus stop in July 2016, police investigators found Backus improperly deployed his taser on a man who was not aggressive towards officers or actively resisting arrest.
At a Tukwila bowling alley in November 2016, police records claim Backus forcefully shoved a teenager head-first into a cement planter and threatened to use his taser. Investigators noted that the officer used poor decision making, excessive force, and he failed to document his actions.
Eight days later, in December 2016, Backus used excessive force when he tased an intoxicated homeless man who did not threaten the officer or make any significant attempt to assault him, according to disciplinary records.
"Using a taser is a pretty elevated use of force," Bonds, the civil rights attorney, said. "So that that was his initial reaction to people who were not resisting or who were passively resisting, is really concerning."
Tukwila officials documented in disciplinary records that Backus' "continued negative contact with the public" and his "subsequent failure to respond to discipline" were also factors in their 2017 decision to fire him.
Backus returns to police work
The Tenino mayor, police chief and city council members did not respond to emails and phone calls seeking comment about whether they knew about Backus' troubled history as a Tukwila cop before they hired him.
When Backus initially joined the Tenino Police Department last June, he was brought on to work in a temporary role.
Tenino Police Chief Rob Auderer introduced Backus at an August city council meeting, where he explained the city hired the cop to fill a vacancy that put the small police department in "emergency status."
Backus became a full-time Tenino police officer last month.
The city reports Backus hasn't been involved in any use of force or disciplinary incidents since joining the department, according to the Tenino Police Department's response to a public records request.
At a Jan. 10 city council meeting, where Backus took the oath of office for his full-time Tenino job, he thanked the police chief for the opportunity to get back to police work.
"It's been a long road back to law enforcement," Backus said. "It feels good to be doing a job that you love instead of doing a job just to do a job."