LEWIS COUNTY, Wash. — The owner of a controversial store in Lewis County is refusing comment on his connection to a "whites only" religion, or the items in his store window that one expert says could be tied to white supremacy.
"No, I don't want to talk to you," Tanner Thayer told a KING 5 News crew that approached him inside his art and music store.
Thayer's business, Kultur, the German word for "culture," may be the most outward sign of the presence of the Asatru Folk Assembly (AFA) in Lewis County – but it's not the only one.
In addition to the Kultur storefront on Tower Avenue in the heart of Centralia, citizens have raised concerns about AFA connections to a property outside of town that is owned by a former recruiter for the Ku Klux Klan. Also, Asatru-related organizations in Centralia have incorporated in records filed with the state.
Two Centralia City Council members have come to the defense of the religion that the South Poverty Law Center (SPLC) has labeled a "hate group".
"I believe the media has jumped on this for the sake of their publications," Councilwoman Elizabeth Cameron said at a March 14 Centralia City Council meeting. She scolded Mayor Kelly Smith Johnston for a Facebook post that criticized Kultur and Thayer.
WATCH: City council member defends controversial religion, then disavows white supremacy
Thayer sells music on the website for the Asatru Folk Assembly. The religious group is known for its "whites only" church in Minnesota and it claims about 1,000 members at chapters across the US.
While Thayer isn't talking, some of the images in his shop are speaking for him, according to Alon Milwicki of the SPLC.
"The eagle is very reminiscent of the Nazi regime," Milwicki said as he reviewed pictures of art in the store sent to him to by KING 5. He says paintings and prints showing eagles, ancient runes and wolves could be innocent, but some of the art appears more sinister like an image known as a "wolves' hook."
"That symbol has been used by the SS. It's been co-opted by a bunch of neo-Nazis (and)… by the Aryan Nation," said Milwicki.
The so-called high priest of the AFA says the organization is not connected to Thayer's store. However, he does not dispute the group's desire for "racial purity."
"We believe in a true ethnic faith for, for lack of a better term, white people, for the descendants of white people," said Matthew Flavel of the Reno, Nevada chapter of AFA.
In an interview with KING 5, Flavel disputed the "white supremacy" label.

"There's nowhere on our website that promotes whites being superior. That's just not true. Preserving white genetics, absolutely," Flavel said.
Asatru is the worship of ancient, Viking gods. The SPLC says that not all Asatru religions are white supremacists.
The radical Asatru Folk Assembly was founded by Stephen McNallen, who has another connection to Lewis County.
AFA's online newsletters show that McNallen and other leaders in the religion appeared at an event in Leavenworth, WA in 2020 along with Elwin Herman of Centralia.
Herman lives with her husband on a property outside of town and has hosted numerous pagan events.
The pagan rituals and gatherings on Herman's property, known as the Sacred Spiral Sanctuary, seemed open and diverse to locals who befriended the Hermans and shared their beliefs in spirituality, nature, and paganism.
"For a long time, I thought that things were fine until I realized there was something not quite right," said Justine Pense. She says Elwin Herman took her under her wing after Justine's engagement broke off and she was feeling lonely and depressed.
"I really thought we were kind of kindred spirits," said Katherine Thompson, who also befriended Herman and attended numerous gatherings at the Sacred Spiral Sanctuary.
Then, their doubts about Elwin started to grow.
"We had some private conversations about how she realized, or how she believed that cultures should stay separate," said Pense. "I was pretty taken aback."
Amy Engel said she was approached by another guest at the Sacred Spiral Sanctuary who heard that Engel had dated a black man.
"She was horrified at the idea that someone would date someone other than their own race," Engel said. Engel said when she pushed back the Hermans told her to leave their home and "I was never allowed on the property again."
Then came the most stunning news of all.
In October, a Facebook post by the Southwest Washington Anti-Racist Movement, SWARM, showed a photo from a news story in 1989 that identified Tom Herman as the former Grand Secretary of the Ku Klux Klan in New Hampshire. News articles at the time said Herman, a part-time police officer, was organizing Klan rallies in well-heeled Exeter, New Hampshire.
The photo shows five men in white Ku Klux Klan robes posing for a picture. All are hooded, except for the face of a smiling, 28-year-old Tom Herman.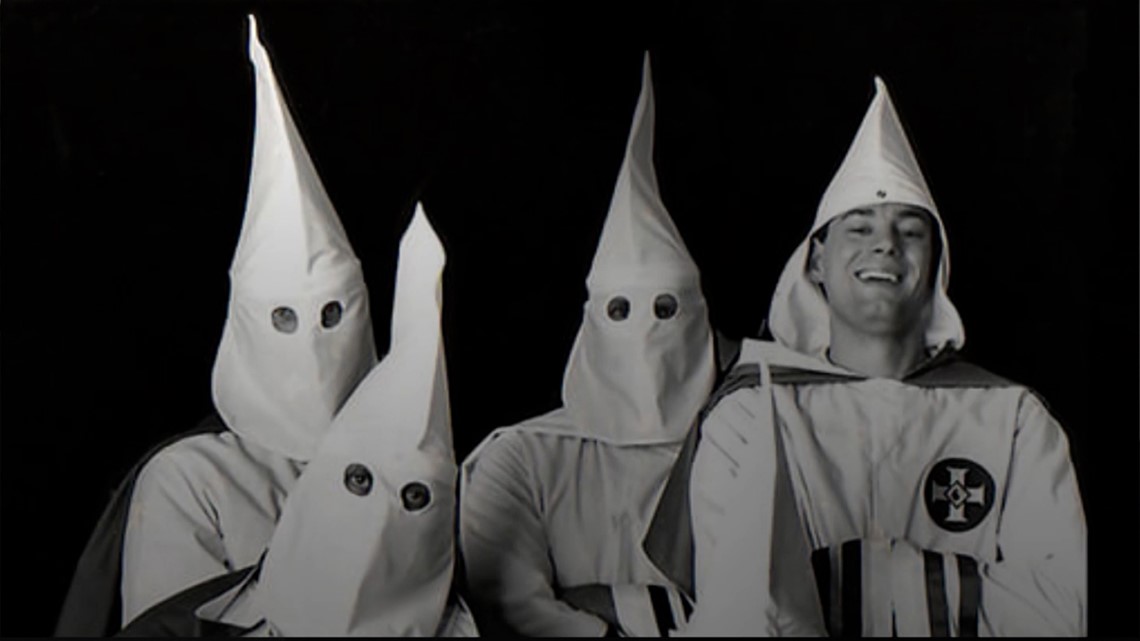 "When I saw the articles about his past, I was shocked. Honestly, I was just baffled," said Justine Pense about Elwin Herman's mild-mannered husband.
After several emails from KING 5 and a visit to their property outside Centralia, Elwin and Tom Herman declined an on-camera interview.
In an emailed statement, Tom Herman wrote, "I disavow my activity with the KKK, and I am deeply sorry for any harm that that has caused. Racial strife leads nowhere."
Both the Hermans added, "We at Sacred Spiral Sanctuary have always been committed to healing, community, education and compassion. We take a holistic view and embrace diversity, and inclusion, and celebrate the differences that all humankind offers."
Corporation records from the Secretary of State's Office show Asatru organizations are registered in Washington. The Asatru Land Union registered as a nonprofit in 2018 (it has since dissolved) and Asatru Northwest registered in 2021 and remains active.
When KING 5 reached Asatru Northwest's registered agent at her Centralia home in March, she denied that her organization had any connection to Thayer's store or the Asatru Folk Assembly.
But, Elizabeth MacBryghde seemed to support the goal of a religion exclusively for white people.
"Everybody seems to be allowed to have their own ethnocentric cultural ways, except white people. Why is that?" MacBryghde asked.
On Centralia's city council, two sitting members gave their support to the controversial religion.
"As with all of our rights, religious freedom is non-negotiable," said councilmember Leah Daarud at the March 14 regular meeting.
Daarud was followed by Centralia City Councilor Cameron, who criticized earlier reporting by KING 5, The Daily Chronicle newspaper, and a Facebook post by Mayor Johnston that condemned Thayer's shop.
"I think this has really embarrassed our community," said Cameron. "I'm not aware that we have a white supremacy problem" and "I object to the community being manipulated," she said.
In an email to KING 5 later, Cameron pointed to comments she made at a follow-up city council meeting on March 28 in which she said "I want to make this crystal clear that I am absolutely against white supremacy."
Critics say Asatru Folk Assembly is a hate group hiding behind religion. And they dispute any argument that whites need their own organization in a nation where whites have been the dominant culture.
"You can celebrate the country that you're from because they have their culture. Whiteness is not a culture," said Justine Pense.