A KING 5 investigation reveals a rash of employee misconduct at Western State Hospital, the troubled state mental institution that evaluates and treats mentally ill criminal defendants.
E-mails obtained through a public records request show that investigators believe hospital staff "…hampered, hindered, [or] delayed…" their probes of employee misconduct.
The documents raise questions about Western State's culture and the supervision of the 2,500 hospital employees who work with a vulnerable, mentally-ill patient population.
"People need to know what is going on in that place," said Michelle Lowe of Olympia.
Her son, Gary Lowe, was sent to Western State last year when he acted violently after his arrest for a probation violation.
Lowe says her son suffers from bipolar disorder, and was sent to Western for a 45-day evaluation.
Soon after she was contacted by her son's counselor at Western, Julianna Jackson. Strange text messages from Jackson started to appear on Michelle's phone.
"I love him so much…more than all the fishes in the sea," one of Jackson's text messages read.
"At first I thought, 'Well maybe it's just her way of keeping him calm,'" said Michelle about the overly friendly texts.
Eventually, however, Gary revealed that Jackson initiated "…inappropriate sexual contact and delivered drugs…" to him, according to investigative documents from the Washington Department of Health (DOH), which licenses the counseling profession.
The report says Jackson even asked Gary to "…punch her in the face so she could get an on-duty work injury and get paid to have the summer off."
"This is the system that I wanted him to trust," said a tearful Michelle.
Michelle says the episode was heart-breaking for her son, who spiraled into two suicide attempts while at Western State.
In the time since Jackson agreed to a five-year license suspension in December, at least four other Western nurses or nursing assistants have faced administrative charges filed by DOH.
They include Vy Nguyen, who is accused of kissing a female patient. The victim provided DOH investigators with love letters Nguyen allegedly wrote to the victim and photos of his home and bedroom that he gave to her promising that once she was released from the hospital he had "…plans for us to go out and enjoy life together."
Nguyen's case was referred for possible criminal charges to the Lakewood Police Department, and he resigned from Western State.
The Washington Department of Social and Health Services (DSHS), which operates Western State Hospital, was put on notice by federal officials in 2016 about patient care at the facility. Last month, federal regulators pulled the facility's certification after it failed to achieve basis health and safety standards. That action resulted in the loss of $53 million in federal funds.
Still, officials at the hospital deny that there is a pattern of employee misconduct at the hospital.
"There's not a pattern. We have almost 2,500 employees at Western State. It's one of the largest institutions west of the Mississippi and certainly the largest mental hospital. We expect all our staff to behave professionally and the overwhelmingly percentage of them do," said DSHS spokesman Adolfo Capestany.
But investigative documents from DOH, which sanctions licensed health care providers, reveal "negligent" if not "malicious" lapses in oversight of Western employees.
In Gary Lowe's case, two Western State security guards tipped off Jackson that Lowe was speaking to a DOH investigator.
"Tell him to shut up and stop talking to people," Jackson wrote in a text to Gary's mom, Michelle.
DOH investigators also raised questions about the internal investigation Western State conducted when Jackson's conduct with Gary first raised concerns.
Records show that there were at least two formal complaints filed by Western State employees.
Supervisor Clarence "Sammy" Statler said "…he received so many complaints he held a meeting with staff to discuss…" the boundary issues between Jackson and Gary.
Jackson was spending so much time with Gary she had virtually abandoned her two dozen or so other patients.
Despite ample evidence about the unprofessional relationship, records show that Western State investigative staff ruled complaints about Jackson to be "unfounded."
"They had decided there was no merit to what was being said, and they didn't pursue it any further even though it was clear from employee statements they had seen Julianna engage in this conduct with Gary," said Marta O'Brien, the Tacoma attorney who is considering filing a lawsuit against the state on Gary Lowe's behalf.
In e-mails to his DOH superiors, investigator Todd Terhaar questioned the "integrity and truthfulness" of one internal investigator and reported "new and ongoing concerns" about Western State's handling of complaints about employees. He accused Western State internal investigators of "hampering" his investigations, providing misleading information, and leaving victims who filed complaints "scared and intimidated."
The DSHS's Capestany said his agency met with DOH staff last year to address concerns that Western State staff was interfering in DOH investigations.
However, Terhaar's emails were written in January of this year, months after the meeting with the DOH team.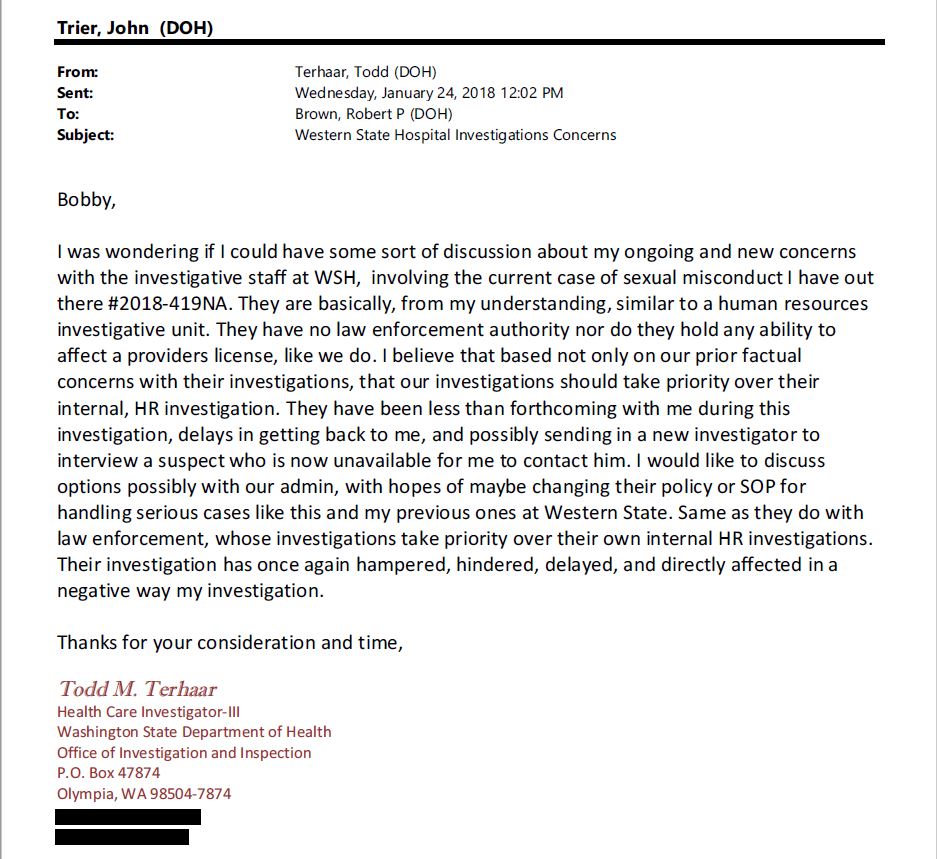 Capestany said he was not aware of those continuing concerns and "…I would welcome that investigator (Terhaar) to come meet with us again."
Michelle Lowe says it appeared that no one believed her son's claims about his counselor. She says that only changed when Terhaar started looking into Gary's case.
"Todd is the one that saved him from more time in that place," said Michelle Lowe.
Gary Lowe was eventually released from Western State to the custody of his mother, with all charges in his criminal case dropped.