Curing 'Johns': Ten-week course aims to change sex buyers' lives
Can you teach a man to never buy sex again?
EDITOR'S NOTE: If you are using the KING 5 app, click this link to view this story with photos and video.
SEATTLE -- The men form a small circle around their instructor inside a Seattle classroom -- bodies slouched in black school chairs, arms tightly crossed, eyebrows furrowed, legs spread wide.
Their instructor Peter Qualliotine pulls out a sheet of paper from his pocket and begins to read the woman's poem aloud.
While I was pleasuring you, life passed me by.
I should have been searching for a partner in life -- someone to raise a family with.
Instead, I was erasing your stress away -- nurturing your soul, providing you with an exotic escape minutes from your home, helping you cheat, bandaging your hurt ego.
They're just words on paper, written by a former prostitute these six men will likely never meet. But in this moment, the woman's words become a face on a pillow, instead of the stranger's body these men intended to use for pleasure. This is the first time some of them have ever contemplated the human toll of their actions -- at least that was Qualliotine's plan when he first designed the ten-week "Stopping Sexual Exploitation" course in 2013.
The unique class is the final and most unconventional part of the punishment for many of the men caught patronizing prostitutes in King County, where local prosecutors and many police agencies have recently shifted their focus to reducing the demand for sex instead of targeting the people who sell it.
In two months time, the men in this room have been forced to contemplate how and why they ended up in hotel parking lots to buy sex before officers met them with handcuffs. They've discovered their motivations for sex buying, talked about their place in patriarchy and thought deeply about how society's "toxic" definition of masculinity has shaped their own sexual identity. And they've been asked to consider the possibility that the prostitutes they paid for could have been sex trafficking victims or people who fell into the sex trade as a means of survival.
"It's called a 'trick' for a reason. It's called a trick because (the men) are actually paying for the illusion of consent, the illusion of mutuality, the illusion that this person wants to be with them," said Qualliotine, co-founder of the Organization for Prostitution Survivors.
"Quite honestly," he added. "In the majority of cases, if they knew the real facts about this person's experiences, it would be highly unlikely that they would choose to buy sex with them."
But can you teach a sex buyer to never buy sex again?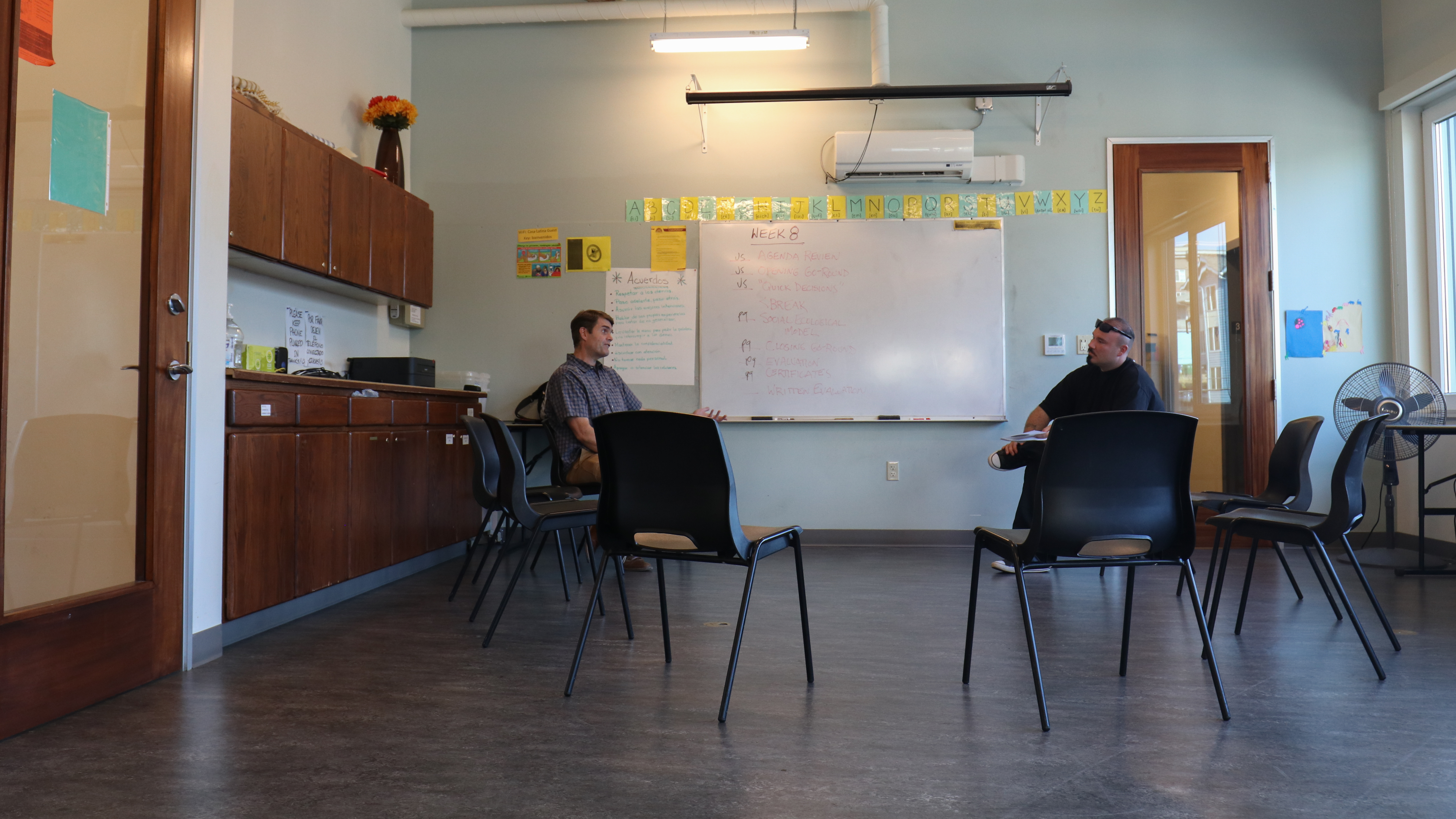 Not Like Other 'John Schools'
Unlike other court-mandated intervention programs for sex buyers, which range from a 15-minute video to an eight-hour lecture, the King County course spans weeks. Qualliotine and his co-instructors engage the men in deep conversations that are meant to change the way they think about their personal relationships and prostitution at its core.
"Is it possible that a video would be helpful to some folks? Yeah, it's possible. But it's extremely unlikely that it's going to unwrap the layers of socialization and mental health and all the things associated with sex buying," said Valiant Richey, senior deputy prosecuting attorney at the King County Prosecutor's Office. "To my knowledge, there is no other class in the country that is even multiple days, let alone ten sessions."
The class starts with two weeks of individual sessions before the group joins together for eight weeks. In the private meetings, the instructors work to build relationships with the men that sometimes form into friendships.
"It's not like these men (who take the class) are these well-adjusted, emotionally healthy people who engaged in this practice because they're mean or something. It's because they are desperate and because they are shut down," Qualliotine said. "One of the men said last week -- he said 'I feel like I'm just a shell of a person walking around. It's like I'm empty inside.'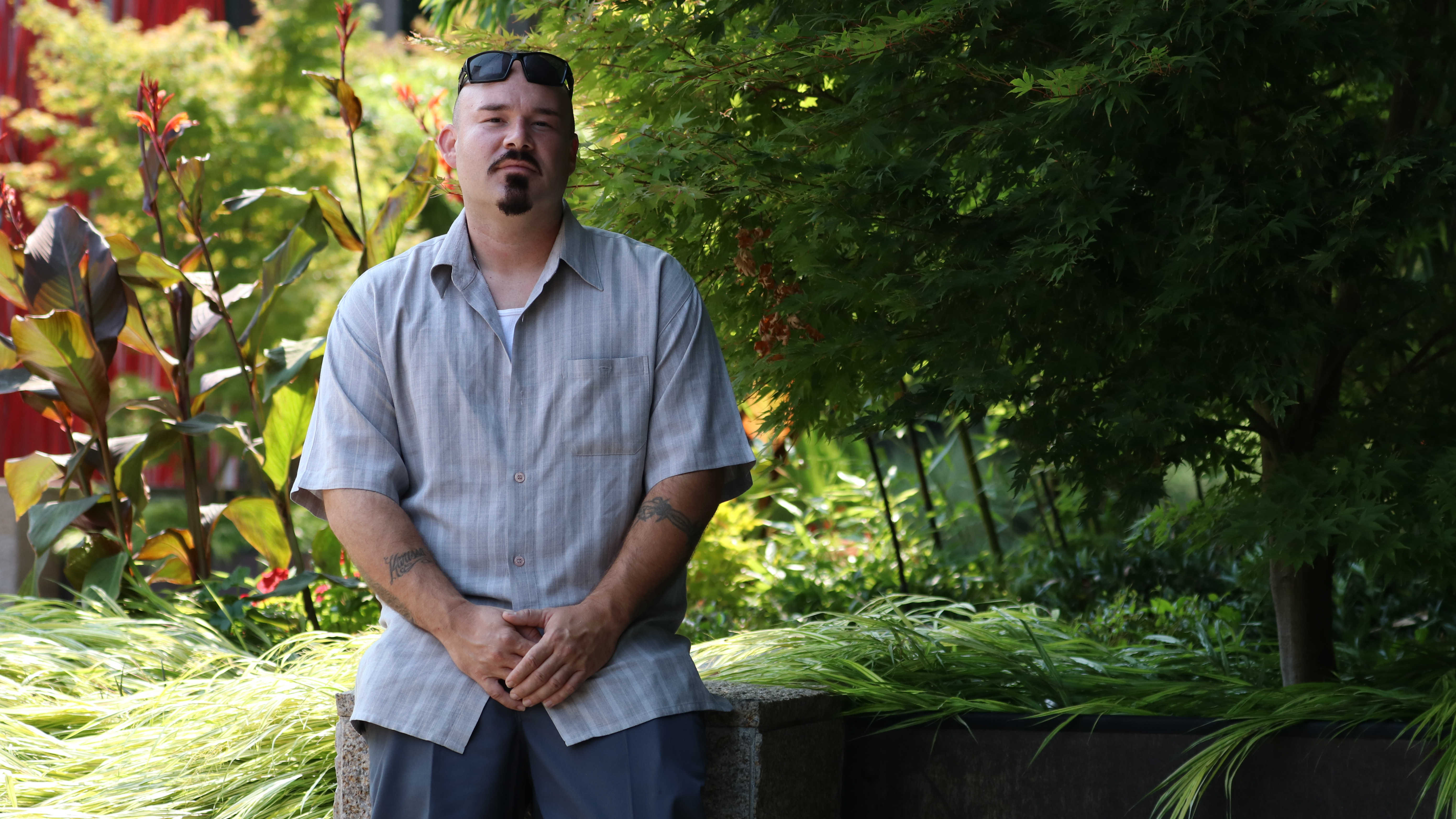 There are eight men trained to help Qualliotine teach the class, and they each bring their own unique experiences to the table. Three of the class instructors are former sex buyers, who Qualliotine trained after they graduated from his course. Another instructor, Joseph Sigala, is a former gang member who said he can relate to the men because he grew up in a toxic masculine culture where he glorified exploiting women. Other instructors have worked professionally in the domestic violence realm.
Lessons about sexual violence, power and the harm of prostitution are built into the course, but most of the lessons do not directly address prostitution. The instructors teach the men about mutuality, love, vulnerability and how gender stereotypes have influenced the way they act and think.
"There's this belief, I think, among many of these men that this is some just sort of biological or genetically programmed thing -- that they are men so they are horny so they buy sex because they need to have sex," Qualliotine said. "And what we know is that these things are largely socially and culturally constructed.":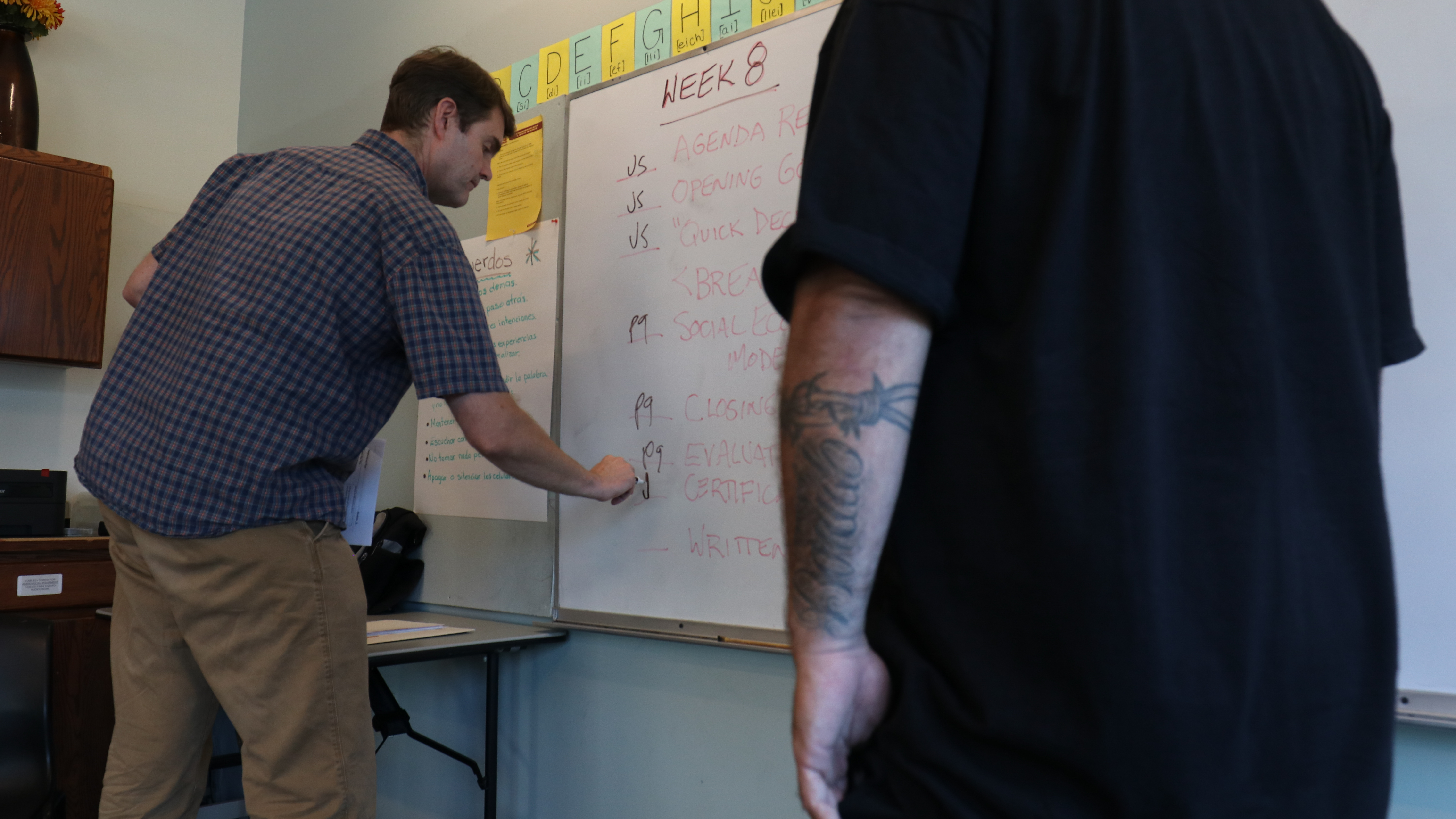 Why These Men Paid For Sex
The men who take Qualliotine's Stopping Sexual Exploitation class span all ages -- from 18 to 75-years-old. Some are single. Others are married with children. And many are working professionals.
For the last few years, the King County Prosecutor's Office has been tracking the occupations of the people charged with commercial sexual abuse of a minor. The list includes a high school teacher, a Naval architect, an accountant, a firefighter medic and a librarian. The majority of the 174 men on the list are white.
In this class, the six buyers are white, Asian, Middle Eastern and African American. Two men said they are engineers. One said he's an IT professional who works for a nonprofit. Another man said he works in the construction industry, and another said he is unemployed.
"What is most shocking to people is to learn that the buyers are their dentists. The buyers are their neighbors. The buyers are the guy who their mother tried to set them up with at her place of work," said Mar Brettmann, Executive Director of Businesses Ending Slavery & Trafficking. "People think that buyers are these kind of pedophiles who are kind of weird and gross but that's not who's being caught."
Men choose to buy sex for a variety of reasons, but Qualliotine said it's often a tool to escape stressors in everyday life.
"For many, (buying sex has) become kind of a pattern of behavior and a way they deal with stuff -- a coping mechanism that's pretty self-destructive and pretty destructive of other people," he said. "They are doing it to prove their manhood to themselves and others. They are doing it because it feels good....They are doing this because they don't have the social, emotional, learning to really deal with stuff that comes up in life."
One 41-year-old video game software engineer said the "rush" of buying sex helped him fill a void after he gave up drugs and alcohol nearly 20 years ago.
"I feel like in my recovery from my (Alcoholics Anonymous), I kind of transferred certain needs from drugs and alcohol to something else -- kind of like trying to get out of myself. It's been a hard couple of years," said the man, who self-referred to the class after he was busted in a prostitution sting at a Seattle massage parlor in June.
He asked to not be identified because he hasn't told his employer or some of his family members about his arrest. That was a common request among the sex buyers asked to share their stories. Unlike many prostitution survivors who are eager to publicly break free of shame, the men who buy sex from them often mask their identities or don't talk at all because they're embarrassed.
The software engineer said he's been married to his wife for four years. But as a bisexual man, he said he purchased sex for a chance to be with men and transgender prostitutes, in addition to women. He said he usually met his "dates" at massage parlors instead of hotels.
"I like the risk. It was just kind of a thrill to tell you the truth. Sometimes, I would go to a different place just to see if (prostitution) was there," he said. "I kind of lost control in terms of impulse control."
Another man, who graduated from Qualliotine's class in August, said buying sex is his way of coping with years of rejection from women and rejection in other parts of his life -- from sports teams to fraternities to college majors. He's a 25-year-old IT professional, who also asked KING 5 not to identify him because he hasn't told his employer that he was busted in an undercover prostitution sting.
"If I can't get anyone who is interested in me, then I will at least pay for someone who at least acts interested in me," he said, adding that years of therapy didn't help to pull him out of his deep depression.
"(Therapy) left me feeling more depressed because I was actually thinking about the things that had gone wrong and all the times I had been rejected," the 25-year-old said. "But if you can get away from that and you get to spend time with a beautiful woman that you otherwise wouldn't ever have a shot at, that leaves you feeling pretty damn good."
Humanizing The Sex Buyers
It's true that some of the 200 plus men who've graduated from this course have beaten and raped prostitutes. Some have purchased sex from children and teens, and they've been forced to register as sex offenders as a result. But their individual crimes don't follow them into Qualliotine's classroom.
"We do call them to account for the harm they've caused and don't excuse their behavior, but (we) work hard to separate what they have done from who they are," he said. ​​​​​​​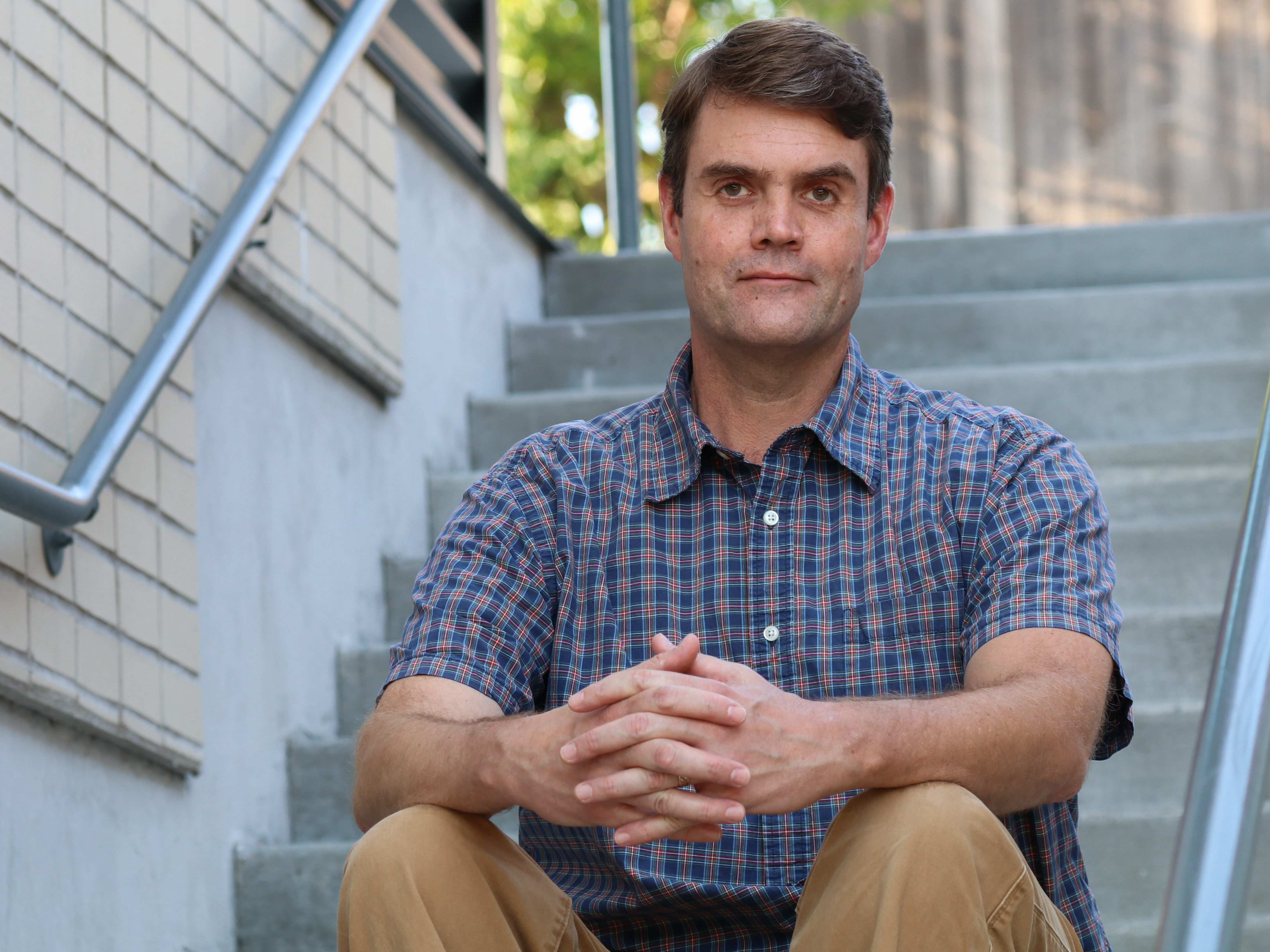 He and his co-instructor Sigala said they make a point not to judge the men. Instead, they humanize them -- just like like they humanized that former prostitute by reading her words.
"When men are able to be vulnerable and talk to you and get to know you, I think they can open up and kind of start dealing with things," Sigala said. "That's never going to happen in a one day class or any class that comes with judgment or saying 'you're wrong.'"
The instructors focus on unpacking the complex reasons why the men behave the way they do, and they offer hope that a positive future can lie ahead if the men are willing to change.
"I don't believe there are any horrible people in this room," Sigala said to the six men in his August class. "Even when there's something you are struggling with, you all deserve rich, beautiful relationships. Everybody in here deserves that."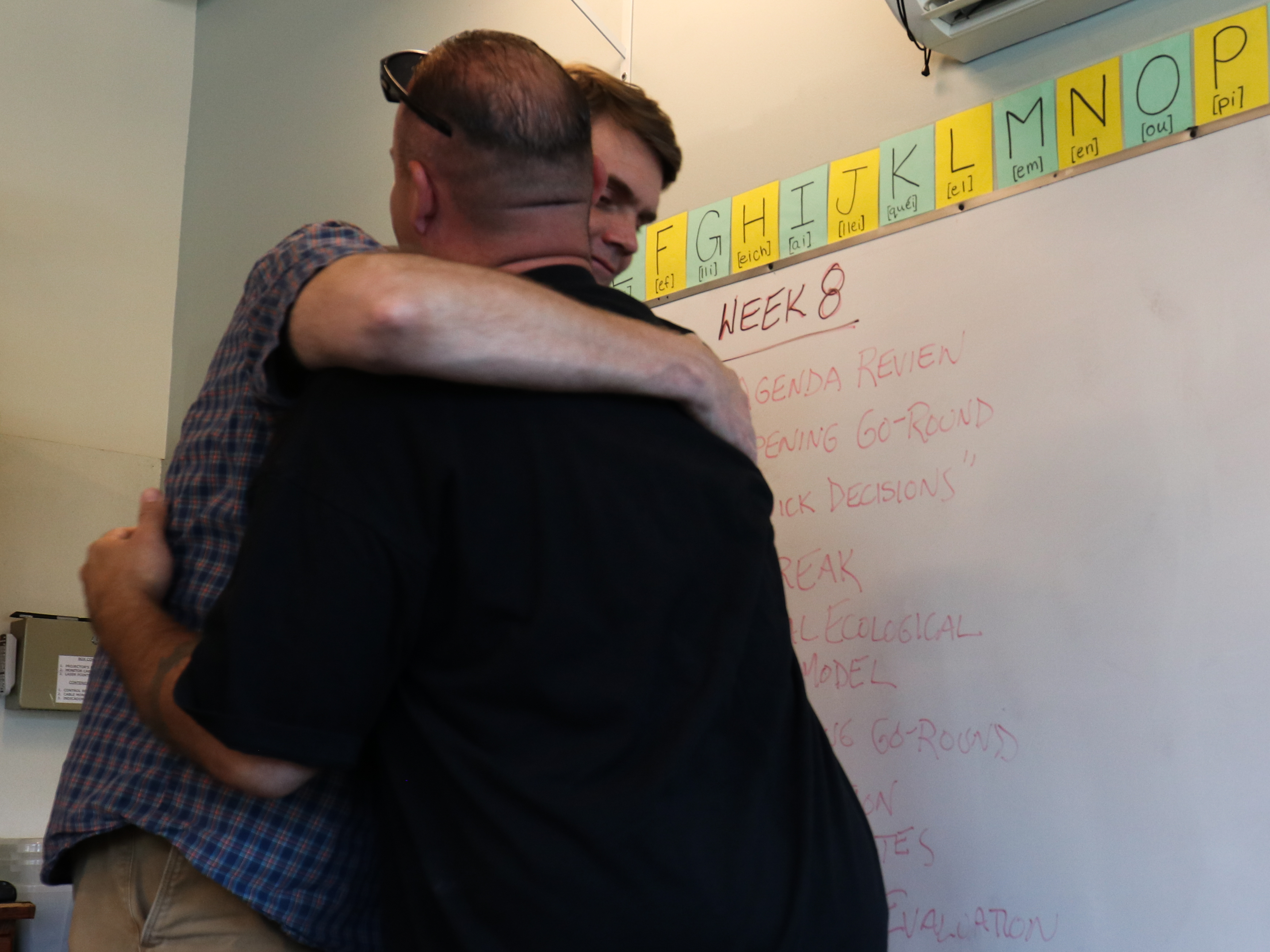 Qualliotine knows compassion is crucial to the success of this class, but he admits it's not always easy to show it -- especially after spending time in his Capitol Hill office, where he's surrounded by prostitution survivors all day long.
"Sometimes, it feels like there is a real razor's edge that I walk between having compassion for these buyers and feeling myself 100 percent accountable to this population -- primarily women -- whose lives have been destroyed (from prostitution). It's those stories I bring with me. I carry them into this class with me. That's who I'm working for," he said.
It's why he reads that poem.
While I was pleasuring you, the hurt inside of me grew up like a rotten secret garden -- overgrown and untamed.
I thought the money would make me happy -- my beauty and youth fading.
I would eventually be discarded. Childless, isolated and alone I stand.
There have been no third-party studies that measure whether the King County class is effective. However, Qualliotine points to a stack of course evaluations and other internal data to prove that it is.
"Yes, it's working. One of the ways I know it's working is the number of men who have come back through voluntarily after they have successfully completed the class -- close to five percent," he said, adding that about 20 percent of the men agree to stay in touch with the instructors after the course ends.
He said the Organization For Prostitution Survivors recently partnered with the Centers for Disease Control and Prevention to develop additional ways to effectively measure the class in the future.
The 41-year-old software engineer, who graduated from the class in October, said he's planning to go through the course again because it changed his life.
"I came to some really, really good realizations in there. It made me think about a lot of the abuse I had gone through as a kid and as a young adult. I had talks with my family because I had done some pretty shameful things," he said, adding that he does not plan to buy sex again. "I realized I need to start working on my relationship with my wife and really getting back into my old habits of when we were even dating and first married. I have to get back to being me."
His "ah ha" moment, he said, came during Qualliotine's lesson about who holds the power in prostitution. He said it helped him understand that he was enabling a "cycle of abuse" by giving money to prostitutes who may have been forced to work for a pimp or work to support a drug habit.
"At the end of the lesson, you would realize, 'Holy Crap! The person selling sex has no power. And me, the person buying sex, it was like 'I have power,'" he said. "My thinking (before the class) was that (prostitutes) have the power over me because they are like a store -- like a seller, and I'm the customer."
"I didn't do anything they didn't want me to do," he added. "I thought that made me better than other people who went and bought sex. But I learned that I am no better than anyone else."
A 45-year-old construction worker who completed the class in August declined an interview but responded in a text message that the class changed his perspective about prostitution and inspired him to influence other men not to contribute to it. On the last day of the class, he signed up to volunteer with the Organization of Prostitution Survivors, and he shared with the group that he plans to open up to his kids about his experience.
"Before the class, I thought that the majority of women in the industry were working alone and doing that work because they wanted to," he wrote in the text. "After the last class, I understand that most women in that industry were abused and from broken, unstable homes. Many of them have a low feeling of self-worth, and are in a situation they want out of, but don't see a way out. If more people knew the true facts, I don't think this industry would be anything like it is today."
But not every man completes the course with a new outlook. The 25-year-old IT professional, who also graduated from the class in August, said he gained nothing from the ten-week experience.
"Do I feel bad about my actions? No," he said. "I don't regret it because I didn't hurt anyone. I didn't physically harm anyone. I didn't rob anyone."
This IT professional said he plans to buy sex again because he said he believes the prostitutes he paid made a choice to be with him and were not forced to work against their will. He argues that prostitution should be legalized in Washington state.
"None of the women I have seen are sex trafficking victims at all. I can say that will clear heart and honesty," he said. "The women that I have seen naked, there's no signs of abuse what-so-ever, all right? The other thing is how many people do you know who have been abused drive a brand new BMW I series or whatever?"
It's no secret to Qualliotine that there are other course graduates who are likely to buy sex again, too. But he's more focused on the culture he's changing, and how many of his students return to significant others, children and jobs sharing his immodest goal to end sexual exploitation and gender violence.
"I hope that none of these men buy sex again. I really do. But how many men do we have in this room (right now)? There are six men. In a 24-hour period in King County, there are over 6,000 men who contact ads on just one of over 100 websites," Qualliotine said.
"It's a much bigger problem, and this class is not going to solve it," he added. "But these men have sons. They have brothers. They can talk to other people."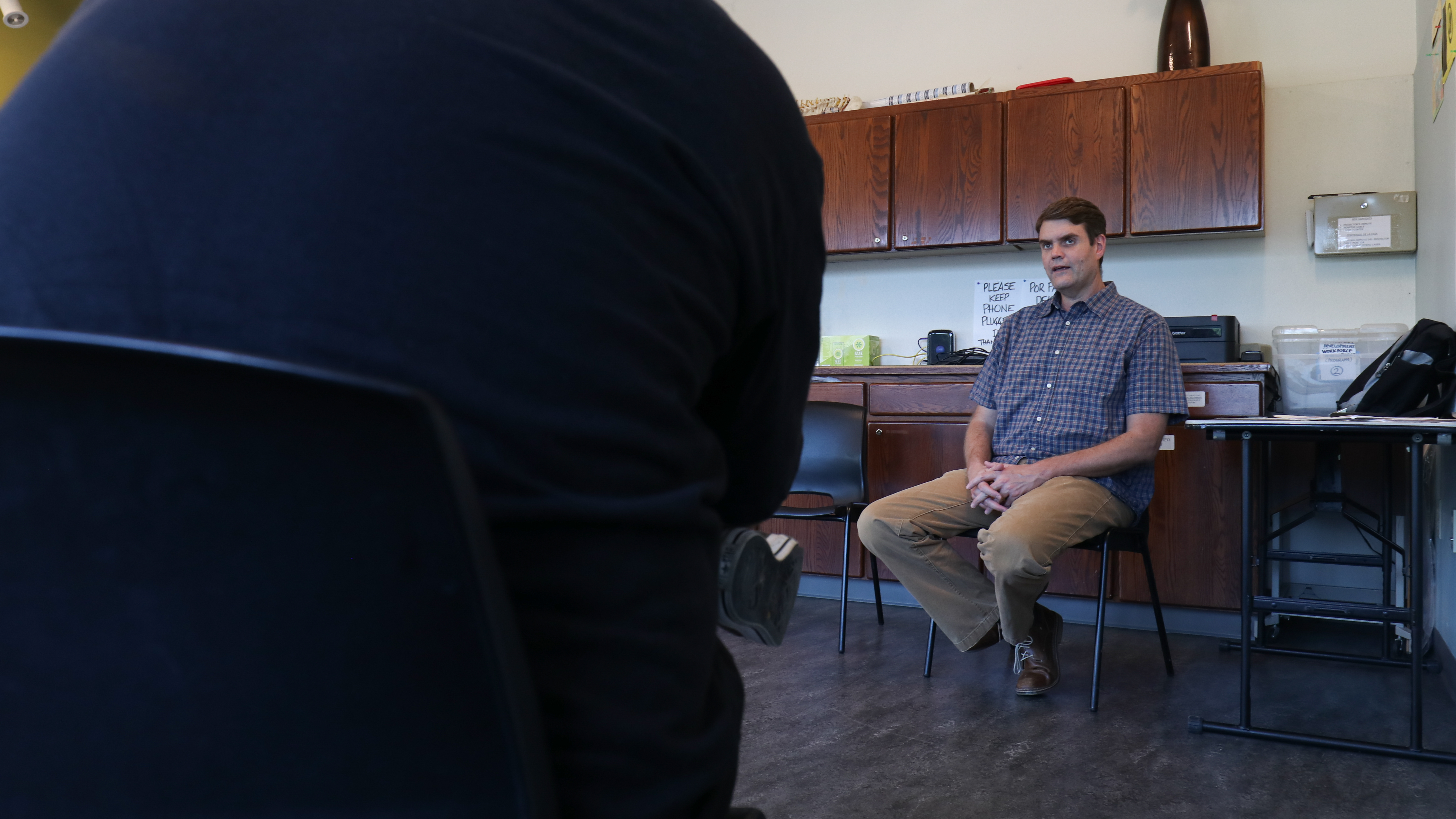 Some of the men in that circle begin to uncross their arms and listen intently as Qualliotine reads the prostitution survivor's final words.
While I was pleasuring you, I learned not to sleep.
Wide awake, overwhelmed by my thoughts, sobbing uncontrollably, unable to fill the room you tore open inside of me.
"How does that poem make you feel?" Qualliotine asks the class.
One by one, the men look down at their feet -- responding with uncomfortable silence.
This story is affiliated with "Selling Girls," a nine-month nationwide investigation into sex trafficking. TEGNA, our parent company, launched the project at each of our 46 stations across the country to help hundreds of thousands of American kids who are lured into a life they didn't choose. To watch the six-part series and to follow KING 5's ongoing local coverage of sex trafficking in Washington state, click this link.