Health officials have identified an HIV outbreak among homeless people in North Seattle.
Between January and November 2018, 27 King County women and heterosexual men who inject drugs were diagnosed with HIV, which is a 286 percent increase over 2017, according to the Centers for Disease Control and Prevention's Morbidity and Mortality Weekly Report that will be published Friday.
Officials with Public Health–Seattle and King County identified 14 related cases that were discovered between February and mid-November, all of whom lived within a three-square-mile area and were part of a cluster of 23 cases that have been diagnosed since 2008. Of those cases, nine women said they exchanged sex for money or other items, and 12 injected drugs.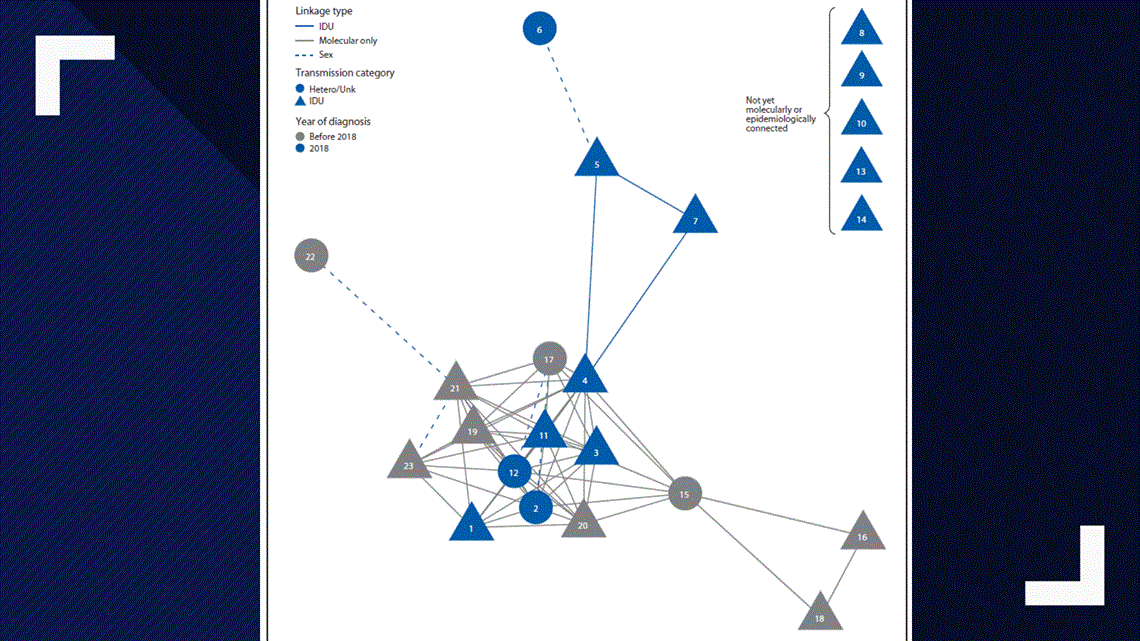 Scientists used molecular analysis to determine if people had been infected with a related strain and were therefore part of the same cluster. However, officials cautioned that having a related strain in common doesn't necessarily mean there's a direct epidemiological connection between each case.
Since the outbreak was identified, the health department alerted emergency departments to increase screenings of homeless people who inject drugs and increased North Seattle outreach testing, condom distribution, and syringe services. The King County Jail also expanded HIV testing.
The 2018 outbreak is part of a larger pattern of increased HIV diagnoses among drug users in King County. New HIV infections among female and heterosexual male drug users increased threefold last year, according to the CDC.
Although HIV infection rates declined 51 percent across King County from 2008 to 2017, public health officials say the outbreak shows the homeless are a population that remain vulnerable to HIV outbreaks. They also say it showed how challenging it can be to connect that population with medical care. Of the 21 living people in the cluster, seven weren't receiving HIV care, according to the CDC.
Dr. Matthew Golden directs the HIV/STD program and clinic there.
"For us to see this 300% increase in one year is pretty alarming," said.
Golden said for a long time, infection rates were relatively low among those injecting drugs in King County. He said robust needle exchanges contributed to that success.
"Having protected the population, we've enjoyed a virtuous cycle," he said. "Our fear is that it's no longer the case."
He said Public Health is already rolling out increased response - making condoms more available, and increasing testing at ERs, the King Co. jail and out on the street.
He said this is a symptom at the intersection of two epidemics. And he hopes to see a coordinated effort to address it.
"It's going to require a sustained commitment," he said. "If we can't solve our homelessness problem, and our opioid problem, we're going to continue to be up against this."
Golden mentioned safe injection sites could be helpful as part of that comprehensive plan.
U.S. Attorney for the Western District of Washington Brian Moran repeated his opposition to these sites in a statement.
"I stand with Department leadership in believing it is not appropriate to facilitate or sponsor a location for people to inject poisons that will simply damage or take their lives," he wrote. "Just as the U.S. Attorney's Office in the Eastern District of Pennsylvania has moved to restrain the opening of such a site, the U.S. Attorney's Office here in Seattle will examine the tools available to prohibit a safe injection site from opening should such a proposal move forward."