As temperatures rise in the Puget Sound region, it's important to know how to stay safe in the heat and the signs you might be in trouble.
We spoke with the Red Cross to get a few tips on how to stay cool, and safe this summer.
KING 5: Is it true heat kills more Americans every year than any other weather event?
Red Cross: Over a 30-year average, heat has caused more deaths than all other weather events nationwide.
KING 5: What symptoms should I look for to know if I, or a loved one, is starting to be adversely affected by the heat?
Red Cross: There are several heat-related injuries, in increasing severity, which we should all be aware of and be prepared to respond to as the temperature rises.
• Heat cramps are muscular pains and spasms that usually occur in the legs or abdomen. Heat cramps are often an early sign that the body is having trouble with the heat.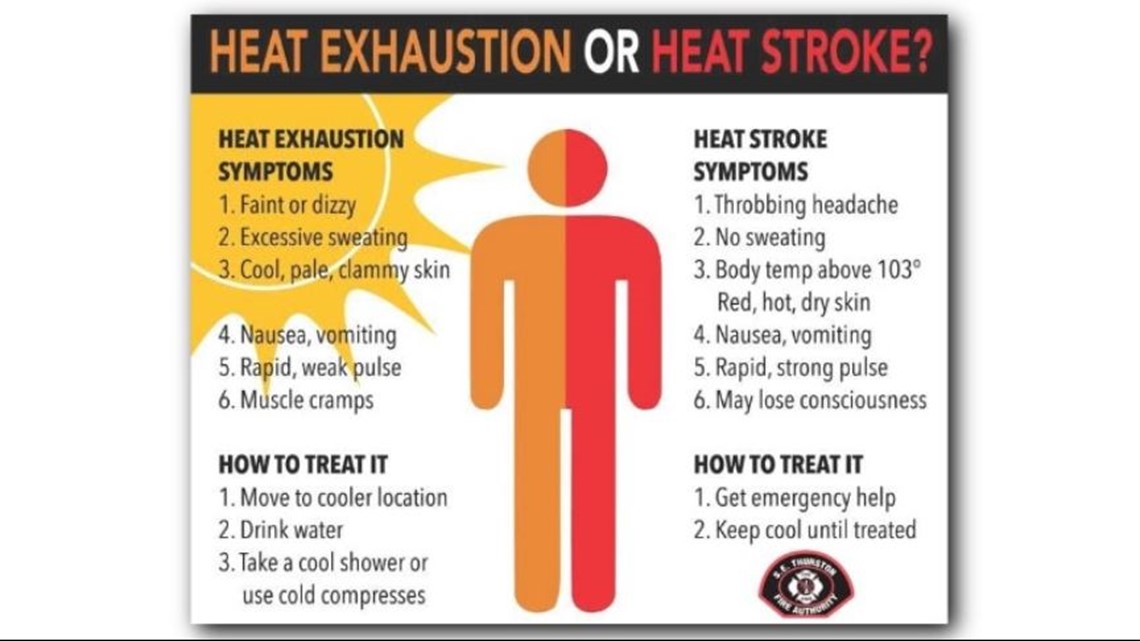 • Heat exhaustion is a more severe condition than heat cramps. Heat exhaustion often affects athletes, firefighters, construction workers and factory workers. It also affects those wearing heavy clothing in a hot, humid environment.
• Heat stroke is a life-threatening condition that usually occurs by ignoring the signals of heat exhaustion. Heat stroke develops when the body systems are overwhelmed by heat and begin to stop functioning.
In addition to heat cramps, symptoms can include cool, moist, pale, ashen or flushed skin; a headache; nausea; dizziness; weakness; and exhaustion.
KING 5: What do I do if I start to experience symptoms?
Red Cross: In all cases, the first step is to try and move to a cool location with air circulation. Hydrate with water or preferably an electrolyte drink and remove excess clothing. If symptoms continue, call 911.
KING 5: If I must l work outside or would like to exercise in the heat - what should I keep in mind?
• Discuss heat safety precautions with colleagues and have a plan to take frequent breaks.
• Stay hydrated by drinking plenty of fluids even if you do not feel thirsty. Avoid drinks with caffeine or alcohol.
• Eat small meals and eat more often.
• Wear loose-fitting, lightweight, light-colored clothing. Avoid dark colors because they absorb the sun's rays.
• Slow down, stay indoors and avoid strenuous exercise during the hottest part of the day.
• Use a buddy system when working in excessive heat.
KING 5: It's tempting to cool off in water, but if I don't have access to a swimming pool, what do I need to know before jumping into the ocean, a lake or a river?
Red Cross: Swimming in lakes, rivers, and streams can be safe at designated swimming areas that are protected by lifeguards. Swimming in a natural body of water is different from swimming in a pool.
More skills and energy are required for natural water environments because of cold water and air temperatures, currents, waves and other conditions—and these conditions can change due to weather.
• NEVER leave children or pets alone in hot vehicles! Heat can quickly rise in a car- up to 20 degrees in just 10 minutes! If you see a child or pet left unattended in a hot car, call 911 immediately.
• Check on family members and neighbors, especially those who are older, to be sure they are keeping cool.
• If you have to be outside, drink plenty of fluids to stay hydrated and take frequent breaks in the shade.
• Do not use electric fans when the temperature outside is more than 95 degrees, as this could increase the risk of heat-related illness. Fans create air flow and a false sense of comfort but do not reduce body temperature.
• Avoid high-energy activities.
• Check on your pets-bring them inside and provide them with plenty of cool water.