Drug and alcohol overdose deaths in King County continue to climb, with an increase in fatal overdoses from 2016 to 2017, according to a report released Wednesday from Seattle & King County Public Health.
The total number of fatal overdoses increased from 348 deaths in 2016 to 379 in 2017, marking the sixth consecutive year overdose deaths have increased in King County.
The majority of overdose deaths (69 percent) were opioid related, and over half involved other drugs, such as alcohol, in addition to opioids.
"The opioid epidemic in King County continues to increase, with no end in sight," said Dr. Jeff Duchin, health officer for Seattle & King County Public Health.

One of the most concerning spikes involved fentanyl, which is a synthetic opioid that's 50 to 100 times more potent than morphine. Fentanyl was involved in 33 deaths in 2017, up from 23 deaths the year prior. In the first quarter of 2018 alone, the drug has played in a role in 17 overdose deaths.
Methamphetamine was the second most deadly drug group, accounting for 136 deaths, up from 106 deaths in 2017.
Fatal drug overdoses occurred most often in western King County, with the highest rates of overdose deaths in SeaTac/Tukwila (30.3 per 100,000 people) and Seattle (27.5).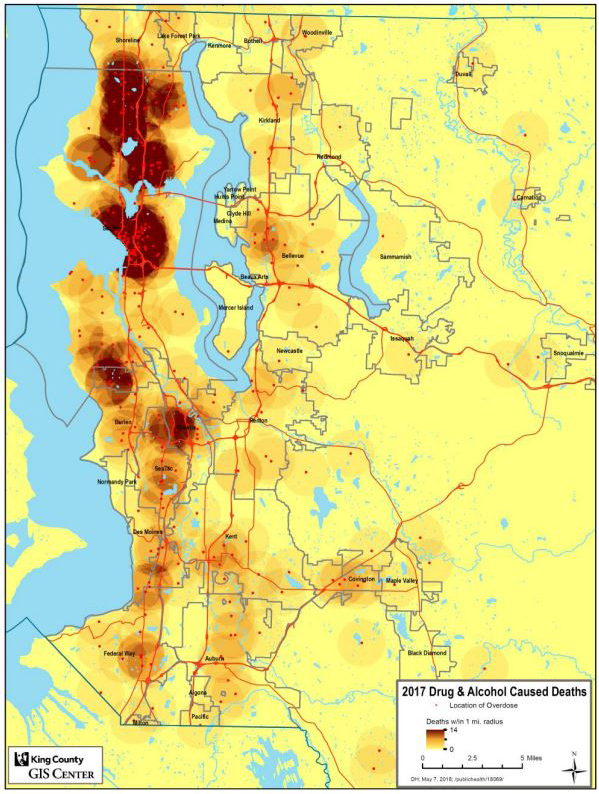 Where drug and alcohol caused deaths were located in King County in 2017 (Map: Seattle & King County Public Health)
Overdoses also disproportionately impacted men, blacks and Native Americans, and young people. Of the overdose deaths in 2017, 66 percent were male, and half were in people under 46 years old. The overdose rate among Blacks is about 30 percent higher than the general population, and it's 5.5 times higher among Native Americans.